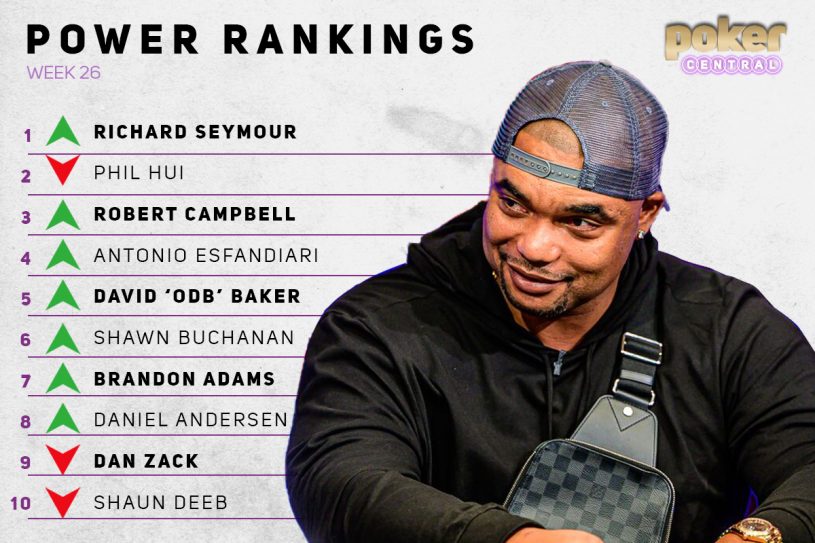 The World Series of Poker is in the home stretch with the Main Event final table just a few days away. The rankings this week are heavily influenced by both the Main Event and the surrounding events and their implications on the WSOP Player of the Year race. Former NFL star and three-time Super Bowl champion Richard Seymour has snagged the top spot with his deep run while recent bracelet winners David 'ODB' Baker, Shawn Buchanan and Brandon Adams jump into the Top 10 as well.
The Poker Central Power Rankings are voted on each week by five-panel members who use their own criteria to determine player relevance leading to a list of 25 players that score points from 65 down to 1. The criteria loosely include player results, social media influence, some good ol' drama or other things of note that make ear perk up and our eyes grow bigger. Got beef with our decisions on a week-to-week basis? Hit us up on @PokerCentral on Twitter and jump into the conversation.
Read up on the previous weeks: Week 25 – Week 24 – Week 23 – Week 22 – Week 21 – Week 20 – Week 19 – Week 18
| | | |
| --- | --- | --- |
| | Last week | This week |
| Richard Seymour | Unranked | 1 |
From unranked to No. 1 has only been done a few times before and Richard Seymour is very deserving of his spot at the top. For five days, Seymour entertained a crowd that stretched far beyond the usual poker fans with his play and personality before ultimately busted in 131st place. Seymour appeared on the Rich Eisen show this morning to talk about his deep run, watch that video here.
incredible experience… disappointed to leave! really appreciate the outpour of support #grateful #champion #whatsinthebag 🧐 pic.twitter.com/E6rXnJ9NPg

— Richard Seymour (@BigSey93) July 11, 2019
| | | |
| --- | --- | --- |
| | Last week | This week |
| Phil Hui | 1 | 2 |
The Master of GIFs and winner of the $50,000 Poker Players Championship drops one spot this week as he continues to linger in the World Series of Poker Player of the Year race. Hui's trying to string some more runs together while tangled up in a tough battle with the likes of Dan Zack, Shaun Deeb, and current leader Robert Campbell. Oh, and Hui joined us on the Poker Central Podcast!
From the Poker Players Championship to the #PokerCentralPod! @KungPhui joins @RemkoRinkema and @Bhanks11 on @PokerGO! https://t.co/C74slZsBgt

— Poker Central (@PokerCentral) July 6, 2019
| | | |
| --- | --- | --- |
| | Last week | This week |
| Robert Campbell | 32 | 3 |
He's the only two-time WSOP bracelet winner this summer and currently he's the POY clubhouse leader as well. Campbell is largely unknown to the wider poker audience but he's quickly changing that narrative with tons of deep runs and two outright wins. With Dan Zack's recent streak of cashes, Campbell might lose the lead temporarily but it's still anyone's game near the top.
| | | |
| --- | --- | --- |
| | Last week | This week |
| Antonio Esfandiari | Unranked | 4 |
It wasn't meant to be! Antonio Esfandiari made another deep run in the WSOP Main Event only to bust halfway through Day 6 in his sixth Main Event cash since 2009. Esfandiari entertained and created a lot of exciting action for poker fans all over the world but we'll likely have to wait another year before seeing him in a big tournament again.
10 years after his best finish, @MagicAntonio is making another run. Will "The Magician" make more history in the #WSOP50 Main Event?https://t.co/7IipOIHRDJ

— Poker Central (@PokerCentral) July 11, 2019
| | | |
| --- | --- | --- |
| | Last week | This week |
| David 'ODB' Baker | 14 | 5 |
Last week, David 'ODB' Baker got his second WSOP gold bracelet and that got him a lot of votes for the Power Rankings! Baker is a poker lifer, a consummate professional, family man, and one of the hardest working men in the game.
#2 for @audavidb! 🥇🥇 #WSOP50https://t.co/Uj3ouNcS9E

— Poker Central (@PokerCentral) July 3, 2019
| | | |
| --- | --- | --- |
| | Last week | This week |
| Shawn Buchanan | Unranked | 6 |
He finally did it! Shawn Buchanan won his first career bracelet after more than a decade of grinding hard and he also discovered what he's been doing wrong all this time.
Bracelet num 1 was a long time coming but I found the recipe for success to close the deal!So I apologize in advice to my next live @wsop final table-I will be in my boxers-shirt off-eating banana split ice cream-and trash talking each and every 1 of you as I bust you !#cantwait

— Shawn Buchanan (@shawnbuchanan1) July 9, 2019
| | | |
| --- | --- | --- |
| | Last week | This week |
| Brandon Adams | Unranked | 7 |
Just like Shawn Buchanan, Brandon Adams also won his first bracelet in an online event at the 2019 WSOP. Adams joked that it counts as only half a bracelet but as far as the stats go, he is now definitely a WSOP bracelet winner! In addition to his win, Adams also finished fourth in the $50,000 High Roller for half a million dollars, the second biggest score of his live tournament career.
Ty! Now it's the bracelet half-curse. They should count as like a half a bracelet, right? https://t.co/Fvaf0g3ykq

— Brandon Adams (@badams78) July 4, 2019
| | | |
| --- | --- | --- |
| | Last week | This week |
| Danielle Andersen | Unranked | 8 |
Danielle Andersen made a deep run in the WSOP Main Event with the support of both her fans and friends on Twitter as well as her husband and son. The exchange in the Tweets below alone is worthy of a high ranking because this is total family-life bliss!
Update. pic.twitter.com/yi9OMKrH38

— Danielle Andersen (@dmoongirl) July 11, 2019
| | | |
| --- | --- | --- |
| | Last week | This week |
| Dan Zack | 5 | 9 |
Dan Zack has been in the WSOP Player of the Year lead for nearly the entire summer but right now he's facing an uphill battle versus Robert Campbell. Zack is swinging for the fences, having sold action and playing the $100,000 High Roller bracelet event as we speak to put some distance between himself and Campbell before the summer wraps up.
Selling to tomorrow's 100k NL. Can't promise I'm +EV although if not I certainly hope it's close. If you want to gamble or help me prevent two @shaundeeb posters on the wall lmk

— Daniel Zack (@Dan__Zack) July 11, 2019
| | | |
| --- | --- | --- |
| | Last week | This week |
| Shaun Deeb | 4 | 10 |
Shaun Deeb is having a summer of close calls without a bracelet, but he's still going strong for a potential back-to-back Player of the Year win. Deeb has a few events left to catch up but as of right now he's sitting in fourth place.
On The Bubble
Close calls to the Top 10 were players like Scott Seiver, Josh Arieh, Joao Vieira and Jean-Robert Bellande.
Tune in again next week for the latest Poker Central Power Rankings! Until then, listen to Brent Hanks and me discuss this week's rankings on the Poker Central Podcast. Looking to watch the latest live and on-demand poker action? Subscribe to PokerGO right now.