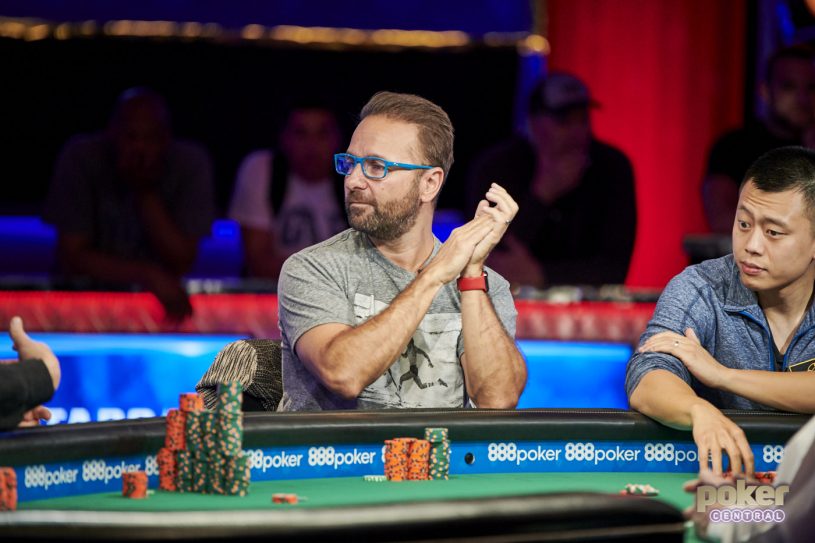 On Day #3 of the 2019 World Series of Poker, we learned many things. We realized that we're really living in Ali Imsirovic's world and might be figments of his vivid imagination. We also learned that the Rio will never turn you away from an event and we learned to appreciate dealers. Let's start with some ground rules, however. Don't @ us during breaks about these articles.
SHAKEY HANDS MAN
While Kid Poker has got off to a flier at the felt, final tabling his first event, the $10k Super-Turbo, he admitted that he got lucky to get that far. But he's since proved that while form is temporary, class is permanent. A victim of his own success, however, Negreanu, having recently got married, left PokerStars and sold action at face value for the WSOP, is extremely popular. So popular with fans in fact that he put out this public service notice via his Twitter page:
Q: when is the best time to ask for a picture?

A: in between hands while I'm playing and you have my attention.

NOT ON BREAKS PLEASE!

They are short and I need to take care of personal needs. Thanks.

— Daniel Negreanu (@RealKidPoker) May 31, 2019
Take heed, fans/investors of DNegs. And maybe time it right after a hand he's won rather than a bad beat.
KESSLER APPEALS TO POKER GODS
If anyone is after good karma early in the Series, it's Allen Kessler. He's won this year's 'praise the dealers' race, and if you have that to complete your line at Poker Catchphrase Bingo, congratulations, you just won a queue-jumper for the men's restroom all summer*. *Just kidding, guys.
For all you players complaining about Big 50 lines and seating; it's a massive undertaking to seat/ restart a 25,000 player event. The @wsop set up ways to register online and via kiosk: and the staff is doing an amazing job in getting everyone seated and not turning anyone away.

— Allen Kessler (@AllenKessler) May 31, 2019
ELIAS REMINDS US OF TRAVEL TIP #1
We already put together a comprehensive list of the travel tips you really need to help you at this year's World Series of Poker, but if you missed them or just can't find your bottle opener and need that cool libation right now in your hotel room, Darren Elias (and Nick Petrangelo) are here to remind you of how to solve your problem:
Back on the road after a month off at home. Little travel tip from @npetrang for those joining me. pic.twitter.com/xCd6c3WR6d

— Darren Elias (@DarrenElias) September 15, 2018
TRAFFIC JAM POSITIVITY
Matt Berkey clearly read yesterday's Poker Central round-up of #Postivity and wants in on the action. According to him, absolute gridlock around the Rio is a show of how healthy poker really is. Great vibes for the next time you're stuck behind a guy whose bumper sticker reads 'I'd Rather Be Playing Poker' for two hours.
All Rio parking is at 100% capacity. Solid hundred cars roaming around in desperation to make the 2A restart which is delayed indefinitely. This is honestly so fucking awesome. If you're in day 2, relax, they'll work it out. Look at the bigger picture… POKER IS ALIVE!!!

— matt berkey (@berkey11) June 1, 2019
FREE DRINKS, STRANGE LOCATION
The Big 50 is probably a lot of recreational poker players' first experience of a poker tournament, but at least one table had an odd welcome to the Rio.
First time playing @WSOP and I'm in the storage unit… Got lots drinks in here tho pic.twitter.com/ti8RkdYrfG

— Biloxi Bomber (@fsuconrad) May 31, 2019
So there you have it. Make sure you get down to the Rio this summer, because you never know what part of the building you might discover before the WSOP leaves the venue if the rumors are true.
Want to be a part of the action from your own home? Subscribe now to watch PokerGO action all summer long and if you're in the United States catch select final tables exclusively on CBS All Access.