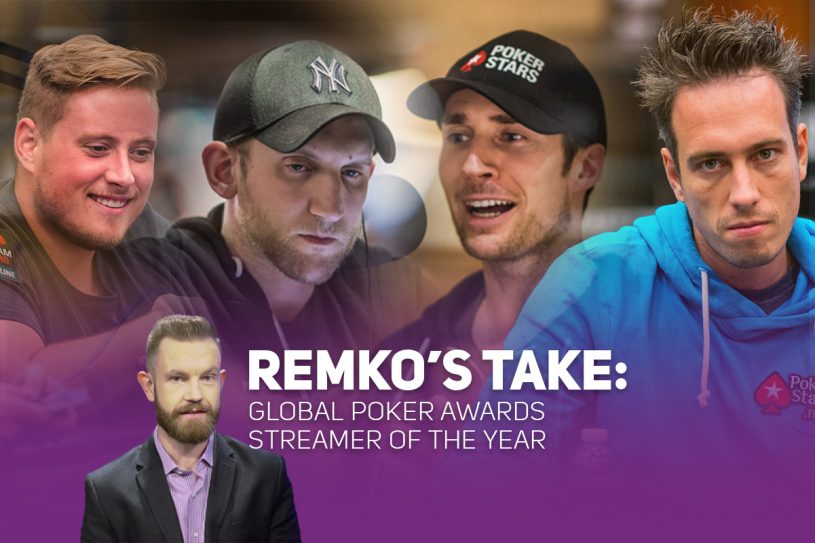 On Friday, the poker community will gather inside the PokerGO Studio for the inaugural Global Poker Awards. Between now and then, I will break down every category with a brief summary of the nominated players, moments, events, media members, and industry personnel. Coming right up now, a controversial category: Streamer of the Year.
Read more from Remko's Take: 2018 Tournament Performance of the Year and Breakout Player of the Year.
2018 Streamer of the Year
Global Poker Awards Nominees
Jeff Gross
Jason Somerville
Jaime Staples
Lex Veldhuis
This category is one that was discussed in depth on Twitter after the nominations were announced. The 130-panel nomination panel clearly went with the biggest names and others that might've found new heights in 2018 were left off the final list of four. Because of this, and because I sadly don't have much time to watch poker streaming content, I'm going to pick out some Tweets from the four nominees to get a better understanding of how they view their nomination.
It is an honour to be nominated again for streamer of the year. If I was in charge of who to nominate though, I would not be on that list this year. My power rankings top 6 2018 in no order:

–@RaSZi
–@MattStaplesPKR
–@EasyWithAces
–@spraggy
–@ALLinPav
–@ArlieShaban

— Jaime Staples (@jaimestaples) March 19, 2019
Jamie Staples – arguably one of the biggest streamers since the game started becoming more popular on Twitch – felt honored to get the nod but was quick to point out that many others had bigger years entertaining the poker fans. Of the list that Staples suggested, just one player made the list.
who says I don't know how to play poker any more?? 💵💵💵 pic.twitter.com/vShbnXd33q

— jcarver (@JasonSomerville) March 26, 2019
You might wonder, "Why to include a photo of Jason Somerville playing video poker?" and I have a great answer for that question. Jason Somerville rarely streams on Twitch anymore and is far more involved behind the scenes. Somerville's name recognition got him the nominee and I think that he'd be the first to admit that he wouldn't make his own list of nominees.
While Jeff Gross kept quiet on his nomination, Lex Veldhuis did speak up and he had the following to say.
My biggest concern with the @GPI nominations is that it shows the people in the media/industry really don't know what's going on in the content space. If we're looking for new characters in poker it doesn't help that characters putting out content on a weekly basis get overlooked

— LexVeldhuis (@RaSZi) March 19, 2019
I think Lex makes a great point and further evaluation of the Global Poker Awards after its inaugural edition will be good for future years. Staples made a great suggestion in regards to this by making the nomination panel specific per category, which might be a very big lift and complicated process, but it would potentially ensure more deserving nominees over name recognition getting rewarded.
Next time GPI happens, it should be a panel of 10 people per category that know their field. 10 streamers, 10 vloggers, 10 podcasters, 10 tournament grinders, 10 media people, etc.

Only those that know should have votes that count or else it comes down to name recognition.

— Jaime Staples (@jaimestaples) March 20, 2019
Remko's Take
Having a say in the nomination process myself this year, I put my votes towards Lex Veldhuis and Arlie Shaban. Both guys created a ton of content for their dedicated audience, and in Shaban's case, that's extra laudable since he's very new to the scene. Picked up by Somerville's RunItUp and later part of an epic challenge that resulted in him playing the PokerStars Players Championship in the Bahamas, Shaban truly made it all happen in 2018.
My pick for this category, however, goes to Lex Veldhuis. Not because Shaban isn't nominated, but because Veldhuis is the biggest streamer in the game right now. Having known Lex for over a decade, it's been incredible to follow his journey from being every Dutch poker fan's favorite degen to eccentric high stakes regular, World Series of Poker Main Event showman, to now being the most recognizable face in the streaming game.
Sure, I can't include his recent Lex Live! succes when it comes to an award that pertains to 2018, but the fact alone that a player has a fanbase big enough to support a live event series that drew more than 1,064 entries for a live event says something. Veldhuis could be considered the European equivalent of Somerville – who's shown incredible year over year growth with his Run it Up Reno series –  and that's a very exciting prospect for poker fans who enjoy playing an affordable series of tournament surrounded by like-minded people who are out there to have fun.
Streaming poker is about entertaining and bringing fans together as a never-ending stream of chat lines and interaction with its host make everyone feel as though they're a part of the journey. Veldhuis has done that better than anyone in my mind and while the category and its nominees might not all be as deserving of this kind of praise for their 2018 efforts, Veldhuis definitely does and he would be a very deserving winner no matter who he'd be up against.
New to PokerGO? Subscribe right now to enjoy more than 100 days of live poker every single year as well as an endless supply of on-demand content including the Super High Roller Bowl, World Series of Poker, and original programming such as Pokerography, Poker Nights, and Beyond the Rail. Don't miss the Global Poker Awards on Friday, April 5th at 8:00 pm ET on PokerGO for free.