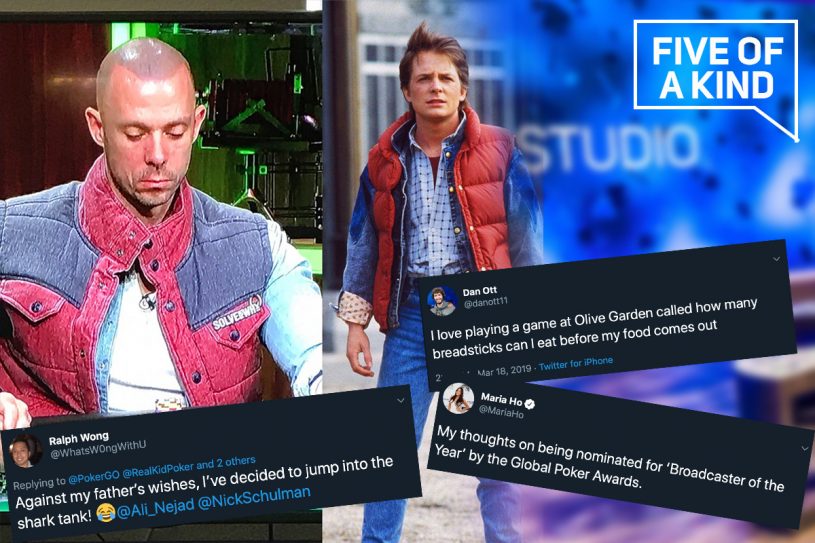 Every week, Five of a Kind takes a look at the funniest and best moments on Twitter in the world of poker. This week we have found another five gems to highlight, but nothing was better than Brian Lamanna's Tweet about Matt Berkey looking a lot like Marty McFly on the Super High Roller Cash Game.
Berkey McFly
Matt Berkey played his heart out on the Super High Roller Cash Game but will he ever become as legendary as Marty McFly? As Brian Lamanna asked, who wore it better?
Who wore it better? @berkey11 @PokerGO @SolveForWhyAcad @CoreyPaggeot pic.twitter.com/CcJDDxFv6e

— Brian Lamanna (@BRLike7) March 18, 2019
The Olive Garden Challenge
Dan Ott of World Series of Poker Main Event fame has challenged himself in different ways lately! What would your personal limit be? My personal limit probably sits around four if I really tried, but let's be honest, why are we going to Olive Garden at all?
I love playing a game at Olive Garden called how many breadsticks can I eat before my food comes out

— Dan Ott (@danott11) March 18, 2019
Maria Ho Grateful for Global Poker Awards Nomination
Maria Ho is not only a world class player – as she's shown on many occasions – but she's also a top-notch host, presenter, and commentator! Huge congrats Maria for getting the Broadcaster of the Year nominee at the Global Poker Awards, see you there! Watch Maria Ho in action on Poker After Dark "Femme Fatale II" next week.
My thoughts on being nominated for 'Broadcaster of the Year' by the Global Poker Awards. pic.twitter.com/E2FpZupWn3

— Maria Ho (@MariaHo) March 18, 2019
Rapping with Hellmuth
At this point, it's clear that Phil Hellmuth is having a blast in Brazil where partypoker is putting on a massive event. Hellmuth is not only hanging out with Viktor Blom, Mike Sexton, Rob Yong and Ben Lamb, he was also seated with a famed Brazilian rapper who dropped some bars on his during play.
Watch Out Wong!
Ralph Wong made a splash on the Super High Roller Cash Game but not before getting some wise words from his father! See the exchange below for a good laugh, and give Wong a follow in general as he's pretty good at the Twitter!
Against my father's wishes, I've decided to jump into the shark tank! 😂@Ali_Nejad @NickSchulman pic.twitter.com/68tS1xFVo6

— Ralph Wong (@WhatsW0ngWithU) March 19, 2019
Suggestions for Five of a Kind? Send them into Poker Central on Twitter. New to PokerGO and ready for some poker action? Subscribe right now and never miss another big moment.