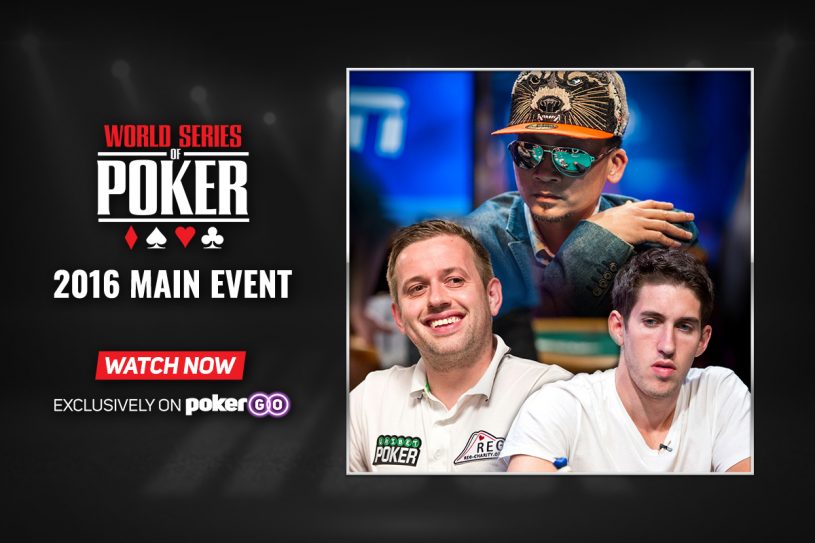 The 2016 WSOP Main Event attracted a 6,737-player field that created a prize pool of $63.3 million. The November nine returned for its ninth installment as five countries were represented – five from the United States, and one each from Spain, Canada, Belgium, and the Czech Republic.
For the second time, the final table played over three nights. On Day 1 the final nine were reduced to five players with Qui Nguyen holding a substantial lead, while on Day 2 the final table would be reduced to just three with Nguyen holding his lead ahead of Gordon Vayo and Cliff Josephy. After nearly 200 hands on the final night and eight-hours of heads-up play, Nguyen would defeat Vayo to be crowned the 2016 WSOP Main Event champion and recipient of the $8,005,310 first-place prize.
Originally from Vietnam, before he emigrated in 2001 and settled in Las Vegas, Nevada, the 39-year-old Nguyen had amassed just over $55,000 in tournament winnings prior to his victory in the 2016 WSOP Main Event. The majority of Nguyen's results had occurred in local tournaments around Las Vegas with his biggest result being a 54th-place at the 2009 WSOP in a $1,500 No-Limit Hold'em event where he collected $9,029 in prize money. With Nguyen a relative unknown, he wouldn't make his first appearance on the Main Event broadcast until Day 6 and was a regular on the feature tables leading up to the final table. Nguyen made an appearance in PokerGO's 2016 WSOP Main Event Top 5 Hands | World Series of Poker video where he was involved in two of the showcased hands.
There are 16 episodes from the 2016 WSOP Main Event available now on PokerGO with coverage beginning on Day 4. The two episodes from Day 4 feature 2004 World Champion Greg Raymer and 2013 World Champion Ryan Riess sharing the feature table, along with Shaun Deeb, James Obst, and Valentin Vornicu. Day 5 is split over four episodes and sees the beginning of the William Kassouf show. Kassouf dominates the coverage with his speech play and table antics as the likes of Alex Keating, Tony Gregg, Jerry Wong, and Kenny Hallaert are also among the action.
Day 6 sees more of Kassouf as Cliff Josephy finds himself stationed at the feature table along with Chris Klodnicki, Max Silver, Dan Colman, and Ka Kwan Lau. When Day 7 rolls around and the play down to the November Nine is close, Kassouf is again highlighted on the coverage. This time however it is much to the disdain of his fellow players as action slows on the feature table. Kassouf's run would end at the hands of eventual seventh-place finisher Griffin Benger who delivers the Brit a monstrous cooler with just 17 players remaining, while it would be Josephy entering the November Nine as the overall chip leader just ahead of Nguyen.
The final table is spread over the final two episodes, and Josephy joined Remko Rinkema on PokerGO's Run it Back with Cliff Josephy | 2016 WSOP Main Event to discuss everything from the final table. The first episode concluded with just the final three players remaining, while the final episode would inevitably crown Nguyen as the 2016 WSOP Main Event champion and recipient of more than $8 million in first-place prize money.
The 2016 WSOP Main Event was broadcast on ESPN and is now available on PokerGO. Select your favorite episode from the overview below and start watching right now.
2016 WSOP Main Event Viewing Guide
Episode
Day
Featured Player/Episode Note
PokerGO Link
1
Day 4 (Part 1)
Greg Raymer, Shaun Deeb, and James Obst
Link
2
Day 4 (Part 2)
Valentin Vornicu, James Obst, and Ryan Riess
Link
3
Day 5 (Part 1)
Gaelle Baumann, Melanie Weisner, and Michael Ruane
Link
4
Day 5 (Part 2)
Alex Keating and William Kassouf
Link
5
Day 5 (Part 3)
William Kassouf, Tony Gregg, and Jason Les
Link
6
Day 5 (Part 4)
Kenny Hallaert, Jerry Wong, and William Kassouf
Link
7
Day 6 (Part 1)
William Kassouf and Kenny Hallaert
Link
8
Day 6 (Part 2)
Cliff Josephy, William Kassouf, and Ka Kwan Lau
Link
9
Day 6 (Part 3)
Chris Klodnicki, Max Silver, and Cliff Josephy
Link
10
Day 6 (Part 4)
Dan Colman, Fernando Pons, and Tommy Miller
Link
11
Day 7 (Part 1)
Jared Bleznick, Michael Ruane, and James Obst
Link
12
Day 7 (Part 2)
William Kassouf
Link
13
Day 7 (Part 3)
Gordon Vayo, Griffin Benger, and William Kassouf
Link
14
Day 7 (Part 4)
Tom Marchese, James Obst, and Gordon Vayo
Link
15
Final Table (Part 1)
Kenny Hallaert, Griffin Benger, and Jerry Wong
Link
16
Final Table (Part 2)
Qui Nguyen, Gordon Vayo, and Cliff Josephy
Link
World Series of Poker Main Event coverage is available right now on PokerGO. Check out the WSOP Classic collection and watch the best moments from past Main Events including Johnny Chan's quest for a third title, the meteoric rise of Chris Moneymaker, and Joe Cada setting the record as youngest champion.