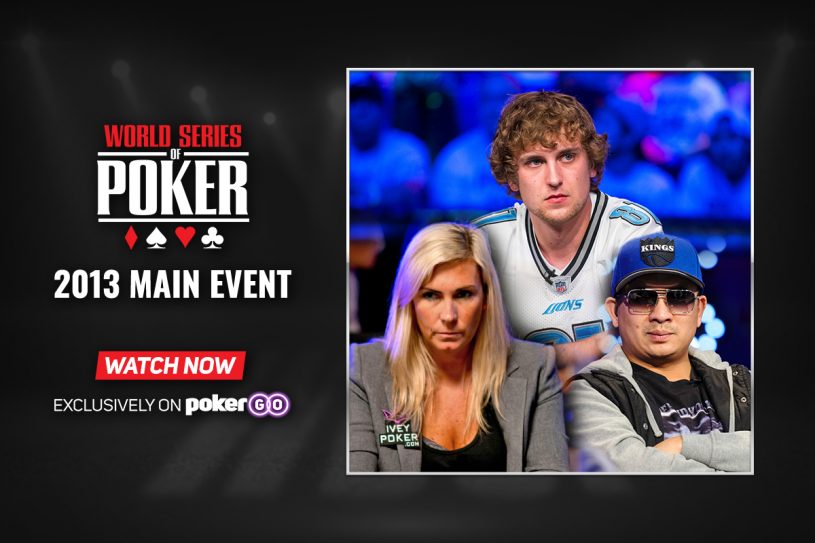 The 2013 WSOP Main Event attracted 6,352 entrants and created a prize pool of over $59.7 million. The November Nine returned for it's sixth installment as five countries were represented among the final nine – the United States, Canada, France, Netherlands, and Israel.
The first night of play lasted nearly nine hours as the final table was reduced to heads-up play with Jay Farber holding the chip lead over Ryan Riess. Throughout the 90-hands of heads-up play, Riess powered his way into the lead before eventually being crowned the 2013 WSOP Main Event champion and collected the $8,361,570 first-place prize.
The 23-year-old Michigan-native had amassed a steady set of results heading into the 2013 WSOP. Riess' first result was a second-place finish in the WSOP-Circuit Hammond Main Event for $239,063 and added an additional three WSOP-Circuit Main Event cashes, along with WSOP-Circuit side event cashes before he collected four WSOP cashes – his biggest being an 11th-place finish in a $1,500 No-Limit Hold'em event for $20,015. Although Riess' appearance on the broadcast wouldn't occur until very late in the tournament, he did make PokerGO's 2013 WSOP Main Event – Top 5 Hands | World Series of Poker video.
There are 24 episodes from the 2013 WSOP Main Event available now on PokerGO and coverage begins on Day 3. The two feature tables are stacked with the likes of Phil Ivey, Doyle Brunson, Michael Mizrachi, and Phil Hellmuth, while on Day 4 the money is reached before previous WSOP Main Event champions Greg Merson and Carlos Mortensen take center stage. Day 5 action sees J.C. Tran and Jonathan Jaffe highlighted on the feature table, before Day 6 sees the continued dominance of Mortensen while new faces begin to emerge such as Jackie Glazier, David Benefield, Mark Newhouse, and Riess.
Day 7 is spread across six episodes and begins with 27 players remaining. Anton Morgenstern kicks off the action playing pot-after-pot, while the likes of Sylvain Loosli, Jay Farber, and Marc-Etienne McLaughlin start seeing their chip stacks climb. The final two episodes follow play as the tournament is reduced from two tables down to just one as Chris Lindh, Bruno Kawauti, Sergio Castelluccio, Alex Livingston, Rep Porter, and Mortensen all fall short of the final table.
The final table is spread over the final two episodes, and Riess joined Remko Rinkema on PokerGO's Run it Back with Ryan Riess | 2013 WSOP Main Event to discuss everything from the final table. The first episode concluded with just the final two players remaining, while the final episode would inevitably crown Riess as the 2013 WSOP Main Event champion and recipient of over $8.36 million in first-place prize money.
The 2013 WSOP Main Event was broadcast on ESPN and is now available on PokerGO. Select your favorite episode from the overview below and start watching right now.
2013 WSOP Main Event Viewing Guide
Episode
Day
Featured Player/Episode Note
PokerGO Link
1
Day 3 (Part 1)
Phil Ivey and Doyle Brunson
Link
2
Day 3 (Part 2)
Doyle Brunson and Shawn Sheikhan
Link
3
Day 3 (Part 3)
Michael Mizrachi and Phil Hellmuth
Link
4
Day 3 (Part 4)
Max Steinberg and Phil Ivey
Link
5
Day 4 (Part 1)
The money bubble is reached
Link
6
Day 4 (Part 2)
Doyle Brunson and Annette Obrestad
Link
7
Day 4 (Part 3)
Carlos Mortensen, Adam Friedman, and Yevgeniy Timoshenko
Link
8
Day 4 (Part 4)
Greg Merson and Jackie Glazier
Link
9
Day 5 (Part 1)
Carlos Mortensen and J.C. Tran
Link
10
Day 5 (Part 2)
J.C. Tran, Annette Obrestad, and Jonathan Jaffe
Link
11
Day 5 (Part 3)
Jonathan Jaffe and Marvin Rettenmaier
Link
12
Day 5 (Part 4)
Greg Merson, Carlos Mortensen, and Annette Obrestad
Link
13
Day 6 (Part 1)
Carlos Mortensen, J.C. Tran, and Jackie Glazier
Link
14
Day 6 (Part 2)
Steve Gee and Jorn Walthaus
Link
15
Day 6 (Part 3)
Jackie Glazier, Byron Kaverman, and Carlos Mortensen
Link
16
Day 6 (Part 4)
David Benefield, Ryan Riess, and Mark Newhouse
Link
17
Day 7 (Part 1)
27 players remain
Link
18
Day 7 (Part 2)
Anton Morgenstern, J.C. Tran, and Sylvain Loosli
Link
19
Day 7 (Part 3)
Jay Farber, Mark Newhouse, and Anton Morgenstern
Link
20
Day 7 (Part 4)
Marc-Etienne McLaughlin, Sylvain Loosli, Jay Farber, and J.C. Tran
Link
21
Day 7 (Part 5)
18 players remain
Link
22
Day 7 (Part 6)
Carlos Mortensen, Rep Porter, and J.C. Tran
Link
23
Final Table (Part 1)
J.C. Tran, Mark Newhouse, David Benefield, and Ryan Riess
Link
24
Final Table (Part 2)
Ryan Riess and Jay Farber
Link
World Series of Poker Main Event coverage is available right now on PokerGO. Check out the WSOP Classic collection and watch the best moments from past Main Events including Johnny Chan's quest for a third title, the meteoric rise of Chris Moneymaker, and Joe Cada setting the record as youngest champion.