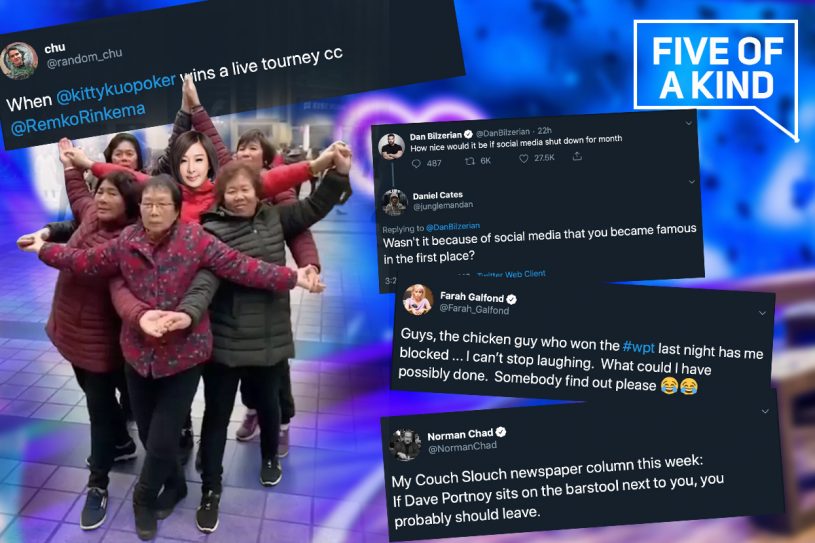 Where to start with this past week? Just when you think that #PokerTwitter has settled down a bit, this week things got heated with Dan Bilzerian and Dan 'Jungleman' Cates getting into it, Phil Hellmuth getting, what some would classify as "inappropriate" and Norman Chad flexing on Barstool Sports with well-constructed sentences and reason.
Social Media Star vs. Poker Pro
There's no doubt about Dan Bilzerian's fame. Like it or not, he's a massive influencer, has fans all over the world, and his name has become synonymous with the game of poker. At kitchen table games, Bilzerian's name is likely to be among the first three mentioned when people talk about "poker players", yet there's no denying that his accumulation of fame has little to do with the game of cards.
One of the few reasons why Bilzerian is known as a poker player is because he keeps saying that he is, and how he's managed to intertwine his high stakes gambling with his social media feeds. On Twitter this week, however, Bilzerian was quick to snap back at self-made poker star and one of the best to ever play the game Dan 'Jungleman' Cates who called Blitz out in the following Tweet.
Wasn't it because of social media that you became famous in the first place?

— Daniel Cates (@junglemandan) March 13, 2019
Definitely won more money than your ass in poker, that's a fact

— Dan Bilzerian (@DanBilzerian) March 14, 2019
Hey Dan, let's be real, you might have access to the juiciest games and have won millions of dollars to live a lifestyle most young men can only dream of, but poker was not the thing that brought you fame. It was social media. Props though, because rumors of the millions you've won in private games are no joke at all, and I'd consider you a poker player because of how you do still tend to play big games. But as much as Jungleman is a poker pro, you're much more of a social media pro in my book.
What Are You Doing, Phil?
Phil Hellmuth is everyone's favorite crazy uncle on social media. He's never truly crossing lines, but sometimes he reminds you of that Thanksgiving awkwardness after your aunt opens the third bottle of red. This week, Hellmuth shared a photo of his lovely wife in a new Gucci top. While Twitter was quick to argue on whether she's actually wearing a nightgown or the equivalent of that, I'm just so happy that Phil and his wife are still going strong!
Love my wife's new @Gucci top. So happy to be partners w Gucci's Owner #FrancoisPinault in our #smartheadphone company @MuzikConnect Heading to @Sampaio_Carol birthday party #PHNiceLife #POSITIVITY pic.twitter.com/Su3yiJvadc

— phil_hellmuth (@phil_hellmuth) March 14, 2019
What Did Farah Do?
Farah Galfond doesn't strike me as someone to start shit, call people out or cause other troubles, but somehow she found out she's blocked by Mr. Chicken Wing! After some investigation, Twitter found out that numerous other people were blocked by Frank Stepuchin as well, but a close friend defended him saying "He's not very good with technology." It's okay, Frank, as long as you've got a cold one in your hand and a chick wing to chew on, life seems to be going pretty well!
Guys, the chicken guy who won the #wpt last night has me blocked … I can't stop laughing. What could I have possibly done. Somebody find out please 😂😂 pic.twitter.com/Hn5ZWdGfKx

— Farah Galfond (@Farah_Galfond) March 13, 2019
Mirror, Mirror on The Wall
Positivity is the word, Phil Hellmuth is the name. If you scroll up, you can see me give Hellmuth props for showcasing his loving relationship, but PH was brought back down to earth as his wife told him that his ego was too big. So, low and behold, Hellmuth's mood board, writing in what I hope is not a permanent marker on the mirror.
Norman Chad vs. Barstool Sports
Oh boy, did Norman Chad knowingly put out a Tweet about Portnoy to draw inspiration for a column? We all know what happens when you touch anyone from the Barstool empire, as their loyal fans will come after you verbally. We'll let the column speak for itself as Chad probably enjoyed this back and forth a bit too much, and we're hoping that no blood pressure was significantly raised. Good banter, boys.
Barstool Sports' Dave Portnoy is a disease for which there is no cure.

— Norman Chad (@NormanChad) February 25, 2019
My Couch Slouch newspaper column this week:
If Dave Portnoy sits on the barstool next to you, you probably should leave. https://t.co/QtRFkUx2Tq

— Norman Chad (@NormanChad) March 12, 2019
The Ultimate Winner Circle
One of my favorite poker funny guys, Stevan Chew, did it again. After I Tweeted out a suggestion for poker players that win bracelets, Chew took it one step further and photoshopped Kitty Kuo in what could become the winner photo when she ultimately wins a bracelet this summer! I can't wait for this!
When @kittykuopoker wins a live tourney cc @RemkoRinkema pic.twitter.com/AwOYOZIxVW

— chu (@random_chu) March 8, 2019
Suggestions for Five of a Kind? Send them into Poker Central on Twitter. New to PokerGO and ready for some poker action? Subscribe right now and never miss another big moment.