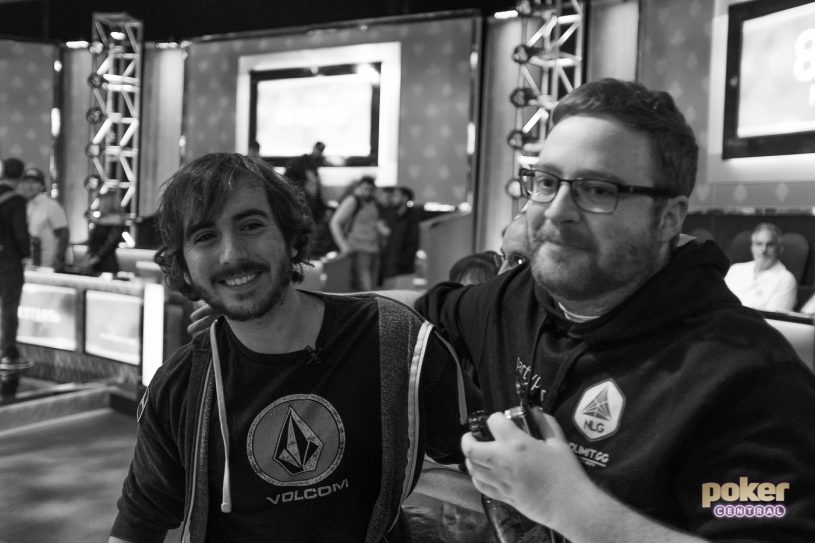 You know what they say: you wait for ages for a bus then two arrive at once. Well, for poker players, that might be bracelets. On a night where two men rewrote their poker epitaphs and faced their new selves in the mirror, it was all about the taxi driver moments.
JOSEPH CHEONG HAS A RIDE BOOKED
When you win your first-ever WSOP bracelet, you can expect some light ribbing among the congratulations from your closest friends. Joseph Cheong's friends take trolling to a level as high as their friend's elite poker status.
Theyre quick pic.twitter.com/6nyaV83lhG

— Joseph Cheong (@subiime) June 19, 2019
KEATING GETS CALLED BY HIS CABBIE
Alex Keating tried for one more bluff, but even outside the Rio, there are players who can see straight through you.
*uber picks me up from rio*

Uber : hey how'd the poker go? Win or lose?
Me : oh I don't play I just went to watch
Uber : nah, I know you were playing

FFS I can't even bluff my Uber driver

— Alex Keating (@HeadsUpGoalie) June 19, 2019
STRELITZ CONSIDERS A HOUSE MOVE
Maybe you've shared a room during the World Series of Poker. If you have, you'll know that there are roommates, and then there are the kind of people who show you a little too much of their crazy. Quite how Strelitz is chill enough to be crushing this year's WSOP is beyond us.
My roommate is currently spitting out the chocolate chips from the brownies he's eating because it "ruins the texture" and now I'm scared he's a psychopath.

— Daniel Strelitz (@dDeoxyribo) June 20, 2019
SCHULMAN ANNOUNCES JOHNNY
Hot on the heels of John Hennigan's sixth bracelet win, plenty of players paid tribute to the man who has conquered mixed games for so many years. Nick Schulman was just one of many.
Congratulations to the Irish stud playing animal from South Philadelphia PA, that's 6 now. Gets so iffy saying people are the best at this and that in poker but damnit ask around, when it comes to the studs perhaps never a finer player. Salud, chindon Flakes you crazy bastard pic.twitter.com/SkYq4Tuuea

— Nick Schulman (@NickSchulman) June 20, 2019
NIALL FARRELL FEELING GENEROUS
It's always nice to be nice, at least that's what night-time Firaldo thinks. Day-time Niall Farrell thinks Firaldo is, well…he can see the funny side, at least.
Checked in with @Firaldo87poker this morning to see how his drunken daily deepstack went and he sent me this 💀 pic.twitter.com/SetmGnFjpr

— Katie Lindsay (@katelinds) June 15, 2019
TEAM NOORI ALL ABOUT VALUE IN $25K FANTASY LEAGUE
We're three weeks into the $25k Fantasy League, and while Team Maths has the overall lead as you can see from the current standings, Team Noori has been proving themselves extremely shrewd in terms of two particular player purchases.
While Shaun Deeb is marginally the highest points scorer for Noori, Ben Yu has posted some great points for even less of an investment. Scott Clements is the most value for money, costing just a single dollar and banking 136 points for the current league leaders.
Top Five $25k Fantasy League Point Scorers:
| | | | | |
| --- | --- | --- | --- | --- |
| Rank | Player | Team | Price | Points |
| 1 | Shaun Deeb | Team Noori | $102.00 | 162 |
| 2 | Daniel Negreanu | Team Fleyshman | $105.00 | 148 |
| 3 | Ben Yu | Team Noori | $86.00 | 136 |
| 4 | Scott Clements | Team Maths | $1.00 | 136 |
| 5 | Shannon Shorr | Team Baker | $1.00 | 127 |
Who'll claim a WSOP gold bracelet today and become the latest winner at the 2019 World Series of Poker? Watch the action unfold live today on PokerGO and CBS All Access as more coverage of the 2019 WSOP bracelet events takes place. Selected bracelet events will be streamed exclusively on CBS All Access in the United States.