Event #8 – $25,000 8-Game Mix
Brandon Adams holds the chip lead with four players remaining in Event #8 – $25,000 Mixed-Game, of the 2019 U.S. Poker Open at the PokerGO Studio inside ARIA Resort & Casino. Adams is left to contend with Nick Schulman, Chris Vitch, and Randy Ohel for the $270,000 first place.
Watch the final table of that event live and exclusively on PokerGO starting at 5 p.m. EST or follow along with the coverage on PokerCentral.com. The final table chip counts and seating is as follows.
| | | |
| --- | --- | --- |
| Seat | Player | Chip Count |
| 1 | Randy Ohel | 239,000 |
| 2 | Brandon Adams | 1,217,000 |
| 3 | Chris Vitch | 280,000 |
| 4 | Nick Schulman | 675,000 |
Adams, the dominant chip leader of the four remaining players, casually mentioned during a break that he didn't even plan to play in this tournament.
"It's usually a really tough field. I was in okay position in terms of the series standings, but it was going to be a tough parlay to get to the top," Adams explained.
Adams told Poker Central that a closer look at the USPO points standings convinced him this year's title was still within reach.
"I started thinking, maybe I have a top-two finish in the mix game, or a win, or some good $50k or $100k combo finish, that would be enough," he said after action broke early Thursday morning. "So I thought I'd go for it."
The series' two biggest buy-in tournaments — Event #9 – $50,000 No Limit Hold'em and Event #10 – $100,000 Main Event — are still yet to come.
As the owner of half the chips left in play, Adams said he won't be shy about putting Schulman, Vitch, and Ohel to the test.
"My advantage now is in terms of strategy and thinking about the ICM implications of decisions," he said. "I'm able to apply ICM pressure and put myself in a position of the smaller stack players and think what my opens mean for them in terms of if they play in the hand."
Twelve players initially entered to play the eight-game mix and by the close of registration, a total of 20 entrants had created a prize pool of $500,000. One of the four remaining players will bubble Event #8, which only pays out three spots. The four are playing for a $270,000 first place prize. The runner-up will take home $150,000, and 3rd place will win $80,000.
Additionally, Event #8 will award the winner 350 points toward the U.S. Poker Open Player of the Year. Second-place will receive 245 points, which is more than the winner received in the previous seven events while third-place receives 175 points.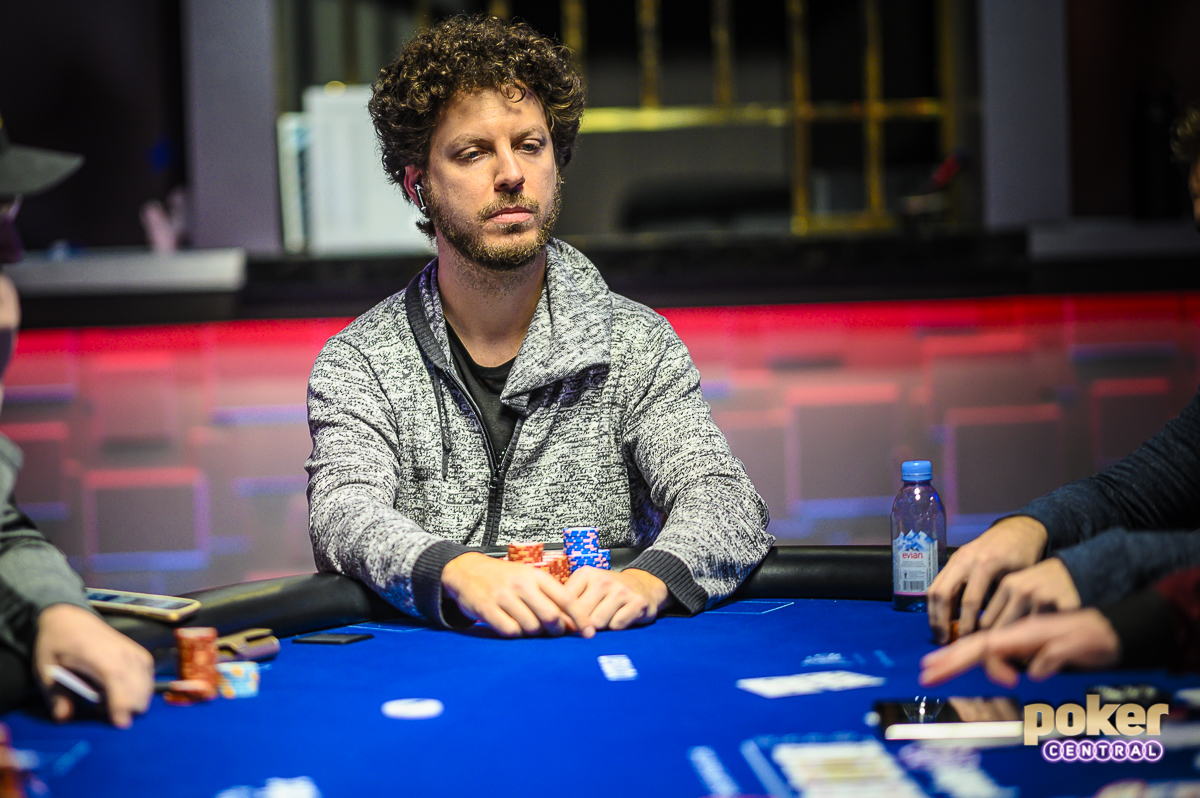 Last year, Chidwick beat Chris Vitch heads up to win the tournament. This year, Vitch is back at the final table again and looking to avenge last year's bittersweet $247,000 second-place score.
His position at the final table this year, however, is more precarious.
Vitch and Ohel are both under 300,000 chips and both went to bed sweating the $80,000 cash bubble.
"Right now I feel stressed out," Vitch said as he was leaving the PokerGO Studio early Thursday morning. "The last little while was nerve-wracking."
"It's going to be quick and bloody for someone tomorrow," Vitch said. But with the way he's run in this tournament the last two years, anything seems possible.
"I don't play many tournaments. I play the World Series events but this is pretty much the only other tournament I play year-round because it's a mix event. I love the games and the structure, so for me it feels like a good tournament. But I've also been incredibly lucky," he said.
Vitch eliminated Eric Rodawig in sixth place during Omaha Hi-Lo. Vitch called Rodawig's 40,000 pre-flop raise and the flop came
. Rodawig led the flop with 20,000 and just called when Vitch doubled it to 40,000. Rodawig then checked the
on the turn and came over the top for his last 67,000 after Vitch bet 40,000. Vitch called showing
while Rodawig held
. A
on the river changed nothing and Vitch's two-pair were enough to rake the pot and send Rodawig home.
Schulman, the two-time World Series of Poker bracelet winner and PokerGO commentator, eliminated Dan Shak in a stud hand that set the final table. Shak got it all-in on fifth street against Schulman with a flush draw against Schulman's trips. Schulman dodged Shak's fifth club and scooped the big pot to eliminate Shak and get the action down to seven players.
Ohel eliminated Minh Ly in fifth-place in Limit Hold'em with a queen on the river to complete his straight. He also got a big boost by knocking out mixed-game specialist John Monnette in ninth-place during stud. Monnette called Ohel's fourth-street bet to put his tournament life at risk with split aces against Ohel's kings. Ohel caught trips on fifth, and when Monnette failed to best that, he was eliminated.
The cards are expected to be in the air for Event #8 of the 2019 U.S. Poker Open at 4 p.m. (EST) with the Poker Central Live Reporting team providing continuous live updates until the Event #8 Champion is crowned.
Stay tuned right here to PokerCentral.com for the exclusive live coverage of all the U.S. Poker Open action from the PokerGO studio. New to PokerGO? Subscribe right now to not miss a minute of the action.