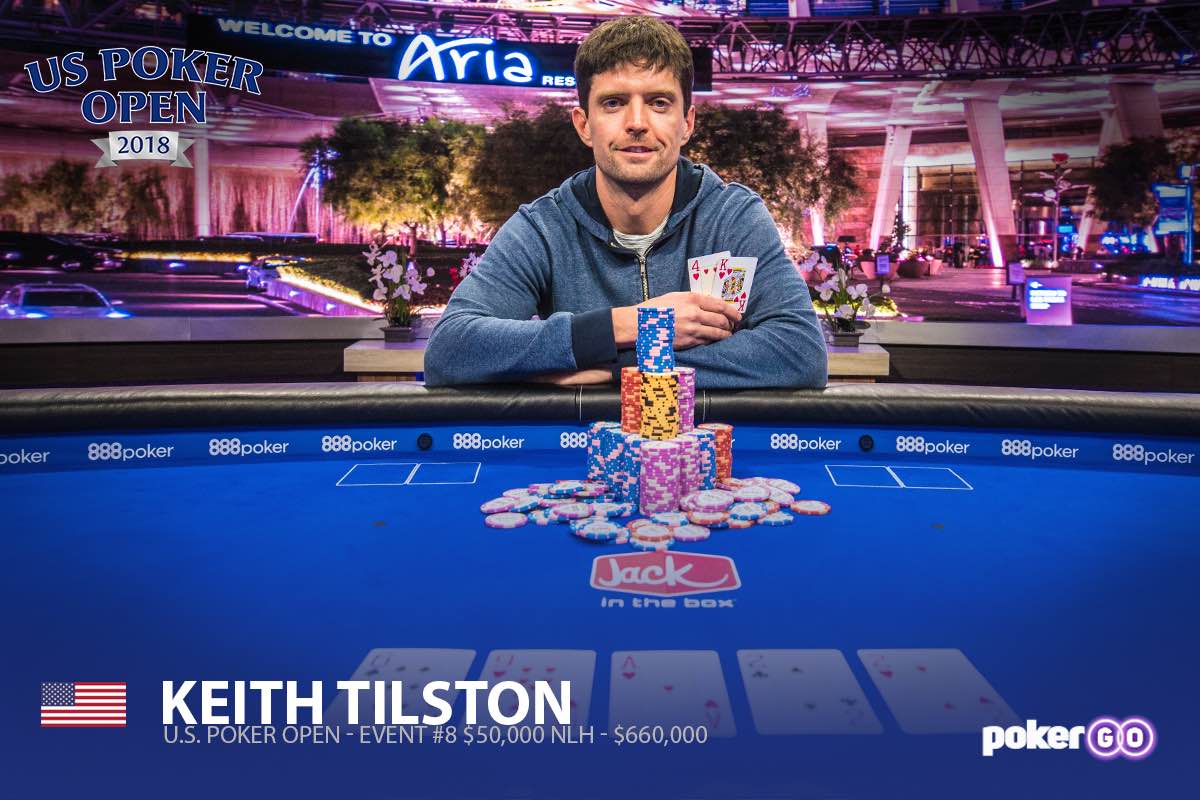 The conclusion to the inaugural US Poker Open was an exciting one. Four poker superstars and a savvy businessman clashed on PokerGO with $660,000 on the line in the $50,000 Main Event.
Keith Tilston impressed high roller regulars with his play during the USPO series and was rewarded with a hard-fought victory. The win is the first in the ARIA High Rollers for Tilston, who finished second to Stephen Chidwick in Event #3. Tilston wrapped up his USPO account with five cashes.
Keith Tilston saves his best #USPO finish for last.
Wins $50K Main Event for $660K, @Jake__Schindler takes silver, @RealKidPoker earns bronze. https://t.co/kTTbVhWw7D pic.twitter.com/6mvsBQ7SVa

— PokerGO (@PokerGO) February 11, 2018
Tilston opened the final table as chip leader and faced tough competition with the likes of Daniel Negreanu and Jake Schindler starting him down. Dan Smith came in as the short stack and did not improve from there to fall in fifth place.
The short stack gets sent to the rail in 6th! @DanSmithHolla falls to chip leader Keith Tilston and #USPO $50K Main Event action continues on PokerGO! https://t.co/kTTbVhWw7D pic.twitter.com/BTCTlJfU4c

— PokerGO (@PokerGO) February 11, 2018
Tom Marchese is well accustomed to ARIA High Roller success and had the chance to put another win on the mantle. Marchese did not achieve his goal of victory in the USPO Main Event and left the PokerGO stage in fourth place. Negreanu claimed most of the responsibility for Marchese's downfall by picking off a bluff for most of Marchese's chips.
Three barrels from @BigCheese_poker and three calls from @RealKidPoker. 👌👌👌
Tom Marchese eliminated in 4th, more #USPO $50K Main Event final table coverage here: https://t.co/kTTbVhWw7D pic.twitter.com/NAMxhJGkfd

— PokerGO (@PokerGO) February 11, 2018
Negreanu had strong intentions of winning this Main Event and breaking through in the USPO after a few shortfalls. Those hopes were dashed by Schindler, who ended Negreanu's run in third place.
He was the thorn in Daniel Negreanu's side and then @Jake__Schindler sent @RealKidPoker to the rail in 3rd.
Schindler and Tilston are heads up for the #USPO $50K Main Event title!
▶️: https://t.co/kTTbVhWw7D pic.twitter.com/vGmhQr22vl

— PokerGO (@PokerGO) February 11, 2018
Heads up play between Schindler and Tilston was action-packed. The two established an early rhythm and Schindler made sure to keep his foot on the gas. Schindler went into overdrive on a three-barrel bluff that was picked off by Tilston to clinch him the win.
Keith Tilston calls @Jake__Schindler's river shove and goes wire-to-wire to win the #USPO $50K Main Event.
Relive every U.S. Poker Open broadcast on-demand!https://t.co/kTTbVhWw7D pic.twitter.com/EJ3W8REr5G

— PokerGO (@PokerGO) February 12, 2018
Tilston ends his USPO campaign as the only player outside of Stephen Chidwick to breach the $1 million mark in total earnings. Poker Central's Remko Rinkema caught up with Tilston after the victory.
The U.S. Poker Open closes with Tilston in second-place on the overall leaderboard behind Chidwick, who clinched the top spot on Day 2 of the USPO Main Event. Final tablists Schindler and Negreanu both finished in the top-five.
Keith Tilston's $50K Main Event win moved him over $1 million, but no one could catch Stephen Chidwick.
The final #USPO Championship standings, with @Jake__Schindler, @RealKidPoker, and @PollakB rounding out the top-five!
Relive the action: https://t.co/gprk0y9bKA pic.twitter.com/JQqsUj98jf

— PokerGO (@PokerGO) February 12, 2018
If you missed any of the USPO action, subscribe now to PokerGO to watch the No Limit and Mixed Game events. New content is coming to PokerGO soon with the return of Poker After Dark.
You're all caught up!
No more pages to load