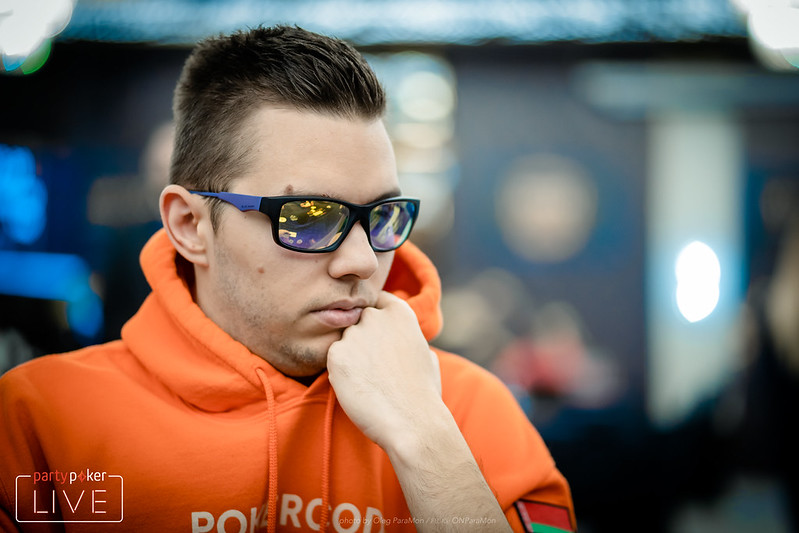 The pot that did the damage to Matthias Eibinger saw him three-bet Artur Martirosyan preflop to 80,000 with
, Martirosyan calling out of position.  On a
flop, Martirosyan called Eibinger's continuation bet of 36,000 having flopped top pair with
.  He check-called 120,000 on the
turn, too, then checked once more on the
river.  Eibinger, utterly still behind reflective shades while pondering his decisions, now put all but a single 1,000-denomination chip across the line with his ace-high, a bet of 165,000.  Martirosyan was not to be dislodged and Eibinger was left with 1/8 of a big blind.
Though he made a small comeback (to 12,000) this was soon forced all-in on the big blind (with
). Seth Davies called under the gun with
and Stephen Chidwick made up the small blind with
.
Chidwick flopped trips with
. No bet here; Chidwick check-called Davies' bet of 15,000 on the
turn, however, and improved from a full house to quads with the
river.  Chidwick checked his four queens, and Davies, with queens full of tens, bet 40,000.  Chidwick pondered though a timebank, then set Davies in – for around 400,000; Davies found the fold.
| Player | Chips | Change |
| --- | --- | --- |
| Artur Martirosyan | 790,000 | 409,000 |
| Stephen Chidwick | 689,000 | 219,000 |
| Seth Davies | 383,000 | -91,000 |
| Matthias Eibinger | Busted | -384,000 |