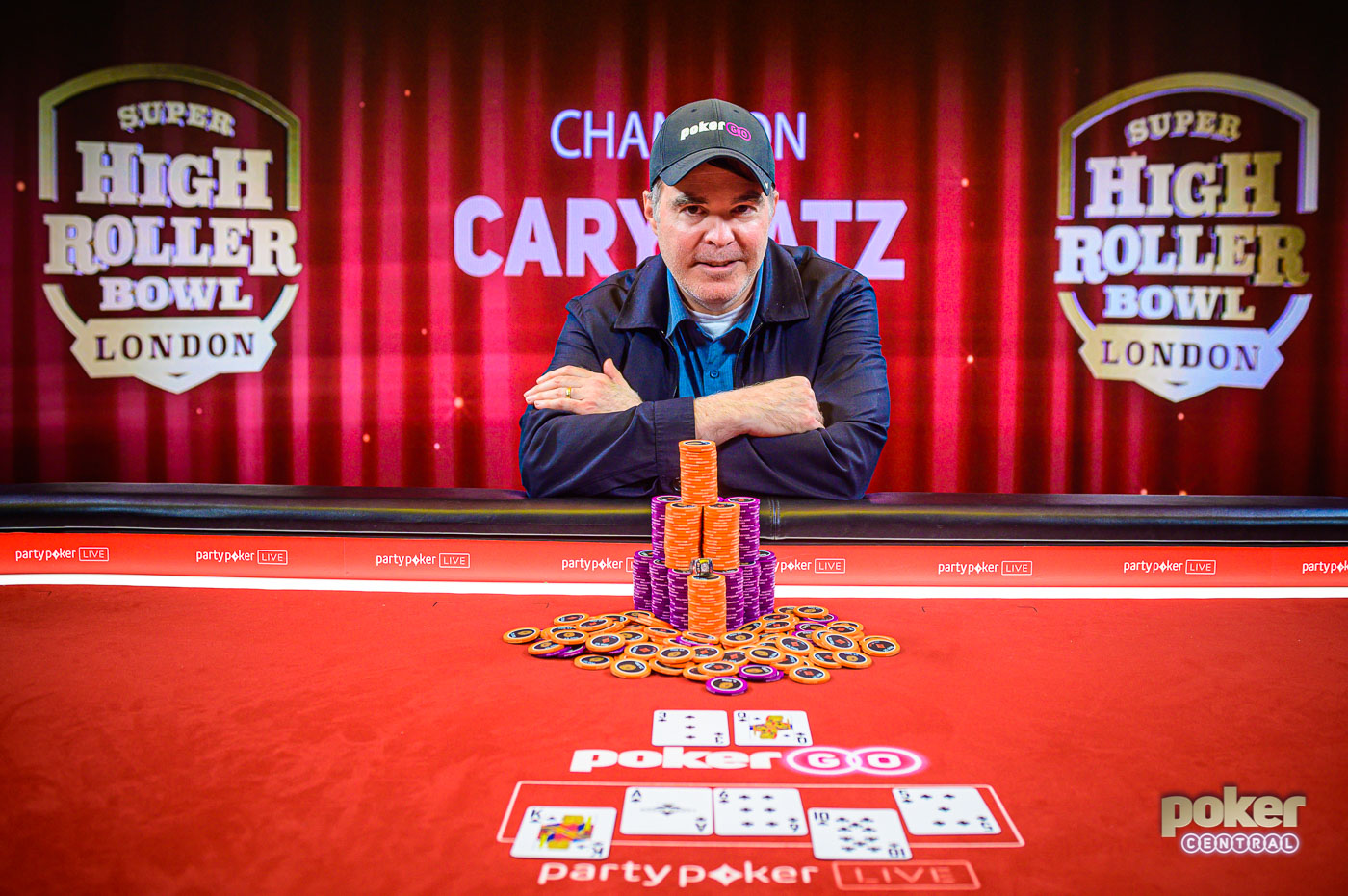 What a battle it has been but finally a winner has been crowned after a 10-hour final table that resulted in a win by Cary Katz who took home the first prize worth £2.1 million and with that the largest score of his career.
Relive the entire final table of Super High Roller Bowl London on PokerGO right here.
About his win and battling all day with Stephen Chidwick, Ali Imsirovic, and Christoph Vogelsang, Katz said, "For the first five hours, it felt like I was in a straight jacket. I was sitting between Vogelsang and Chidwick, I wasn't picking up any hands and I wasn't playing particularly well either."
"I'm just lucky I had a lot of chips to start the day. I think Stevie really deserved to win, he played absolutely perfect but he just kept losing all the races. Vogelsang also played terrific and Ali play unreal so I think I played by far the worst today but I just got the luckiest but I'll take it," Katz said with a smile.
This result brings Katz's live tournament earnings up to $24.3 million and leapfrogs him over Phil Hellmuth and Scott Seiver on the all-time money list into 18th place.
"This is my biggest score and I was just remarkably lucky. I got lucky on the hands that mattered after what seemed to just become a slow demise. I'm not in their league and I would just like to take my hat off to Stevie, Christoph, and Ali. I think they all played so much better than I did and I think they were all more deserving. I just got very lucky."
Recapping The Final Table
The final table started with seven hopefuls for the top prize lead by Christoph Vogelsang but it was Ali Imsirovic who drew first blood. In the early goings of the final table, Imsirovic scored a double knock-out in the following hand that sent Sam Greenwood and David Peters to the rail empty-handed.
Aces for @aliImsirovic! 🚀🚀

🇧🇦 busts @dpeterspoker17 and @SamGreenwoodRIO to move near the 🔝 of the #SHRBLondon final table leaderboard!

Watch LIVE: https://t.co/ImFH0Tr5UR ⬅️ pic.twitter.com/CqZCG3o7hu

— PokerGO (@PokerGO) September 14, 2019
Next to go was Mikita Badziakouski, who limp-shoved ace-jack into Imsirovic's kings in a blind battle. The board ran dry for Badziakouski as Imsirovic took a serious chip lead over the remaining four players.
As play got four-handed, the big pots continued as well as the tremendous plays, but no bust-outs were to be seen for a whopping six and a half hours. During four-handed play, the chip lead shifted back and forth between the players who laid it all on the line. One hand, in particular, had the fans and commentators shook as Chidwick pulled off a massive bluff on Christoph Vogelsang.
There's sick and then there's Stephen Chidwick. 🐐

Back-to-back hands leave @jeffplatt and @Bhanks11 speechless: https://t.co/ImFH0Tr5UR #SHRBLondon pic.twitter.com/RXpanozumW

— PokerGO (@PokerGO) September 14, 2019
At one point, Cary Katz was down to just a few big blinds but he battled back hard and after a few favorable showdowns he found himself back in the hunt. First Katz doubled through Imsirovic with nines against ace-deuce before seeing ace-eight hold up against Vogelsang's queen-nine suited.
Katz then doubled up twice more, first with ace-king versus Vogelsang's king-jack and then into the chip lead versus Chidwick with sixes against ace-king. On the very next hand, Chidwick doubled up Imsirovic with ace-queen to tens and was left on fumes.
After Chidwick busted in fourth place, Christoph Vogelsang was next to go on the massive money bubble. Vogelsang was all in with sixes and up against Imsirovic who made a full house after it was all said and done. Katz and Imsirovic were now guaranteed £900,000 with a £2.1 million first prize left to be played for.
Katz made strong hands during heads-up play as the chip lead bounced back and forth leading up to the final hand. On the final hand, Katz made a winning flush on the river versus Imsirovic's turned set as all the money went into the middle on the river. Katz and Imsirovic shook hands just prior to the former sliding the one-of-a-kind Super High Roller Bowl London ring onto this finger.
In closing, Katz said, "I've been very fortunate that I've had the resources to play against the best players in the world and able to copy what they do and ad bits and pieces of my own game, which at this point is a tricky passive type game. I can't be more aggressive than them and I can't be more GTO than them so I'm going to have to play a different game."
"I'm fortunate to be up playing poker and I'm looking to build a better tour. I think we're going to do much better next year with the British Poker Open and Super High Roller Bowl London and I think we'll get a much better turnout. We have some very exciting things on the agenda and I just feel very lucky to be a part of it."
A full recap of this incredible final day will follow here very shortly.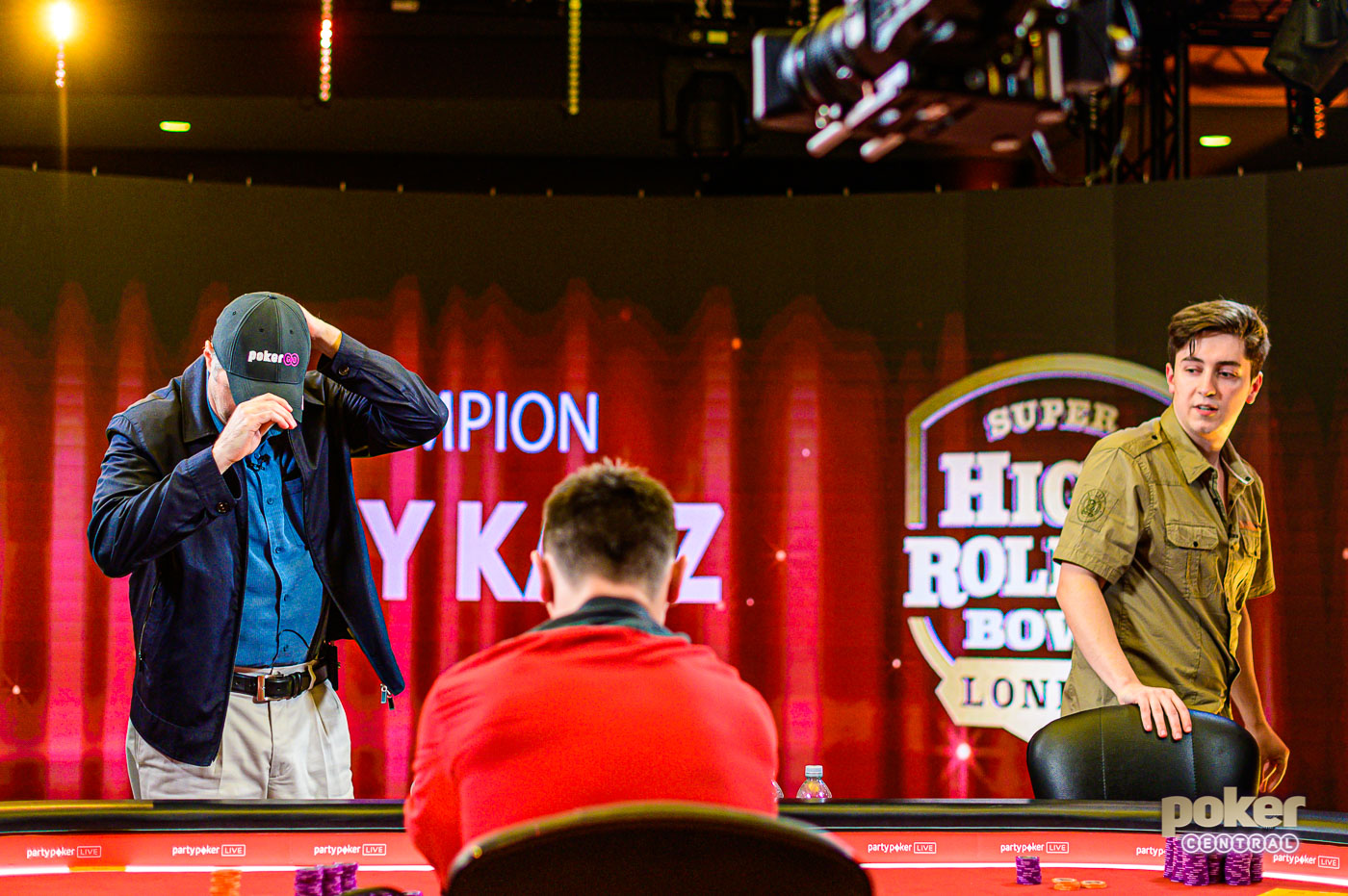 Cary Katz called with
and Ali Imsirovic raised to 150,000 with
, Katz quickly calling.
It came
on the flop. Imsirovic bet 35,000 and Katz called.
The turn of
saw Imsirovic turn a set of tens and he bet out 250,000. Katz, with the flush and gutshot straight draw, made the call.
The river
saw Imsirovic bet all-in and Katz called, to take down the final pot….which after a count….pronounced Cary Katz as the Super High Roller Bowl London Champion!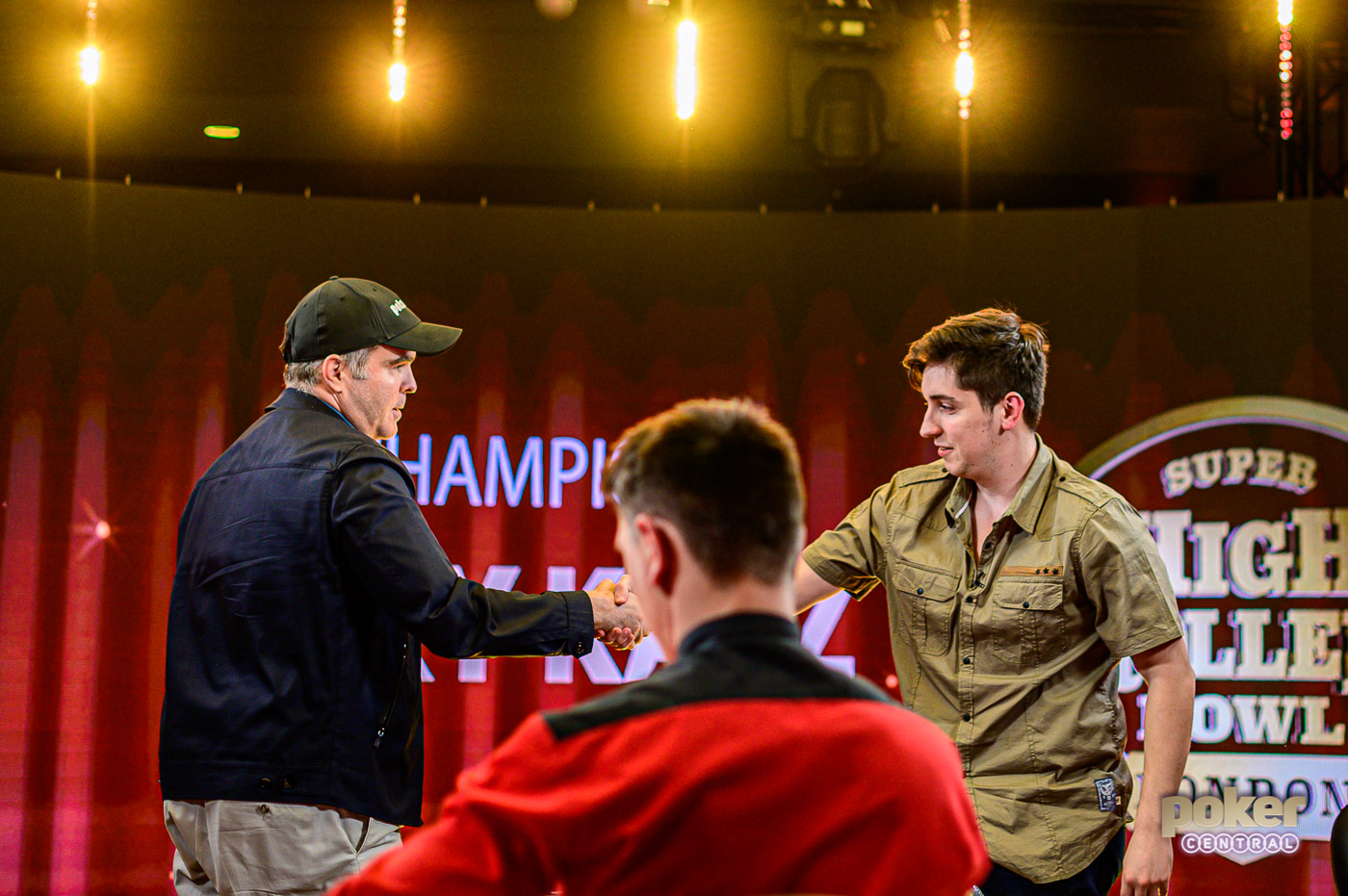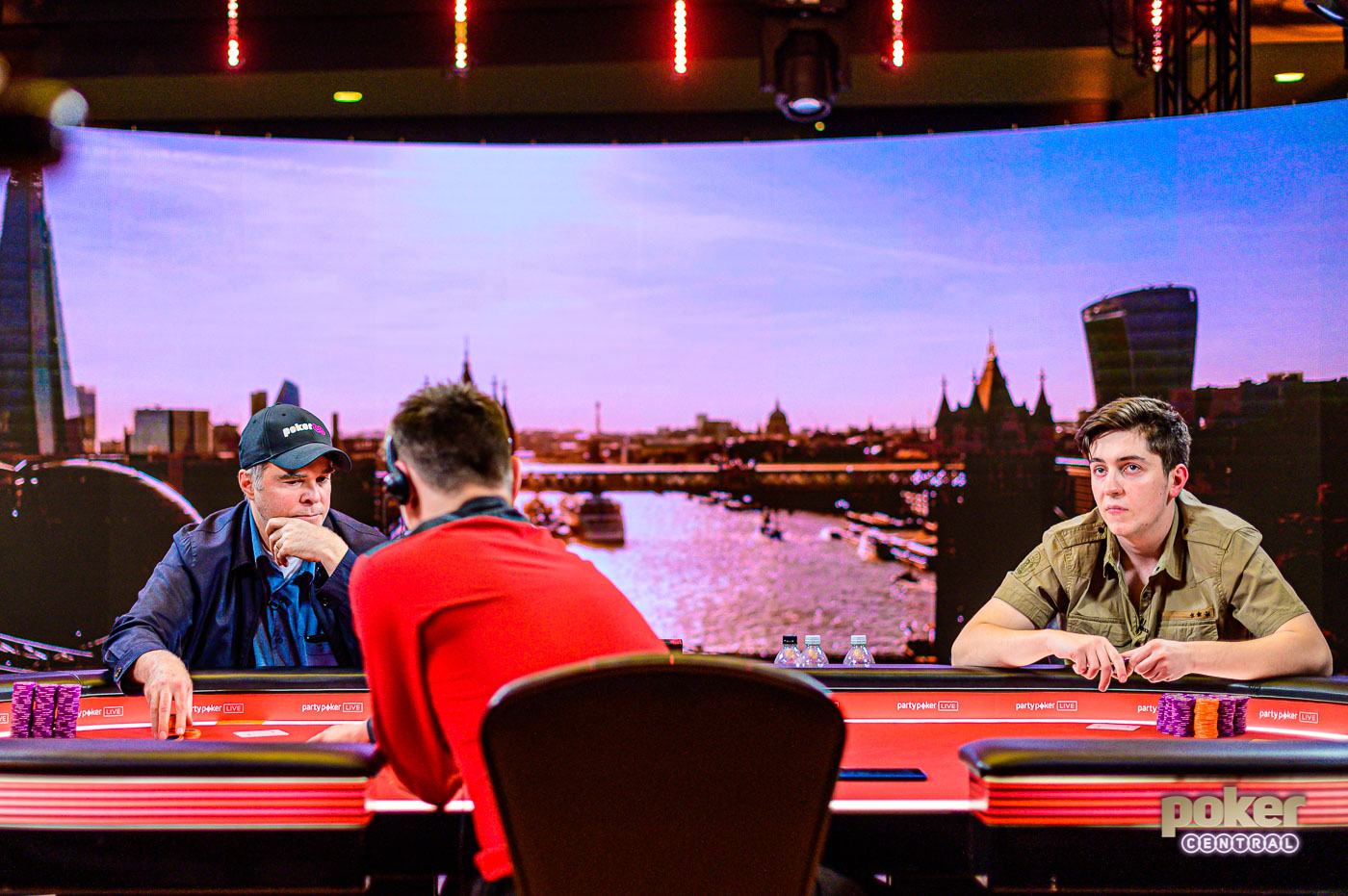 Ali Imsirovic limped the button and Cary Katz made it 155,00 to play. Imsirovic made the call.
Katz:
Imsirovic:
The flop of
saw Katz bet 300,000. Over to Imsirovic, who called. A huge pot now building, the turn was the
, changing nobody's hand strength. Katz bet again, this time to move all-in. A sensational play!
Imsirovic looked sick to throw it away, but much he did, and Cary Katz has the chip lead back once again.
What a to and fro heads-up, a fitting end to this truly epic day.
Cary Katz raised to 250,000 with
on a board showing
where Ali Imsirovic had
. The river
saw Katz win the pot and go back int othe lead.
All square after around an hour of heads-up play, Cary Katz moved all-in for 1.5m with pocket deuces in the next hand and Imsirovic folded ace-nine.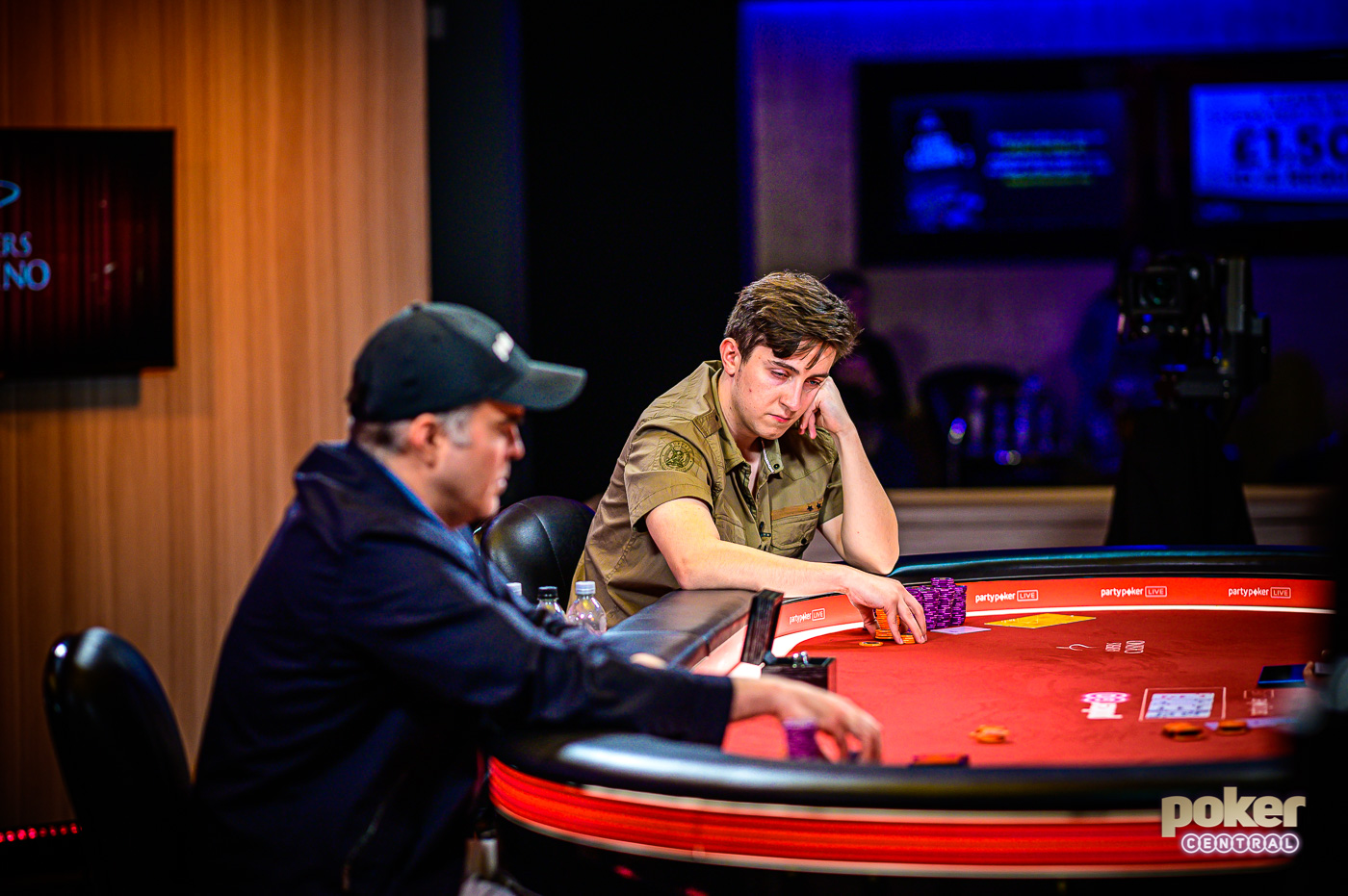 Cary Katz set up the river bet with barrels on flop and turn holding
on a board showing
and snap-called Imsirovic's river bet of 430,00.
But the Bosnian had
to river a straight just as Katz had two pair, and that was half of Katz' stack going into that pot.
Imsirovic, who was behind for some time in this heads-up battle, has the lead now, and is putting on the afterburners.
They're going toe to toe here in an unbelievably good display.
Katz called Imsirovic' bet of 100,000 on the button, and the Bosnian was all over the flop, having made bottom and top pair with ace-eight on
.
Add in another raised pot to the younger man and we have a new leader.
A raised pot saw Katz with the
and Ali Imsirovic with the
. The two players got a flop of
and a c-bet of an unidentified amount was made by Katz and called by Imsirovic.
The turn of
saw Katz bet 100.00 which was called by the Bosnian.
The river [J]s saw Imsirovic check, but Katz bet 100,000 again and Imsirovic fold his pair of aces.
Level
Level 18
Blinds
15,000 / 30,000
Big Blind Ante
30,000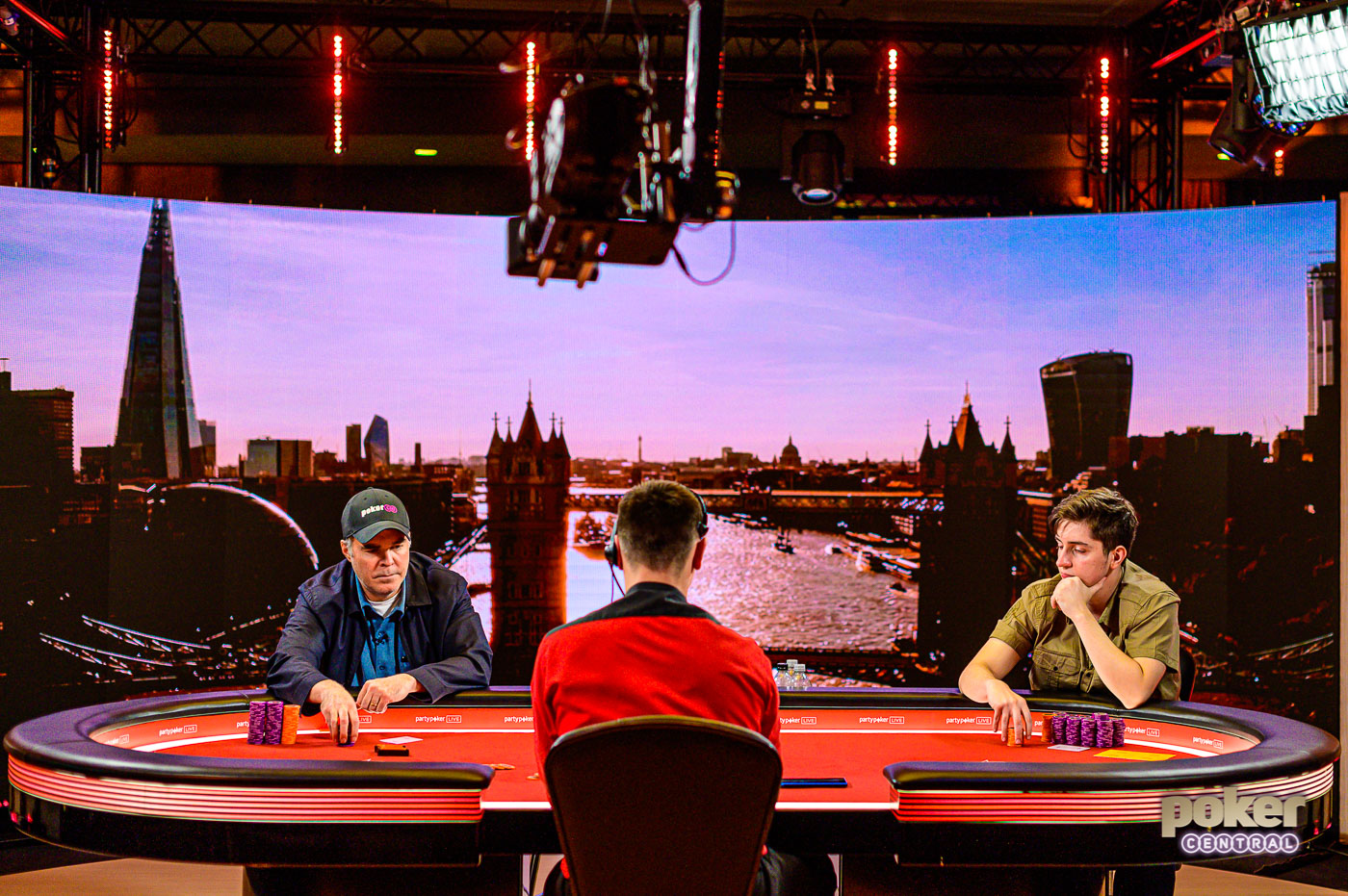 Imsirovic made it 85,000, Katz raised to 250,000 with
and Imsirovic called with
.
The flop of
saw Katz c-bet 200,000. Imsirovic called.
The turn was the
, giving Katz the nut flush draw. Katz moved all-in!
Imsirovic had a huge decision to make. No flush draw, an underpair to the nine or jack onboard… Imsirovic tossed in the time bank card to give himself another minute's thought.
"I figure if you have the flush draw, you raise it on the flop." said Katz.
Imsirovic said nothing… but he laid it down.
Cary Katz takes a 2:1 chip lead!
You're all caught up!
No more pages to load