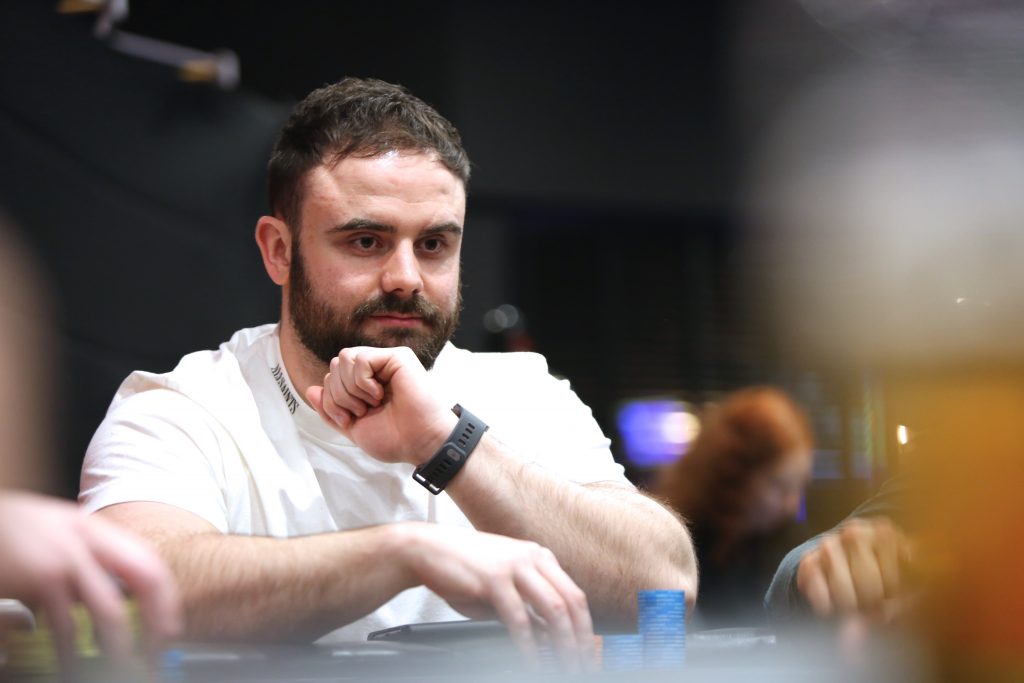 The $25,500 Super High Roller, the highest buy-in event of the partypoker MILLIONS taking place this week at Nottingham's Dusk Till Dawn, began today with 23 total entries.  While the likes of timely starters Sam Grafton, Christoph Vogelsang, Ben Heath, and Alex Foxen had to chat in the wings for a while before the first table's cards went airborne, the day was not short of action thereafter.
Seven-handed, the initial line-up made Leon Tsoukernik an offer that should he sit down, they would not be "boring" – all of them agreed to straddle for the first level. This was one of many decisions made en masse by the Super High Rollers, the last of which was quite a hefty alteration to the planned schedule – Day 1 would end at Level 8 and the ten survivors would return to two more levels of late registration.   And so it was, and so it shall be.
Play ended with Luke Reeves comfortably in the chip lead. His 5,160,000 chips represent almost twice the closest stack to his – that of Preben Stokkan (2,685,000.)  Reeves' big pairs won him big pots: he cracked aces with queens (eliminating Kahle Burns in the process) and then held up when his own aces found the kings of Michael Zhang behind him. That late-stage pot busted Zhang; likewise Tsoukernik, who drove the early action with a bravura display of preflop aggression – definitely eye-opening  for anyone watching the live stream – ran out of chips once too many for today but both have the option to re-enter on Day 2, should Day 1a of the $10,300 Main Event not appeal.
Stokkan is not the only chip multi-millionaire.  Kristen Bicknell takes 2,455,000 chips into Day 2, Mikita Badziakouski 2,250,000, Alex Foxen 2,240.000, and Igor Kurganov 2,380,000.  There is only one player who can really be said to be returning short-stacked: Vogelsang, whose 290,000 chips are unlikely to remain neatly stacked for too long after play recommences at 1 p.m. local time.  Live streaming (cards up) from the Feature Table will begin around 4pm local time.
| Player | Chips | Change |
| --- | --- | --- |
| Luke Reeves | 5,160,000 | -465,000 |
| Preben Stokkan | 2,685,000 | 425,000 |
| Kristen Bicknell | 2,455,000 | 695,000 |
| Igor Kurganov | 2,380,000 | 520,000 |
| Mikita Badziakouski | 2,250,000 | -757,000 |
| Alex Foxen | 2,240,000 | 1,333,000 |
| Rainer Kempe | 1,985,000 | 985,000 |
| Joao Vieira | 1,970,000 | -80,000 |
| Ben Heath | 1,555,000 | -45,000 |
| Christoph Vogelsang | 290,000 | -155,000 |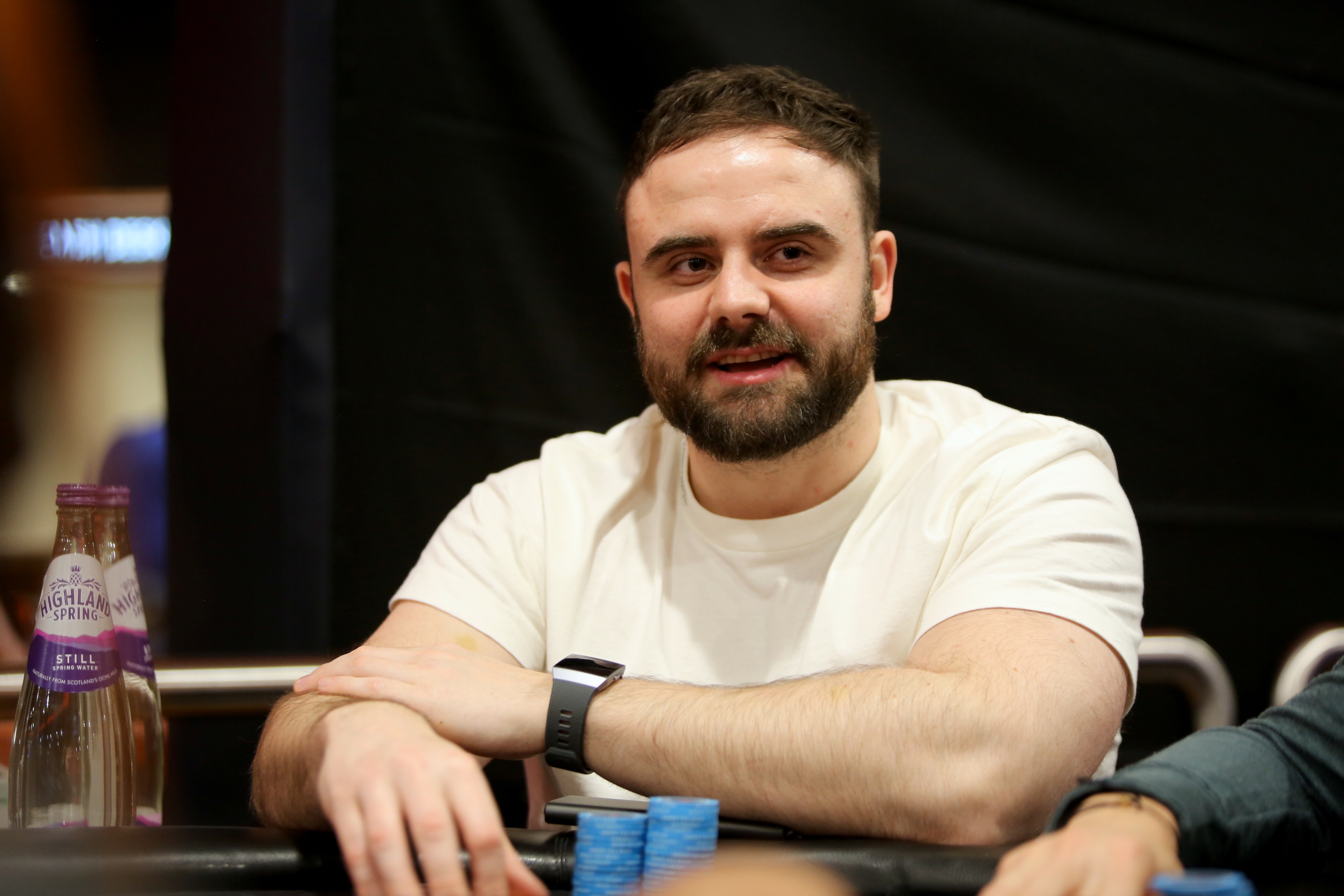 Rainer Kempe opened the button for 60,000 but would discover soon enough that he wouldn't be picking up the blinds just that easy. Small blind Michael Zhang three-bet to 230,000 and big blind Luke Reeves cold four-bet to 500,000 even. That was all Kempe needed to hear and he got out of the way soon enough.
With the action back on Zhang, he did a quick count on how much he had behind. Soon enough, he shoved for what appeared to be about 1.6 million total. Reeves wasted no time calling.
Michael Zhang:

Luke Reeves:
The board made for little excitement:
.
Reeves, who was already leading, gained a ton more chips as Zhang exited the tournament arena with a wry smile on his face.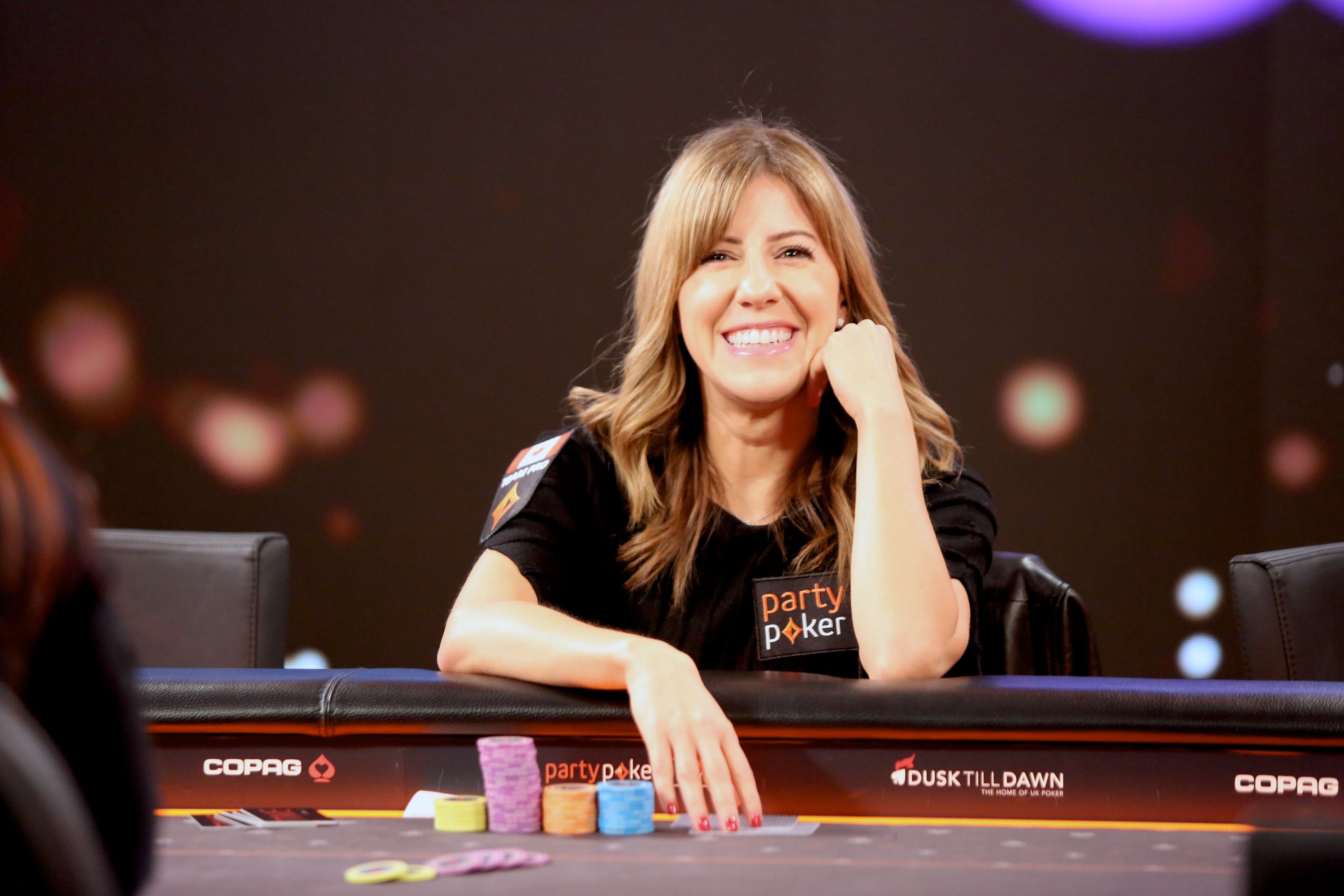 It folded to Kristen Bicknell on the button, who made it 50,000 to go holding
. Both blinds called (Preben Stokkan with
and Kahle Burns with
).
The flop brought her a flush draw, and paired Burns' eight:
.  She bet when it was checked to her, and brought only Burns to the
turn.  He checked, she fired 205,000 and that was enough to win her the pot.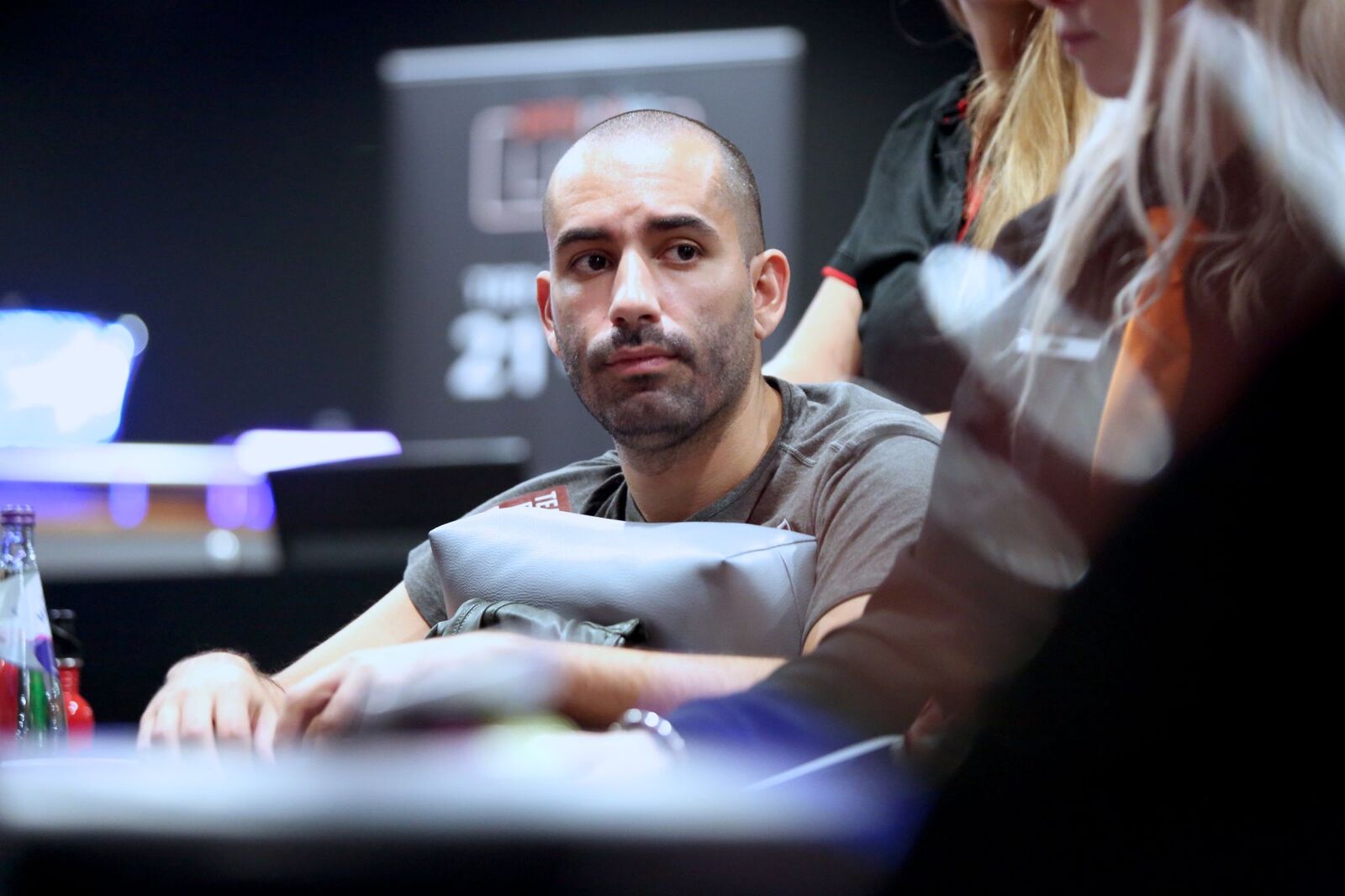 Igor Kurganov found himself in another battle of the blinds, this time in the small blind vs. Joao Vieira.  Caught from the flop (
), Kurganov led out for 25,000, called by Vieira.  The turn brought the
and another lead from Kurganov, this time for 100,000.  Call.  The river brought a fourth spade – the
.  Kurganov bet once more: 175,000.  Now Vieira paused, staring into the flop until he noticed his shot clock was running out of juice and tossed in a timebank card.  Halfway through his second lot of seconds, he made the call with [Kh 7h].  Third pair turned out to be good; there wasn't a spade between them. Kurganov showed
.
Michael Zhang opened the button and Igor Kurganov called from the big blind. Kurganov check-called 30,000 on
before they both checked the
on the turn. Kurganov led for 125,000 on the
river. Zhang called and showed a winner with
as Kurganov's
proved no good.
In a change from the published schedule, the $25,500 Super High Roller will end for the day after Level 8, not 12, and reconvene at noon tomorrow with two levels of late registration still to play.  There will also be a full redraw before the start of play for Day 2.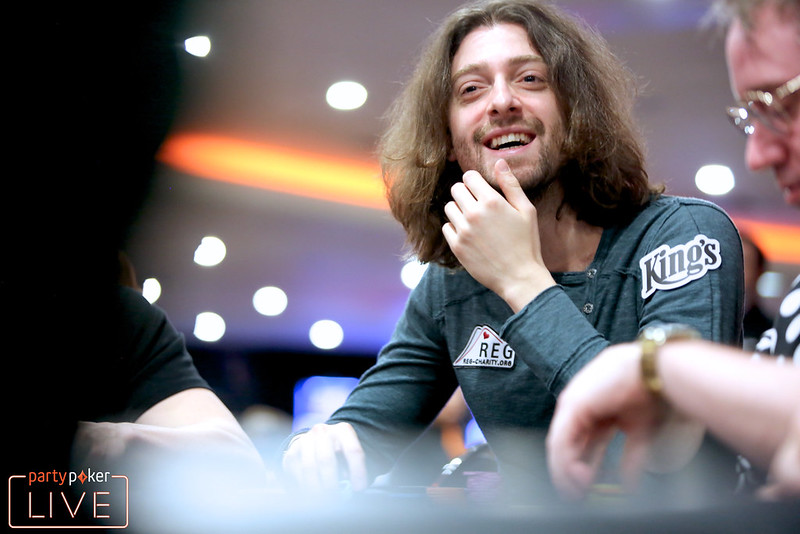 It folded round to small blind Luke Reeves, who made up the 20,000; big blind Igor Kurganov checked his option.
The
brought a small bet from Kurganov and a call, but this trend continued – and got pricier – with a bet of 100,000 on the
turn and 200,000 on the
river.  Both times Reeves made the call, mucking, finally, on seeing his opponent's
– a flopped two pair.  No one said "big blind special" because that's not the sort of thing high rollers go in for.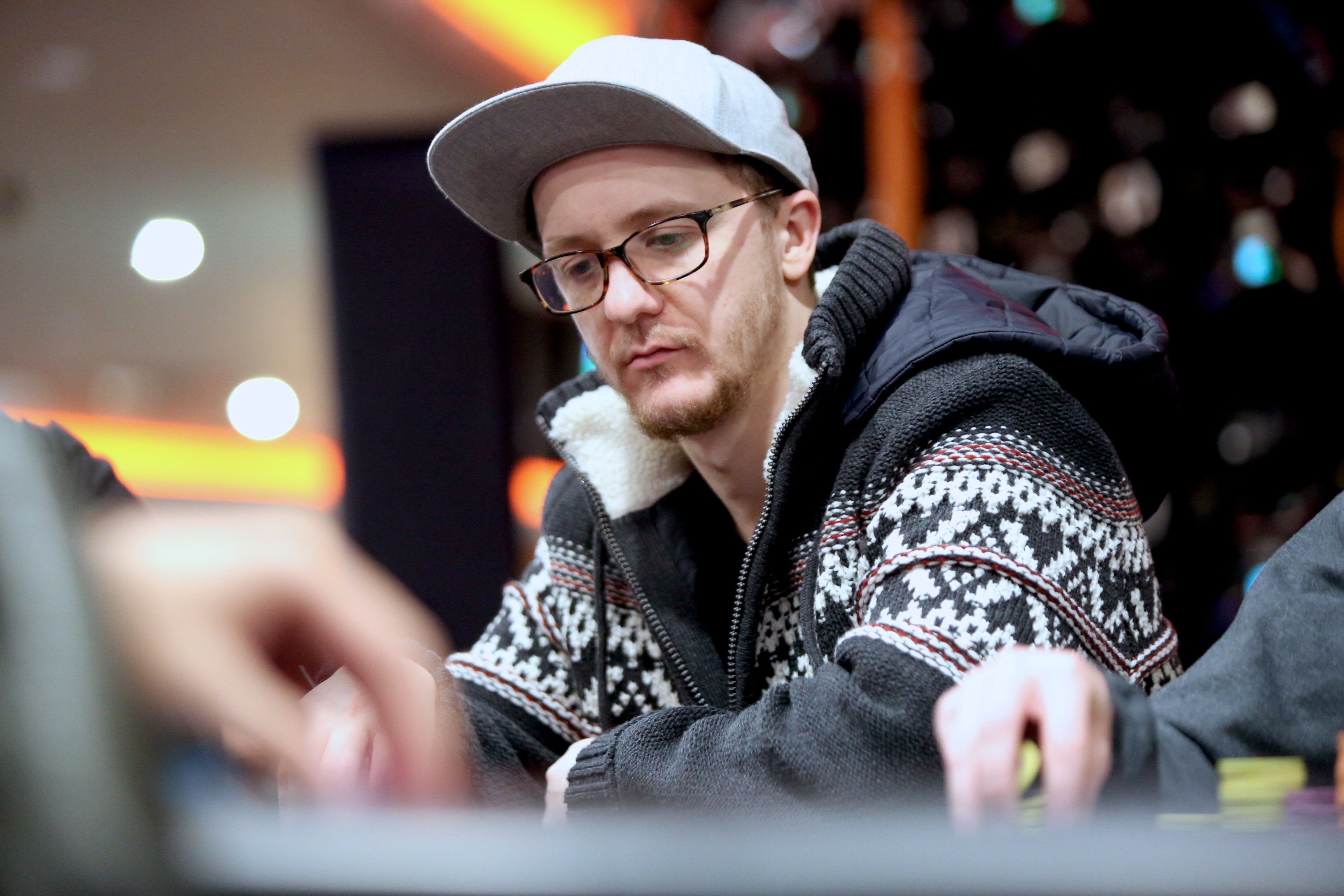 Kahle Burns opened the hijack for 45,000 and his neighbor Luke Reeves three-bet the cutoff to 150,000. The action folded back around to Burns who four-bet to 375,000. Reeves contemplated his options for a bit before shoving. Burns called instantly.
Kahle Burns:

Luke Reeves:
While Burns was ahead, that all changed on the turn as the board ran out
.
"You win," Burns said to Kempe while Reeves collected all of his chips. "The flop was red, so I owe you £10."
While Kempe won £10 betting props and Burns headed to the rail, Reeves was stacking his chips worth about 4.4 million.
Level
Level 7
Blinds
10,000 / 20,000
Big Blind Ante
20,000
| Player | Chips | Change |
| --- | --- | --- |
| Luke Reeves | 2,800,000 | 100,000 |
| Joao Vieira | 1,650,000 | -100,000 |
| Ben Heath | 1,600,000 | -100,000 |
| Kahle Burns | 1,400,000 | -150,000 |
| Igor Kurganov | 1,380,000 | -120,000 |
| Rainer Kempe | 1,000,000 | 1,000,000 |
| Sam Grafton | Busted | - |
You're all caught up!
No more pages to load