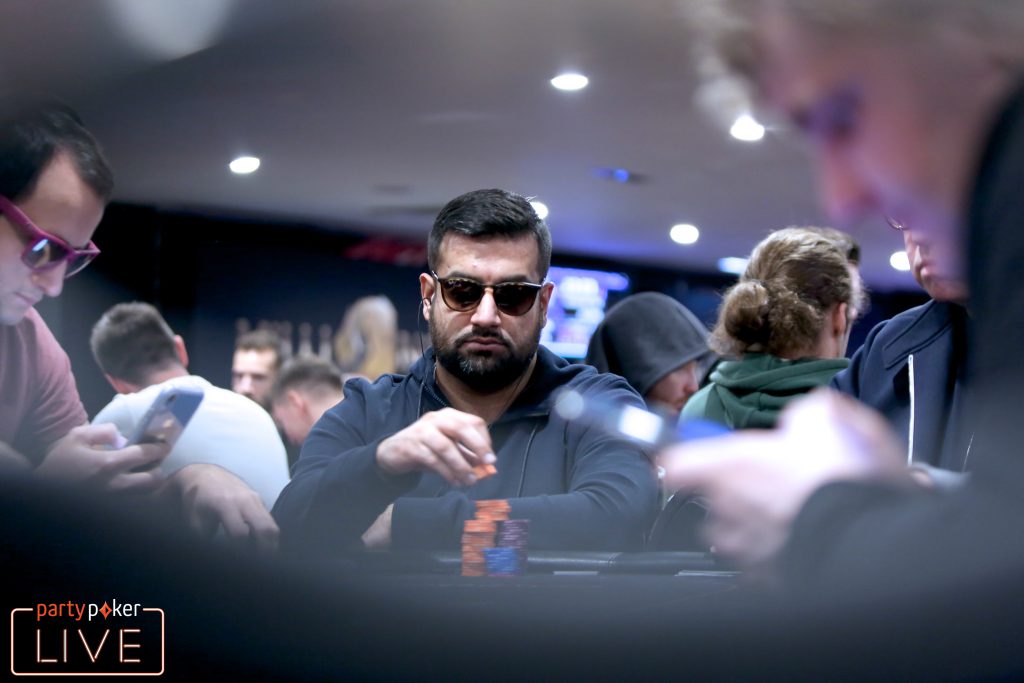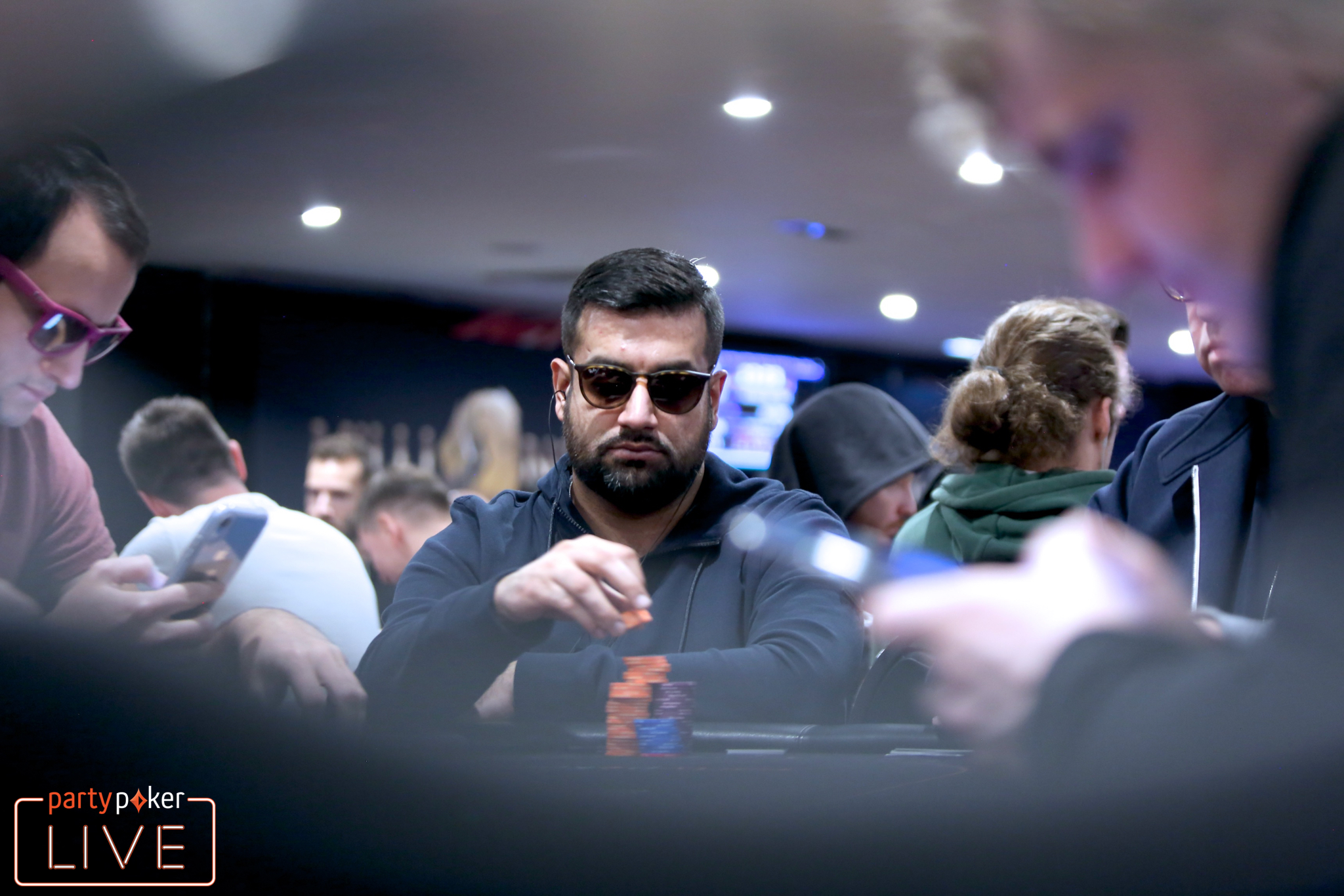 Peter Chien raised to 320,000 preflop, called in position by Kully Sidhu alone.  Both players checked the
flop.  On the
turn, Chien checked again and Sidhu bet 550,000.  Chien called and the
fell on the river.  A final check from Chien, and Sidhu fired 1,200,000, called very snappily by Chien who tabled
for a broadway straight while Sidhu's
rivered two pair had cost him a chunk of his stack.
With 67 players remaining and 60 making it in the money today, the bubble is approaching. That didn't prevent Fredrik Andersson from making a big call just now, eventually resulting in his double up through Sam Grafton.
Grafton opened from the hijack and Andersson defended from the big blind. Andersson would go on to check-call all three streets with Grafton betting 350,000 on the
flop, 1.4 million on the
turn, and shoving for effectively 3,985,000 on the
river.
Andersson called with
while Grafton had
.
James Romero, chip leader at one point today but a short stack recently, shoved under the gun for 1.8 million. His neighbor, Fredrik Andersson, called and all other players got out of the way.
James Romero:

Fredrik Andersson:
Romero found himself behind but triumphed on
. Double up for Romero.
Marvin Rettenmeier, briefly over the 10 million chip mark, has been raising to 325,000 repeatedly preflop, taking on his table who, in recent hands, are coming off better out of it.
In one hand, his 325,000 open was called by button Per Siden and big blind Anthony White, to see a flop of
.  His continuing 465,000 bet was called only by Siden, who proceeded to bet 1,000,000 on the
turn, enough to get a fold from Rettenmeier.
Two hands later, he raised preflop under the gun to the same amount, finding Anton Suarez in the small blind putting in a raise to 1,350,000.  Rettenmeier called.  On the
flop, Suarez led out for 625,000 and Rettenmeier called again.  He stopped calling, however, when Suarez led out 2,400,000 on the
river.
Nine players from the money, Joao Vieira shoved from middle position for 2,090,000. Alex Keating on the button asked for a count and eventually over shoved for 3.3 million. The blinds got out of the way.
Joao Vieira:

Alex Keating:
The board ran out
and the two chopped the pot.
Joao Vieira just doubled through his neighbor Michael Sklenicka with
up against
. We're unsure when the chips went in in this battle of the blinds, but the board of
favored Vieira.
Vieira is up to 3.15 million while Sklenicka has to do with 2.8 million as 73 players remain.
Level
Level 16
Blinds
80,000 / 160,000
Big Blind Ante
160,000
Fourteen players from the money, Kevin Rabichow shoved under the gun for 1,060,000. The action folded to Anton Suarez on the button and he called. Both blinds folded.
Kevin Rabichow:

Anton Suarez:
The board ran out
and Rabichow doubled.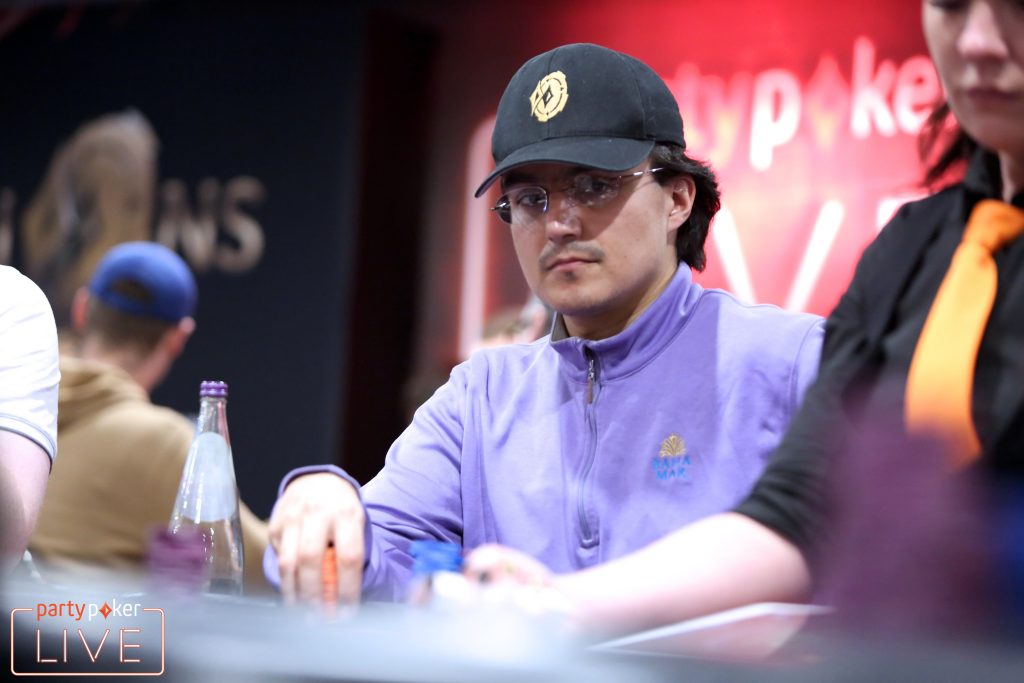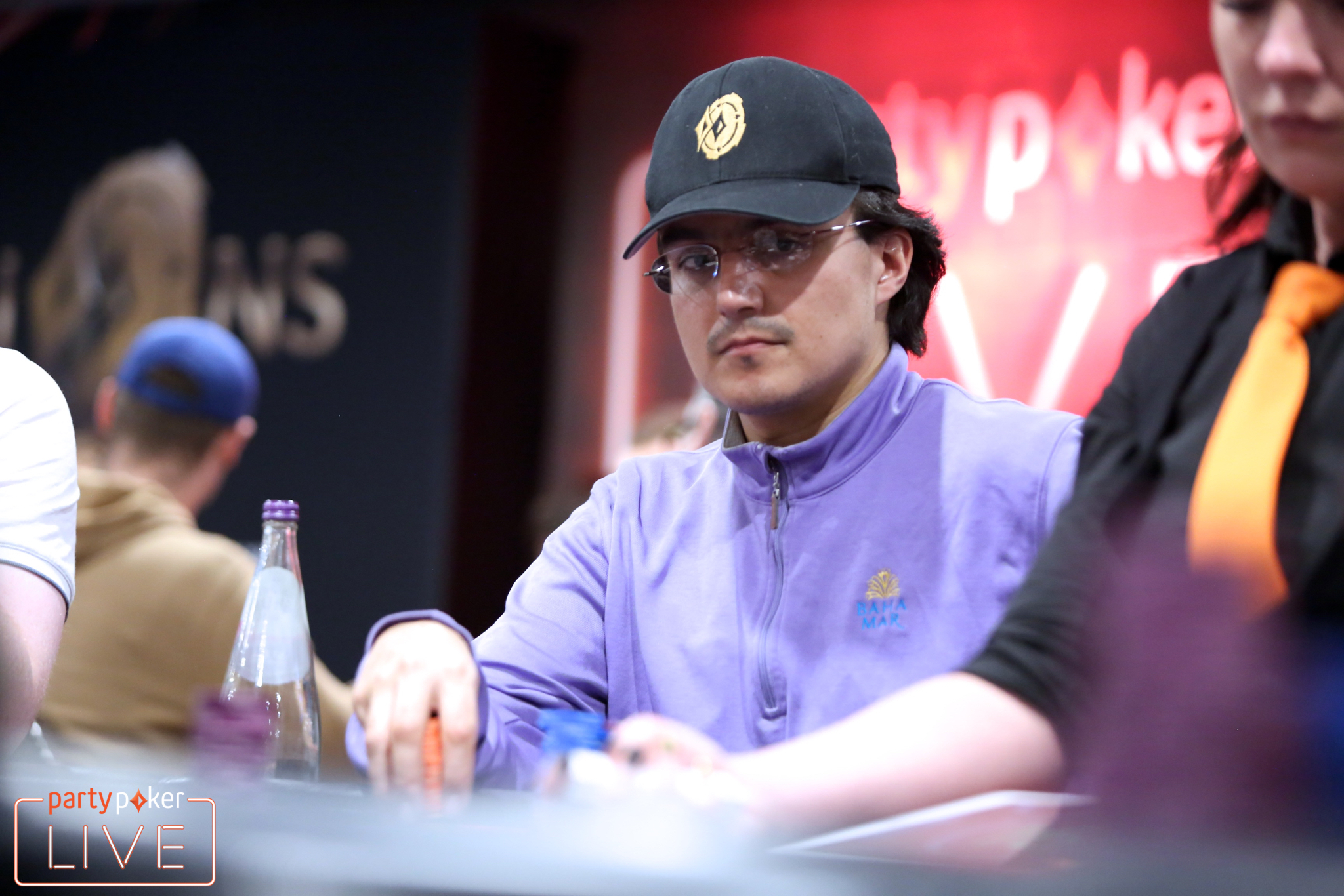 At almost exactly the same time, two hands were dealt that involved exactly the same preflop match-up: pocket kings vs. pocket tens.  The first saw a shortish stacked Muktar Taysi all in preflop with
vs. monster stacked Weijie Zheng's
.  The board ran out safe until it didn't – a river
that prompted Taysi to exclaim, "No-o-o!" and then exit the tournament.
Nearby, James Romero opened in the cutoff (we missed the amount), and found small blind Carlos Chadha upping the bet to 1,000,000.  Back to Romero, who four-bet to 2,100,000.  Chadha pulled the all-in lever, for 6,330,000 total, and after a pause, Romero made the call.
Romero:

Chadha:
The board ran out
and Romero, recently counted amongst the chip leaders, dropped to a felt-brushing stack.
| Player | Chips | Change |
| --- | --- | --- |
| Carlos Chadha | 13,400,000 | 7,400,000 |
| James Romero | 1,000,000 | -8,840,000 |
| Muktar Taysi | Busted | -1,000,000 |
Big blind Anton Suarez and button Kevin Rabichow saw a heads up flop of
, with over 1,200,000 in the pot already (we missed the preflop action, but assume a raise and called three-bet due to their positions).
Suarez led out for 475,000 on the flop, called by Rabichow.  Both players checked the
turn.  The river gave the board a full house with the
.  Suarez led out for 2,400,000, sending Rabichow for a trip into the timebank.  Eventually he threw in a call-signifying chip.  Suarez tabled
for a better house than that on display; Rabichow tossed his cards face-down into the muck.
You're all caught up!
No more pages to load