Three more hands will be played until they bag up and call it a day. They will continue in the same seats as today and redraw when they reach a final table of nine.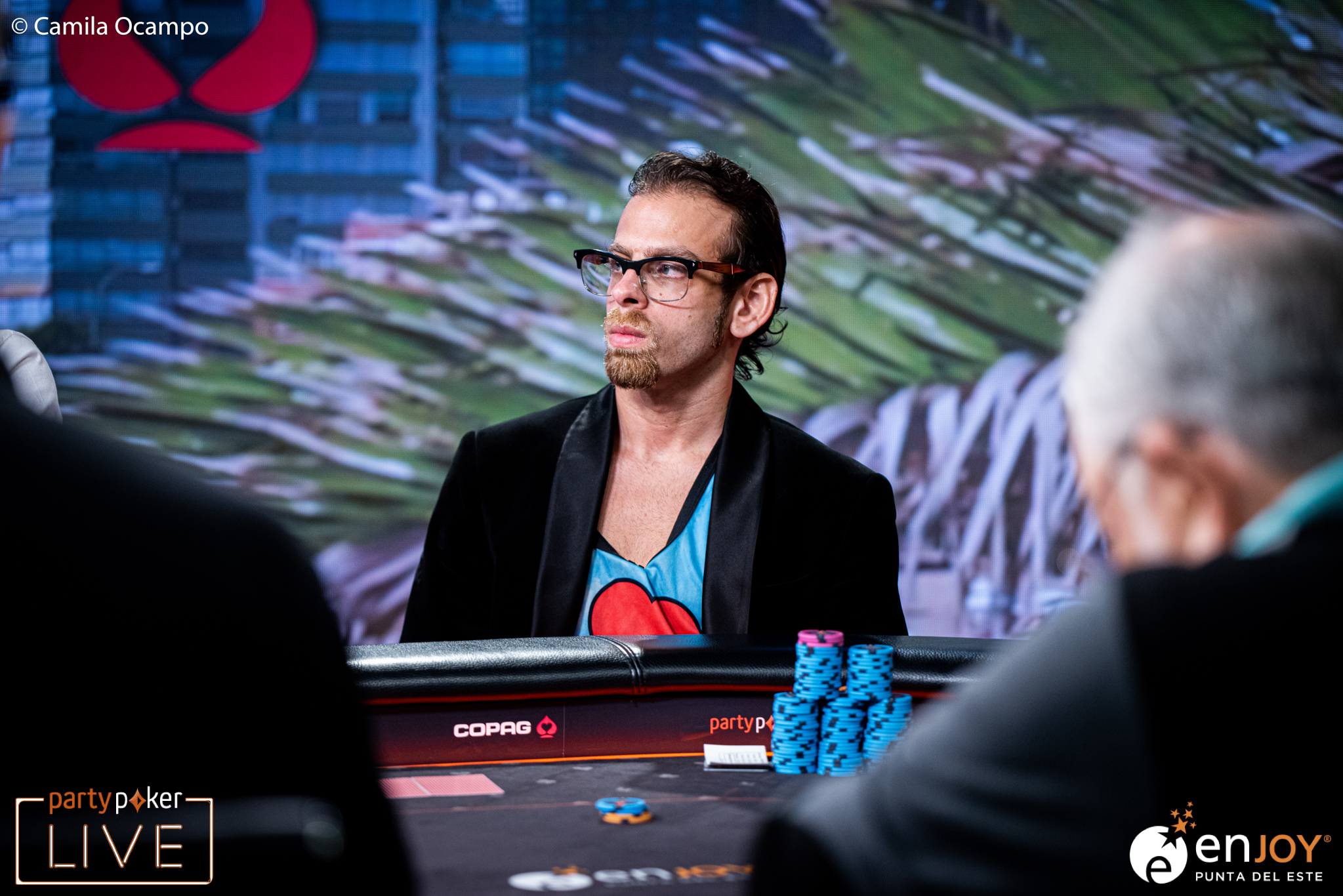 Daniel Rezaei raised to 2,000,000 from the button and Pablo Silva shoved from the small blind for 25,900,000. Charles Kassin called for his last 15,900,000 and Rezaei got out of the way as he let them fight it out.
Kassin had
against the
of Silva.
The
flop was great for Kassin as he knocked on the table. Silva, however, then hit on the
turn and on the
river for two pair to beat the top pair of Kassin.
Kassin ran away from the table and was off to the cashier to collect $60,000.
| Player | Chips | Change |
| --- | --- | --- |
| Fabio Colonese | 57,300,000 | -3,200,000 |
| Fabian Gumz | 46,000,000 | 8,450,000 |
| Pedro Madeira | 36,500,000 | -3,200,000 |
| Rafael Caiaffa | 26,400,000 | -1,000,000 |
| Dzmitry Urbanovich | 24,100,000 | -22,900,000 |
| Sergio Luis Di Pego | 17,400,000 | 2,700,000 |
Pablo Silva his stack is going down but now back up. First he lost in a preflop blind versus blind situation against Charles Kassin. Silva lost with eight-five suited against the king-seven of Kassin who made quads.
Silva had only 3,700,000 behind but he then tripled up before he secured another double.
Silva is now back up to 25,000,000.
Pedro Madeira jammed for effectively 13,200,000 from the small blind to put Rafael Caiaffa at risk. Caiaffa called for his tournament life.
Pedro Madeira had
and he had one live card against the
of Caiaffa. The
brought one of those outs and Caiaffa was drawing to the case seven or the runner-runner flush.
The
turn gave some hope and he hit on the
river to survive.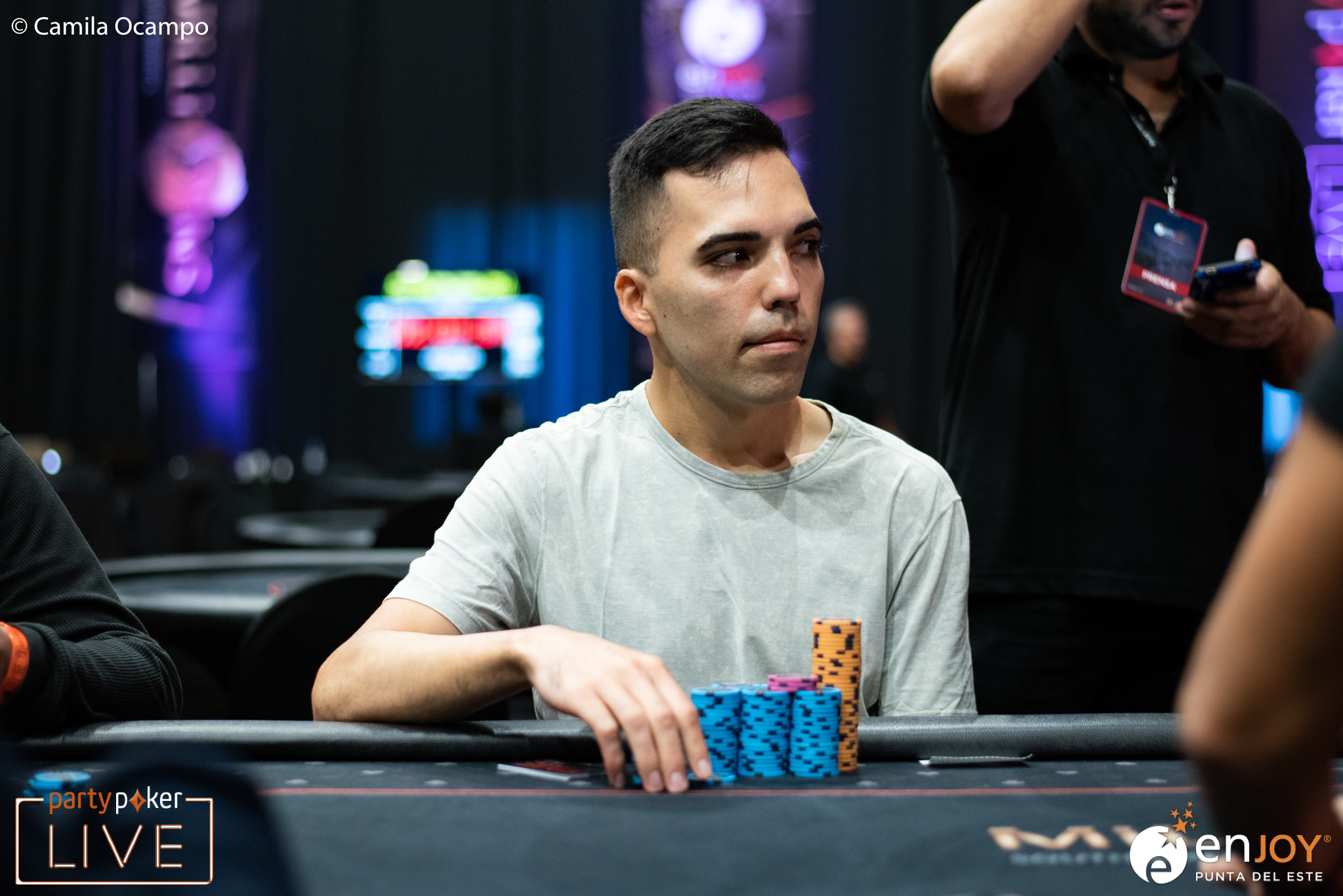 Hiroaki Harada pushed all in from the button for 4,700,000 and he was called by small blind Andres Viola. Harada pushed with
and he was up against the
of Viola.
The board fell
and Viola eliminated Harada in 12th place.
The Japanese player took home $45,000 and the others are now guaranteed $60,000.
Daniel Rezaei opened from the hijack to 1,700,000 and Andres Viola called from the big blind.
The flop fell
and Viola check-called a bet of 1,600,000.
The turn was the
and Violo check-called a bet of 7,000,000 this time.
The river was the
and both players checked.
Viola showed
and Rezaei mucked his hand.
Level
Level 24
Blinds
500,000 / 1,000,000
Big Blind Ante
1,000,000
Pablo Silva limped on the button and small blind Charles Kassin called as well. Big blind Hiroaki Harada checked his option.
The flop fell
and it checked to Silva who bet 1,000,000. Harada pushed all in for 9,300,000 and Kassin folded. Silva called.
Silva showed
and Harada had
.
The turn was the
and the river was the
.
Sergio Luis Di Pego sat on the button when it folded to him and he looked at
. He went for it and pushed his last 12,700,000 forward. Fabian Gumz in the small blind and Dzmitry Urbanovich in the big blind were both not interested and they folded.
You're all caught up!
No more pages to load