On a board of
, big blind Rainer Kempe bet 20,000. Michael Del Vecchio folded from under the gun but the player on the button called.
The
on the river made for trips on the board and Kempe bet 25,000. The button called and won with his
as Kempe showed
.
Kempe busted the Super High Roller earlier today, and now sits on a 950,000 stack in the Main Event.
Level
Level 3
Blinds
4,000 / 8,000
Big Blind Ante
8,000
From the big blind, having seen the flop go checked through, Price checked once more on a board reading
. His opponent in the cutoff bet 20,000 and Price called. The
on the river saw Price check a third time. His opponent bet 55,000 and this time Price folded.
With the board reading
, we saw the player in the cutoff check. Cassio Kiles on the button bet 15,000 and his neighbor called.
The
completed the board and the cutoff checked once more. Kiles bet 60,000 and received an instant-call.
Kiles showed
and the cutoff mucked.
Despite winning the pot, Kiles is still down for the day sitting on a stack of 500,000.
We only got there on the river but the pot was sizable enough for us to take an interest. With
on the board, the pot was already at 321,000.
Yuri Dzivielevski, seated in early position, tanked for a bit before he bet a hefty 500,000. His opponent in the cutoff didn't waste much time folding.
Bracelet winner Dzivielevski is up to 1.1 million in chips.
The tournament room is getting busier, with more players returning from Punta del Este's beautiful beaches to try their hand at some poker. Right now, 83 players are bluffing, raising, betting, and folding. Amongst them, partypoker pro Renato Nomura.
Level
Level 2
Blinds
3,000 / 6,000
Big Blind Ante
6,000
When we arrived, the board was already out in a battle of the blinds. With the board reading
, the small blind checked to Oliver Price in the big blind.
Price bet 59,000 into a pot of 55,000.
The small blind thought about it for a bit and said "Nice bet!" before he eventually called.
Price indicated he didn't have much, but his neighbor wasn't showing his cards just yet.
Price eventually showed
for the missed straight draw. The small blind tabled
for second pair and took down the pot.
| Player | Chips | Change |
| --- | --- | --- |
| Oliver Price | 1,000,000 | - |
| Lander Lijo | 1,000,000 | - |
| Aaron Been | 1,000,000 | - |
| Brian Kaufman | 1,000,000 | - |
| Ezequiel Waigel | 1,000,000 | - |
With 53 players playing right now, the field is growing rapidly. Every minute, new players sit down. Amongst those sitting down is Mike Sexton, the legendary poker player, poker commentator, Poker Hall of Fame member, and partypoker chairman.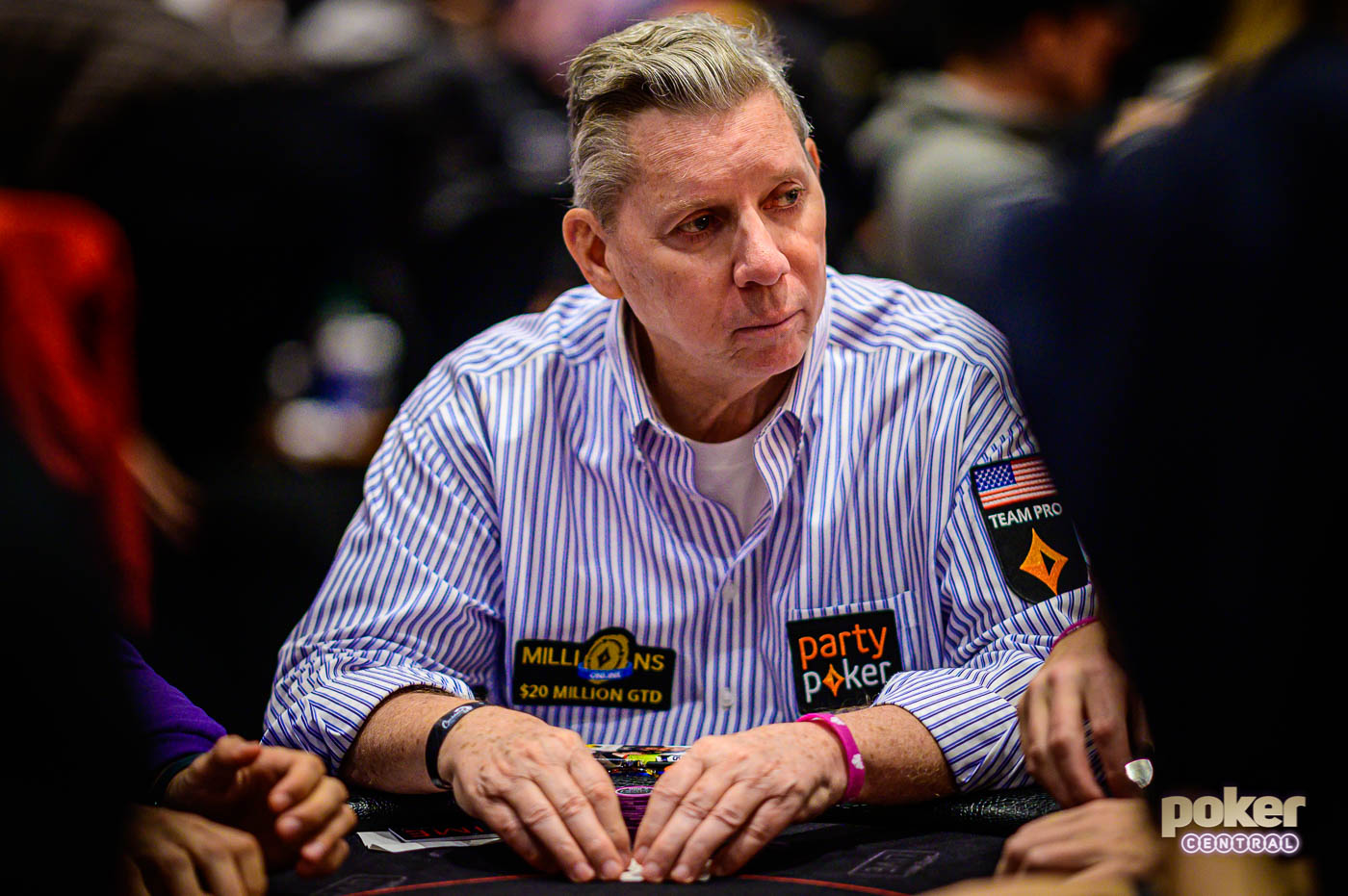 You're all caught up!
No more pages to load