Event #3 $25,000 Short Deck
Level
Level 21
Blinds
60,000 / 120,000
Quick fire, small pot action for the most part at the start of the heads up phase of the final.  One recent hand saw Paul Phua limp with
, then three-bet to 1,400,000 when button Wai Leong Chan made it 375,000 to go with
, picking up the pot.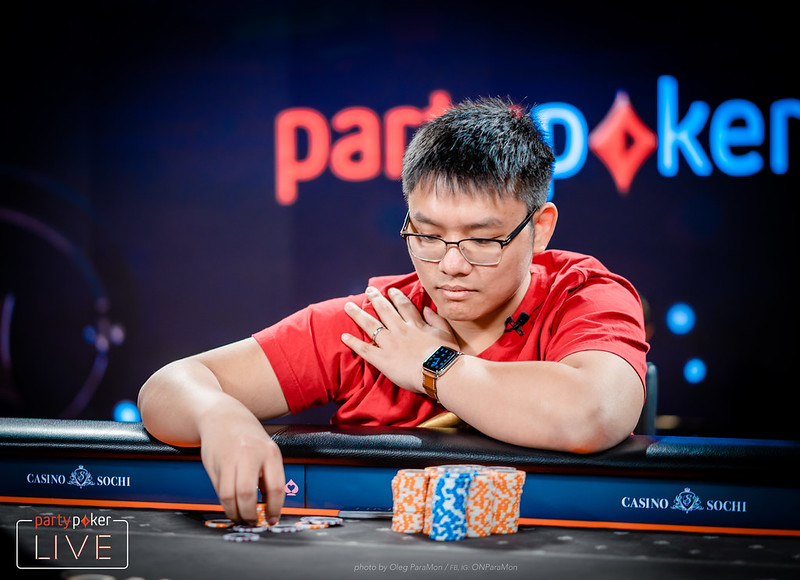 Thai Ha has followed Ivan Leow almost immediately to the rail after a big pot vs. Wai Leong Chan.  Cutoff Ha limp-called button Chan's preflop raise with
(Chan held
) to see a flop of
.  Both players checked (Ha first to act with a flopped nut straight).
The turn:
.  Out led Ha for 550,000, called by Chan.
The river:
.  Both players made a flush; fireworks ensued.  Ha led out for 900,000 and Chan moved all-in (covering his opponent).  He got a call and expressed understandable surprise as he found himself heading to the payout desk to collect $213,500.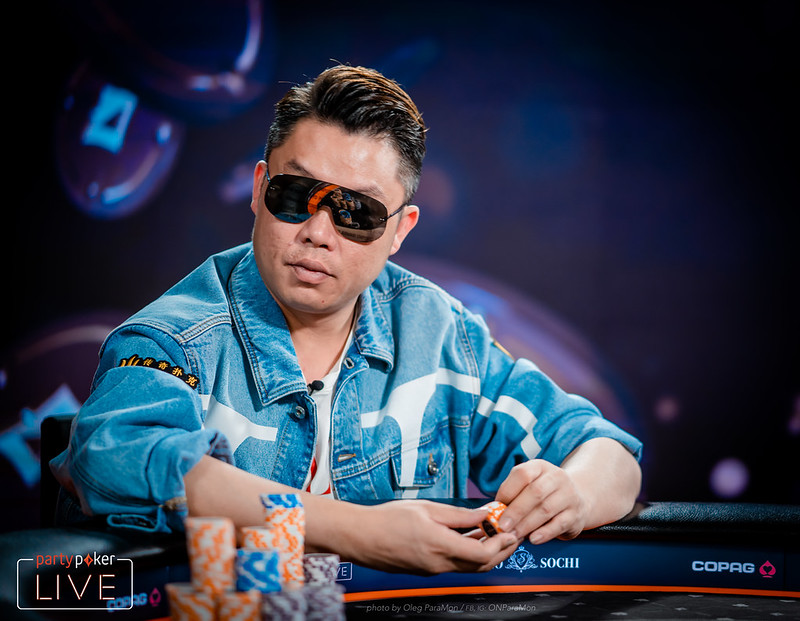 The shortest stack four-handed for a level or so, Ivan Leow had been keeping his trophy hopes afloat with some well-timed moves but has finally lost his last two million chips – to Paul Phua.
Phua called 100,000 preflop with
in the hijack, and Leow raised to 500,000 (a quarter of his stack) in the cutoff with
.  Back to Phua who put Leow all in: call.
The flop paired Leow's jack but left Phua laughing at all of his outs:
.  The
wasn't one of them, but the
river was; we're down to three players.
| Player | Chips | Change |
| --- | --- | --- |
| Wai Leong Chan | 6,545,000 | 1,345,000 |
| Paul Phua | 5,480,000 | -1,220,000 |
| Thai Ha | 4,185,000 | 300,000 |
| Ivan Leow | 2,090,000 | 15,000 |
Thai Ha limped for 100,000 under the gun with
, followed by Paul Phua with
; button Ivan Leow checked his
.
Flop:
.  Ha led out for 125,000 and Phua made it 400,000.  Leow folded and Ha called.
Phua filled up on the
turn, checking behind when Ha checked to him.
River:
.  Ha checked once more, and Phua went big with a bet of 1,100,000.  Ha went into the tank for half a minute, then threw in a couple of chips signifying his call.  The pot went to the wily Phua whose stack is now slightly higher than those of his two nearest rivals, who are all playing deep at this stage of the final table.
Level
Level 20
Blinds
50,000 / 100,000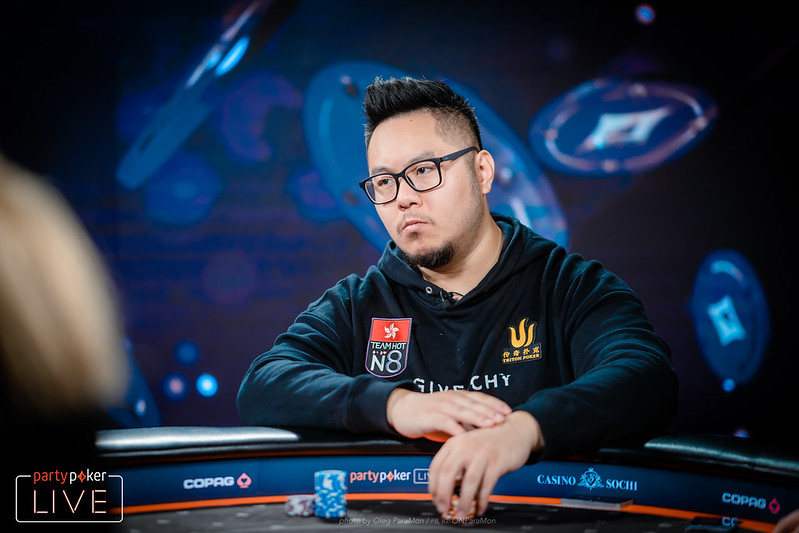 Thai Ha limped in for 80,000 with
, and found short stack Danny Tang moving in for 1,370,000 behind him holding
.  Paul Phua, with
on the button, moved all in himself, getting it heads up with Tang.
"Bye-bye?" suggested Phua as the flop was dealt
.
"Red nine!" called Tang, adding, "Just not a club, I can sweat the turn!"  This was answered with the
turn, but the
river changed nothing and Tang headed out to collect his $122,000 fifth place prize.
Flops have been a bit rarer recently, the last two pots going to preflop shovers: first Paul Phua took some time deciding how to play his
and 3,600,000 stack after under the gun Wei Leong Chan opened to 325,000 (with
).  He opted to move all in and was rewarded with a quick fold.
Next Thai Ha limped on the cutoff with
, but folded when short stack Danny Tang moved in for 1,200,000 with
.
Chip leader Wai Leong Chan (who'd snuck just in front of Thai Ha in the last few minutes) raised to 325,000 under the gun with
, called by second in chips Ha with
and button Danny Tang (with 1.2 million behind) holding
.
Flop:
.  Chan bet out 550,000 and Ha made use of a timebank card before raising to 2,100,000 with his second set, picking up a tidy pot.
You're all caught up!
No more pages to load