Level
Level 20
Blinds
25,000 / 50,000
Big Blind Ante
50,000
Could this be a pivotal moment in the eventual destiny of the British Poker Open title?
Stephen Chidwick was all-in with
and so too was Sam Soverel with
.
The board of
saw Chidwick double right through to 830,000, moving above Soverel in the chipcounts.
Somewhere close by, you can almost hear Sam Greenwood chuckling. The Candian sitting second on the leaderboard before this event.
Every one of the four players remaining has been active in just over one orbit, and here's how they got moves through.
Stephen Chidwick moved all-in with an unseen hand and everyone folded very quickly.
Rainer Kempe made it 80,000 with
and Ali Imsirovic, who has been quiet so far three-bet to 375,000 with pocket sevens, raking in the pot and bumping himself up the leaderboard.
Sam Soverel moved all-in for 1.2 million with
and received no opposition.
Finally, Ali Imsirovic moved all-in in the next hand,
the hand, and no-one wanted to play with the current Poker Masters champion.
Here are all the up-to-date chip counts:
| Player | Chips | Change |
| --- | --- | --- |
| Sam Soverel | 1,185,000 | 85,000 |
| Rainer Kempe | 1,120,000 | 20,000 |
| Ali Imsirovic | 710,000 | -70,000 |
| Stephen Chidwick | 440,000 | -200,000 |
Stephen Chidwick moved all-in for 280,000 with
and was in bad shape against the re-shove from Kempe, which isolated the field.
The German held
, and looked a heavy favorite to bust the brit on the flop of
but the
turn and
river completely flipped those odds, propelling Chidwick back into the game and dropping Kempe back a little.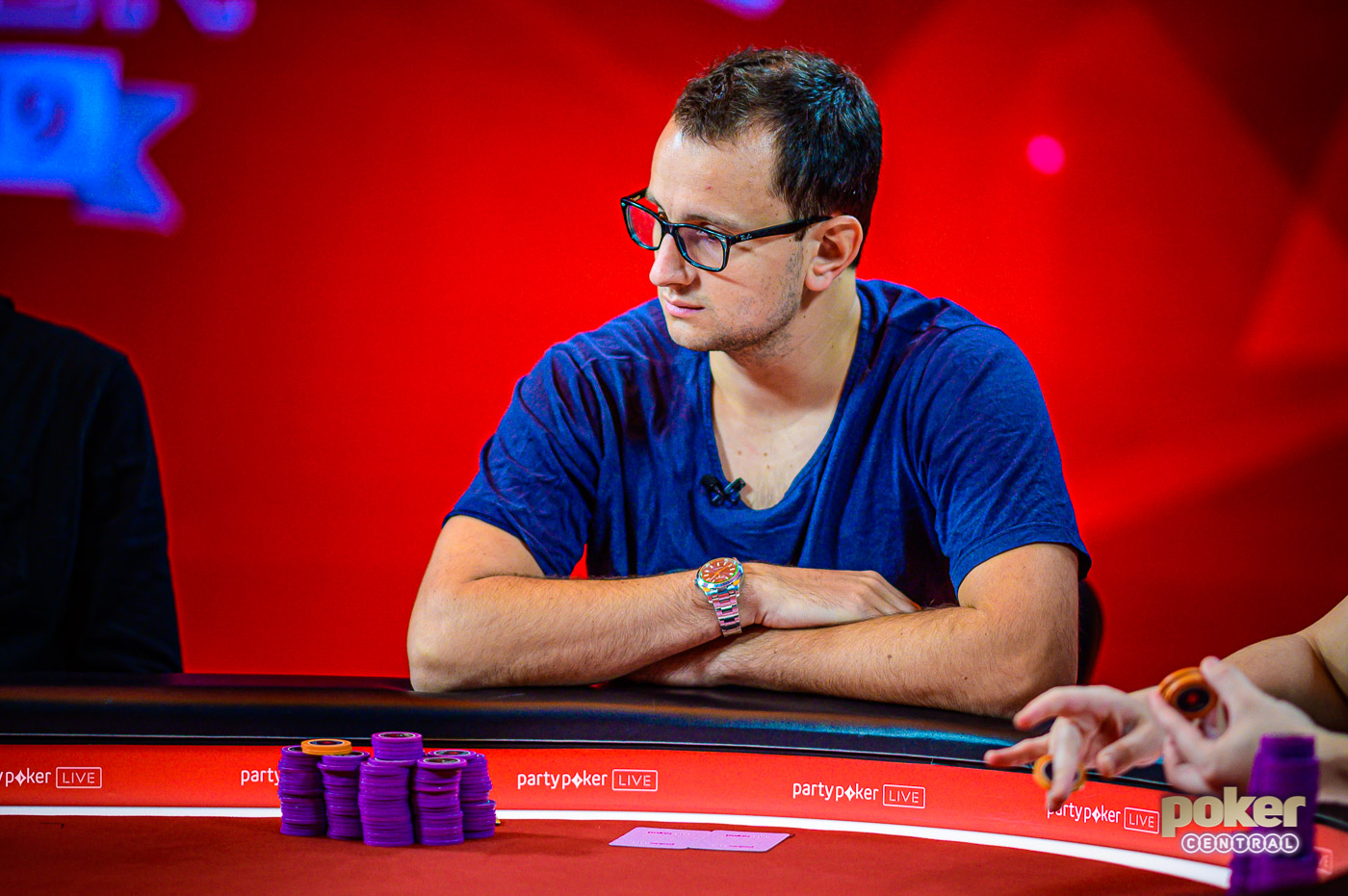 Kempe held
and bet 70,000 on the turn of a board showing
called by Soverel with just
.
The river
saw Kempe bet 280,000, and Soverel flicked his cards into the muck, a pot swinging to Kempe which means Kempe now leads.
Level
Level 19
Blinds
20,000 / 40,000
Big Blind Ante
40,000
Rainer Kempe made it 80,000 with
and Stephen Chidwick made the call with
in the big blind. the flop of
gave Britain's most successful tournament player in history a flush draw, and when Kempe continued for 65,000, Chidwick raised to 155,000.
Kempe was clearly put to a big decision and took his time making it, eventually making the call.
The turn card of
didn't complete Chidwick's flush, leading to a check from the Kent-born professional and also the German crusher in quick succession.
The
river saw two checks and Rainer Kempe won the pot, leaving Chidwick with less than 10 big blinds… but not out of contention just yet.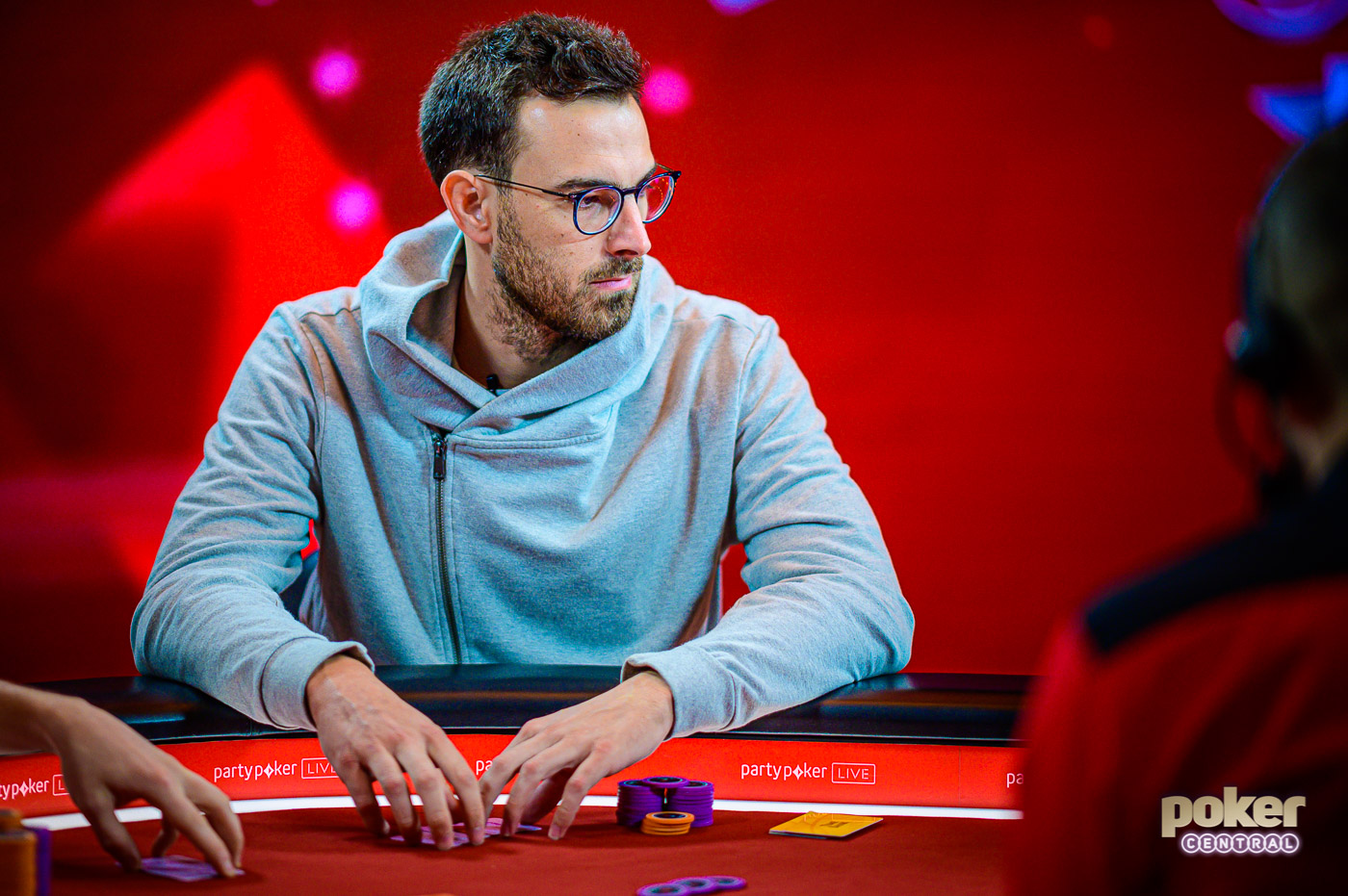 First, Stephen Chidwick raised it up to 65,000 with
and Sam Soverel woke up with
, three-betting all-in for 1.1m. Chidwick made a very quick fold, but so too did Vicent Bosca in the big blind, which, due to paying the ante, cost him half his stack.
In the next hand, Sam Soverel open-raised all-in and took it down, but that put Bosca on fumes, just in time for yet another raise from Soverel, all-in again, this time with
. Bosca folded, everyone folded, as Soverel just kept stacking up those chips, 1.3 million now, yet as the commentary team of Brent Hanks and Jeff Platt reminded us, that equates to just 40 big blinds or so.
Soverel was all-in again in the next hand, this time with
, but suddenly Vicent Bosca had found a hand with
.
"I hope we chop it – straight flush on board." said Soverel with a grin.
The flop of
put Bosca in the cage, and after the
turn, only the
would unlock it. The
on the river was not the case jack Bosca needed, and the Spanish player departed, leaving Sam Soverel the clear chip leader and all four players now in the money.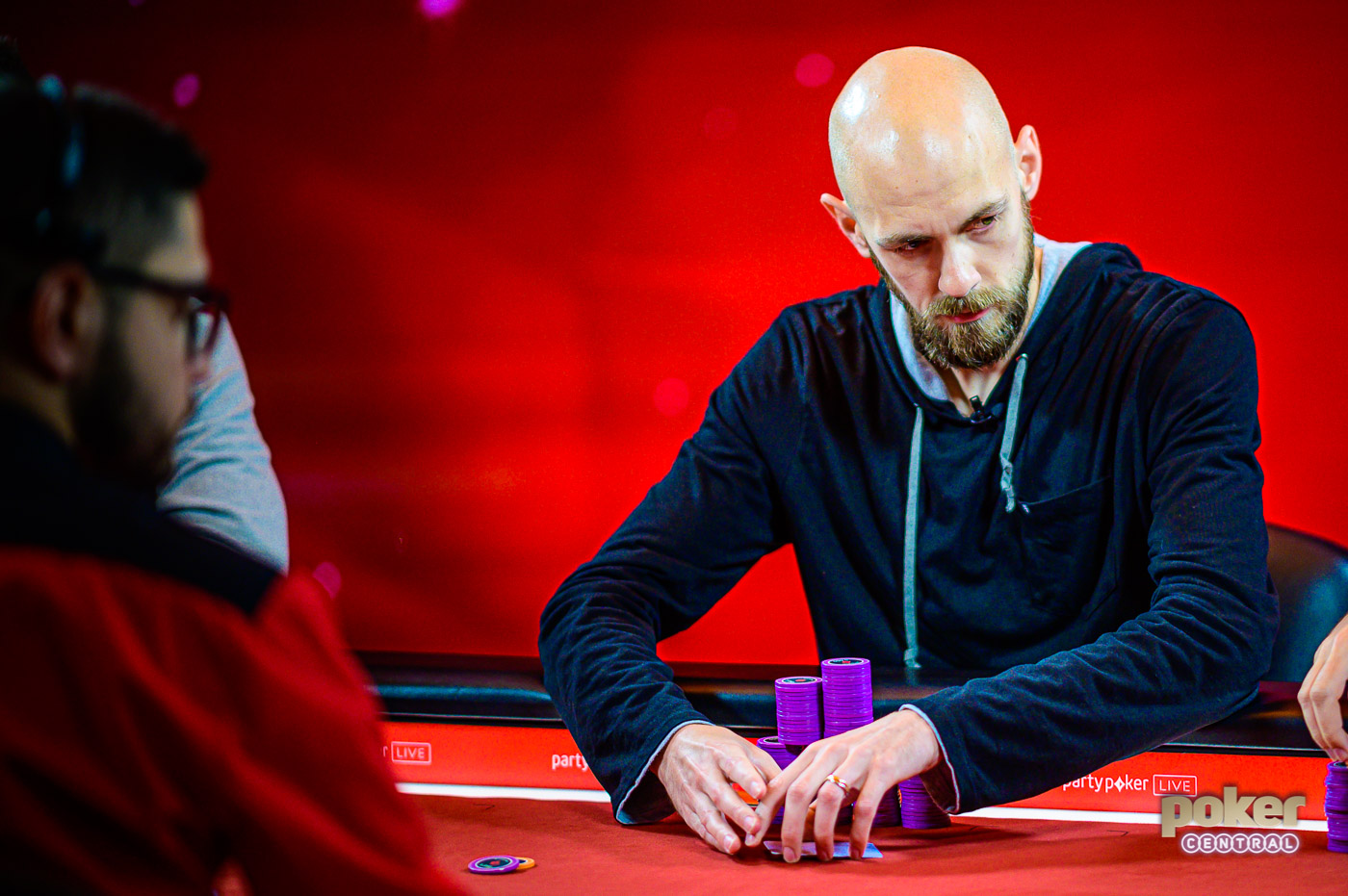 Stephen Chidwick, who came into today third in chips, raised to 65,000 with
and got it through without a challenge.
With five players left, only four will make the money, so we are on the bubble. Kempe raised it up two hands later with
and that got through too, no-one holding anything they could get involved with.
Chidwick was shoving in the next hand, from the small blind with jack-queen, getting it through Kempe's big blind.
With a £70,000 min-cash or leaving with nothing the difference between 4th place and 5th place, there really is a lot to play for in the early stages.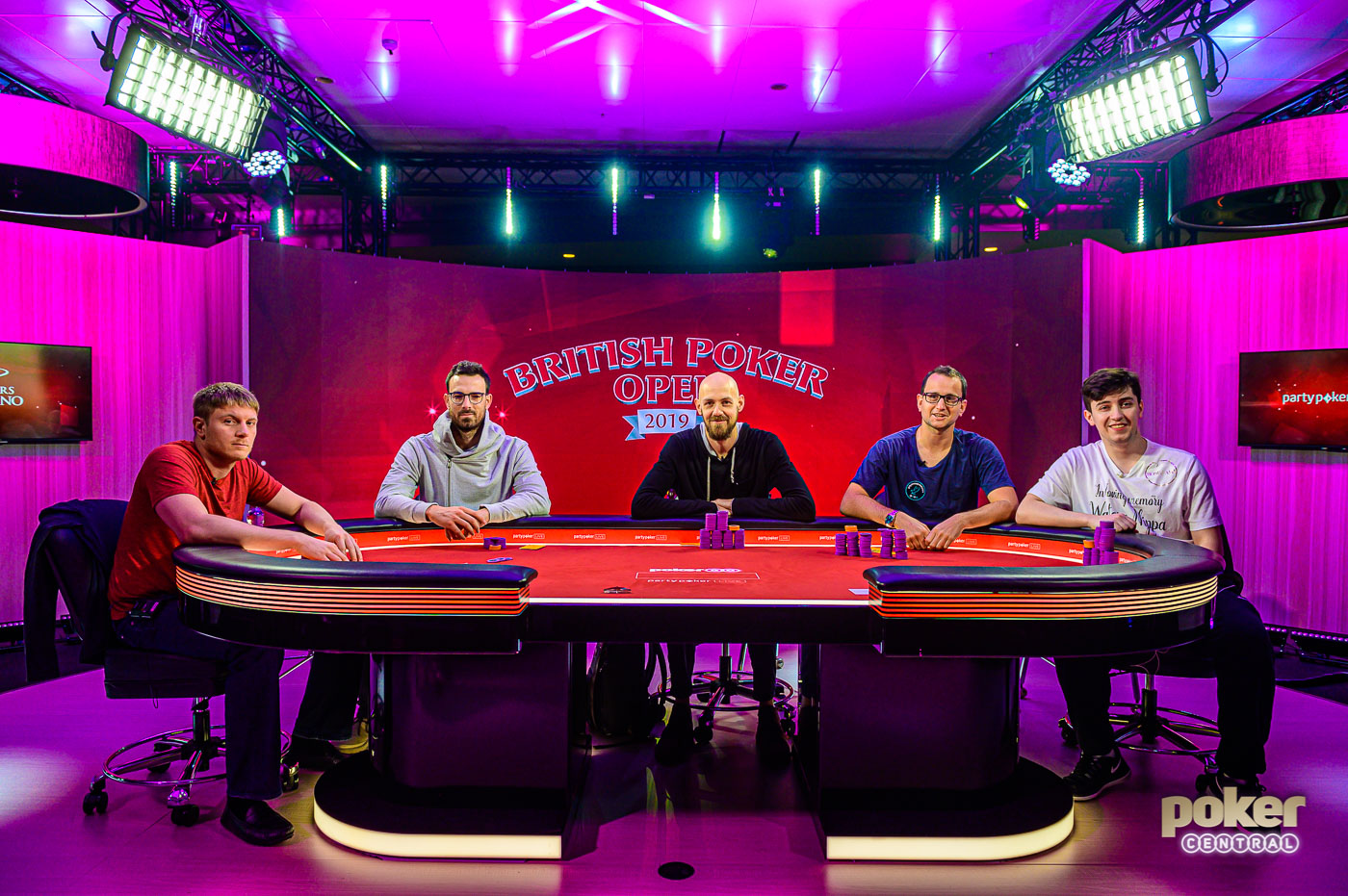 We're back in action today at the Aspers Casino in Stratford, East London as five players will play down to a winner in Event #5 of the British Poker Open, the £25,000-entry no limit hold'em event.
Sam Soverel, who already sits atop the overall leaderboard, goes into the action as chip leader with 1,050,000 and is the man to beat in every sense. Soverel, who has an incredible record in high rollers over the last 18 months, is 20 points clear of Sam Greenwood – Event #4's winner last night – heading into today's action, which will kick off at 1 p.m. local time.
While Soverel is looking to extend his British Poker Open and High Roller of the Year leads, he will have stiff competition from some of the best in the business standing in his way.
Stephen Chidwick already has two cashes at the 2019 British Poker Open and could be Soverel's closest rival for the trophy if he takes down this event. He starts on 685,000 chips, just shy of Rainer Kempe (765,000) and Bosnia's Ali Imsirovic (780,000) Spain's Vicent Bosca is the short-stack, with just 220,000 chips.
The final five players return on PokerGO from 1 p.m. local times, and you can watch all the action by tuning into the PokerGO live stream on a one-hour delay. Coverage begins at 8 a.m. Eastern Time or 5 a.m. Pacific Time.
Here are the current chip counts and vital table draw heading into play:
British Poker Open Event #5 Final Table
Seat
Name
Country
Chip Count
1
Sam Soverel
United States
1,005,000
2
Vicent Bosca
Spain
220,000
3
Stephen Chidwick
United Kingdom
685,000
4
Rainer Kempe
Germany
765,000
5
Ali Imsirovic
United States
780,000
You're all caught up!
No more pages to load