Mikita Badziakouski shoved from under the gun for 142,000 and after a few folds, Christoph Vogelsang called in the small blind. Cary Katz passed in the big and Badziakouski was dominated –
to
.
The short stack has doubled a few times to stay alive and he did again.
Badziakouski connected and then kept the lead through the
runout.
As Vogelsang was cutting out the necessary chips, he laughed, "Can't win an all-in against Mikita."
Matthias Eibinger agreed, saying, "No one can." before saying Badziakouski was "unbeatable."
Level
Level 15
Blinds
8,000 / 16,000
Big Blind Ante
16,000
Matthias Eibinger raised to 24,000 on the button and Christoph Vogelsang called in the big blind.
The flop landed
and Vogelsang check-called a bet of 14,000 as the turn landed the
and both players checked.
The river fell the
and Vogelsang announced a bet of 94,000. Eibinger deliberated for his full 30 seconds, and then called.
Vogelsang announced straight and tabled his
. Eibinger mucked.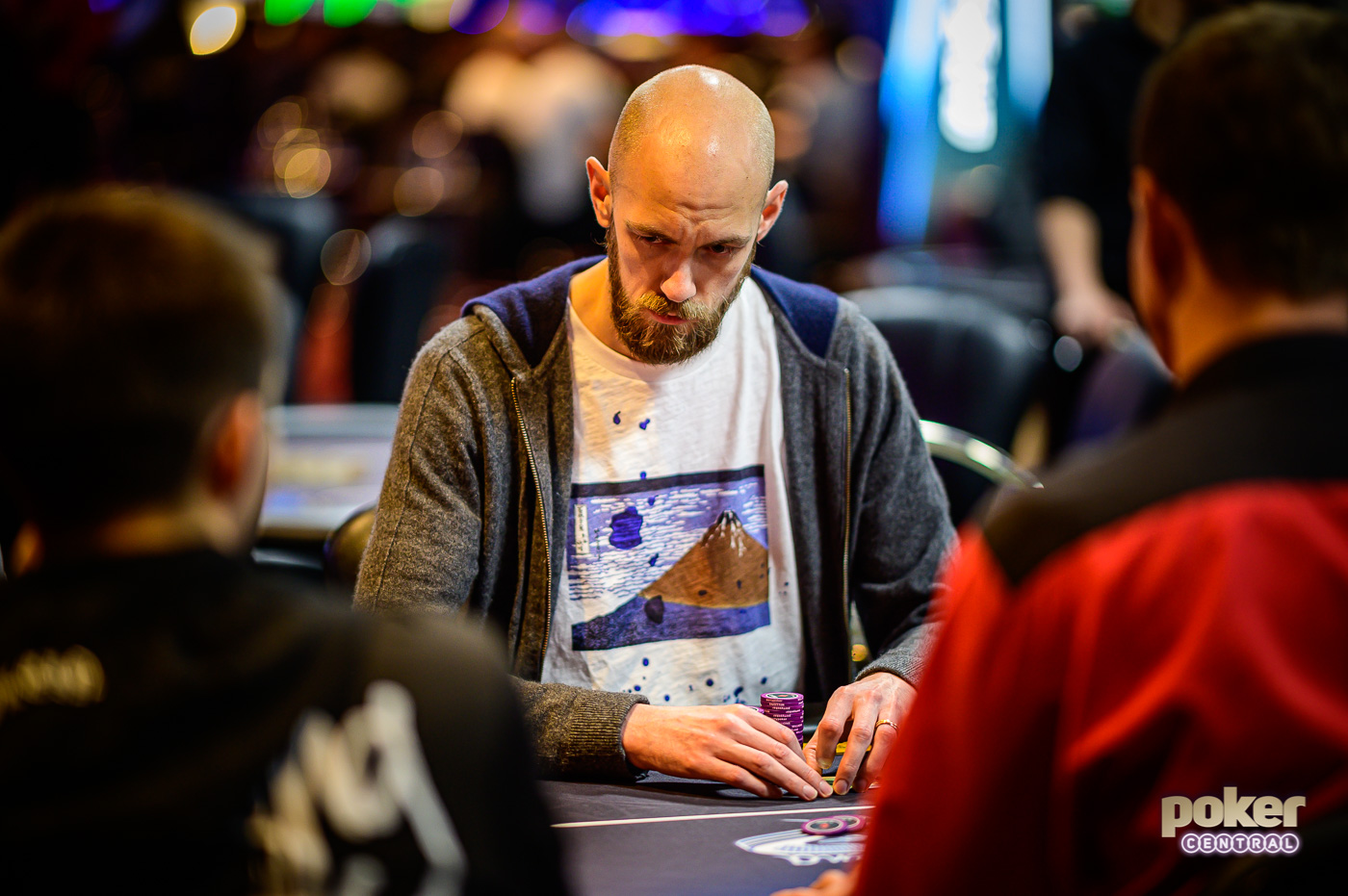 The table folded to the small blind and Stephen Chidwick shoved for 187,000.
Christoph Vogelsang checked his cards in the big and called, tabling
. Chidwick held
and needed to hit to stay alive.
The board ran out
and while Chidwick made a pair, it also gave Vogelsang broadway and confirmed the knockout.
Play will continue until one more player is eliminated.
Cary Katz limped under the gun for 12,000 and both Stephen Chidwick and Christoph Vogelsang came along from the blinds.
The flop landed
and both Chidwick and Vogelsang checked.
Katz bet out 30,000, and Chidwick and Vogelsang folded.
After Matthias Eibinger limped the small blind, Ben Tollerene checked his option in the big.
Both players checked the
flop and after the
fell on the turn Eibinger check-called 24,000.
The
completed the board and Eibinger checked for a third time, before Tollerene bet 55,000.
The Austrian snap called and won the pot with
after the chip leader showed
.
Mikita Badziakouski limped the small blind for 12,000 and Matthias Eibinger checked his option in the big blind.
The flop landed
and Badziakouski led out for 12,000 and Eibinger called.
The turn fell the
and Badziakouski bet 30,000 and Eibinger folded.
Level
Level 14
Blinds
6,000 / 12,000
Big Blind Ante
12,000
Cary Katz limped the small blind and Mikita Badziakouski checked his option.
The
board checked through to the river where Katz bet 25,000 and Badziakouski called.
Katz showed his
, and Badziakouski mucked.
Cary Katz is suddenly the second biggest stack at the table and he just took on chip leader Ben Tollerene in a small one.
Tollerene opened to 20,000 from the cutoff and Katz defended his big blind to see the
flop.
Katz check-called 15,000 and both players checked after the
paired the board on the turn.
The
completed the board and after Katz checked for a third time, Tollerene bet 60,000. Katz quickly folded and Tollerene took the second-to-last hand of Level 13.
You're all caught up!
No more pages to load