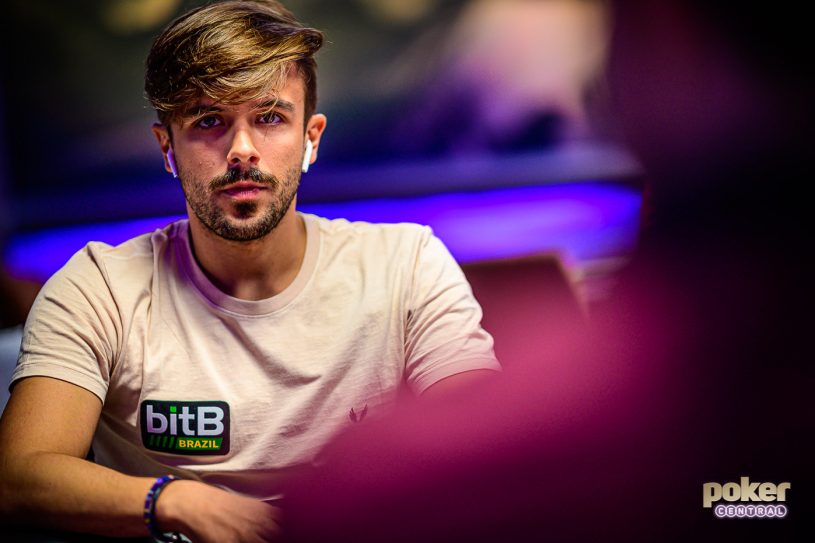 Brazilian poker pro Yuri Dzivielevski is having a career year on the felt, winning his first World Series of Poker bracelet, finishing 28th in the Main Event, and cashing for more than half a million dollars for the very first time with still two months of poker left to be played.
Dzivielevski has made his way up to 11th on Brazil's all-time money list due to his stellar year and currently, he's battling inside the PokerGO Studio as he's made his Poker Masters debut this year.
"This is the best tournament series I've ever played for sure," Dzivielevski said with a big smile when we caught up with him on one of the breaks in the $10,000 Big Bet Mix tournament to talk about his experience at the PokerGO Studio so far.
Poker Central Live Reporting of the 2019 Poker Masters is available right here. 
Hailing from Florianopolis byways of Curitiba, Yuri Martins Dzivielevski has been playing poker since he was 16 years old, turning professional at the ripe old age of 18. His career, now a decade in the making, has flourished over time and he's widely regarded as one of the toughest opponents in whatever game is spread.
Due to taxation in Brazil, it's not the most rewarding to play in the United States, but amidst a good year, Dzivielevski is encouraged to play more since he's up a lot of money. Any losses he might incur during the Poker Masters, and other events he might play before the calendar year ends, are write-offs, meaning that Dzivielevski can swing for the fences.
As one of the few mixed game players from Brazil who's highly skilled at No Limit Hold'em as well, Dzivielevski brought a videographer to Las Vegas to document his Poker Masters journey since he's playing every day so far.
"I'm the first Brazilian player to play the Poker Masters so I think this is a good opportunity to show the Brazilian poker fans what the high roller world is like as I'm taking big shots."
The drive, passion and positive attitude that Dzivielevski plays and acts with is exciting to see as his motivation for poker is not solely based on performance or even playing the game.
"I love the game of poker so much, sometimes I wish I could get paid to just study the game. The magic of the game, the strategy, how to exploit players, what the correct decisions are, and how and when to deviate is just so fascinating to me. I guess I'm a bit of a poker nerd," Dzivielevski joked as he's known as "TheNERDguy" online where he has millions of dollars in earnings.
While he's still chasing his first cash at the 2019 Poker Masters, Dzivielevski is eager and excited to dream about the potential of winning the Purple Jacket.
"Money comes and goes but the accomplishment of winning the Purple Jacket is a memory that will stay in everyone's minds forever. WSOP bracelets, trophies, there is some magic to that."
Follow along with Yuri's progress at the Poker Masters via his Instagram and Twitter pages. New to PokerGO? Subscribe right now and never miss another minute of thrilling live or on-demand viewing. PokerGO provides more than 100 days of live poker every single year including the World Series of Poker, Super High Roller Bowl, Poker Masters, and U.S. Poker Open.