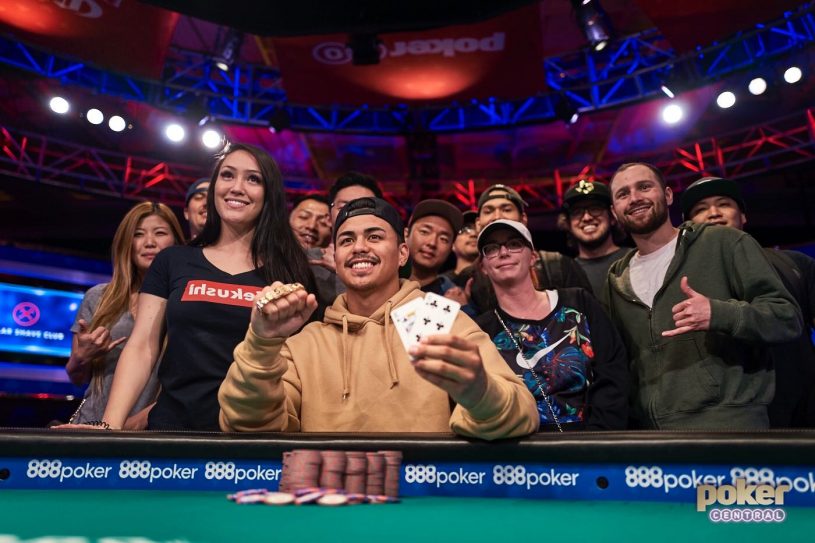 Four more winners joined the ranks of WSOP bracelet holders on Wednesday as Kainalu McCue-Unciano and Team Geiger both scooped up the honours in two very different events. Over to the Rio All-Suite Hotel & Casino for the latest on how it happened.
MCCUE-UNCIANO DOMINATES INCREDIBLE MONSTER STACK FINAL TABLE TO WIN THE MILLION
Kainalu McCue-Unciano took down the monster of all final tables last night as he bettered the other five players to carve his name into poker history. The $1,500-entry event had a field of 6,035 players, and that Monster Stack population was whittled down for the last time as six went into one and McCue-Unciano enjoyed the night of his poker career so far in the Rio Thunderdome.
The first hand contained the most drama, as Benjamin Ector, who went into play with a commanding chip lead, ran an amazing bluff with absolutely nothing into Gregory Katayama who called it off for his entire stack to double up with a set of sixes and send Ector right down to the lower end of the chipcounts.
Ector wasn't the first man out; that was Igor Yaroshevskyy, who entered play with only ten big blinds and lost meakly with king-high to McCue-Unciano's ace-high. Ector was gone soon after as McCue-Unciano did the damage, by shoving on the button with jack-eight suited and flushed away Ector's pocket sevens on the turn. After Bart Hanson departed in fourth place and Katayama busted in third place, Frenchman Vincent Chauve stood in McCue-Unciano's way. But it wasn't for long.
Despite at one point taking the lead, Chauve couldn't prevent the young player's dream and when McCue-Unciano moved all-in with king-six suited, Chauve's call with pocket tens may have been correct, but he was overtaken by McCue-Unciano's eventual two-pair to finish as a robust runner-up, McCue-Unciano the worthy winner, taking home a cool $1,008,850 and the bracelet.
Want to watch all the action as it happened, including that opening bluff from Benjamin Ector that ended up costing him three-quarters of a million dollars? Check it out here.
Final Table Results:
| | | |
| --- | --- | --- |
| Place | Player | Prize |
| 1st | Kainalu McCue-Unciano | $1,008,850 |
| 2nd | Vincent Chauve | $623,211 |
| 3rd | Gregory Katayama | $461,369 |
| 4th | Bart Hanson | $344,079 |
| 5th | Benjamin Ector | $258,516 |
| 6th | Igor Yaroshevskyy | $195,687 |
| 7th | Bryan Kim | $149,247 |
| 8th | Andre Haneberg | $114,694 |
| 9th | Javier Zarco | $88,817 |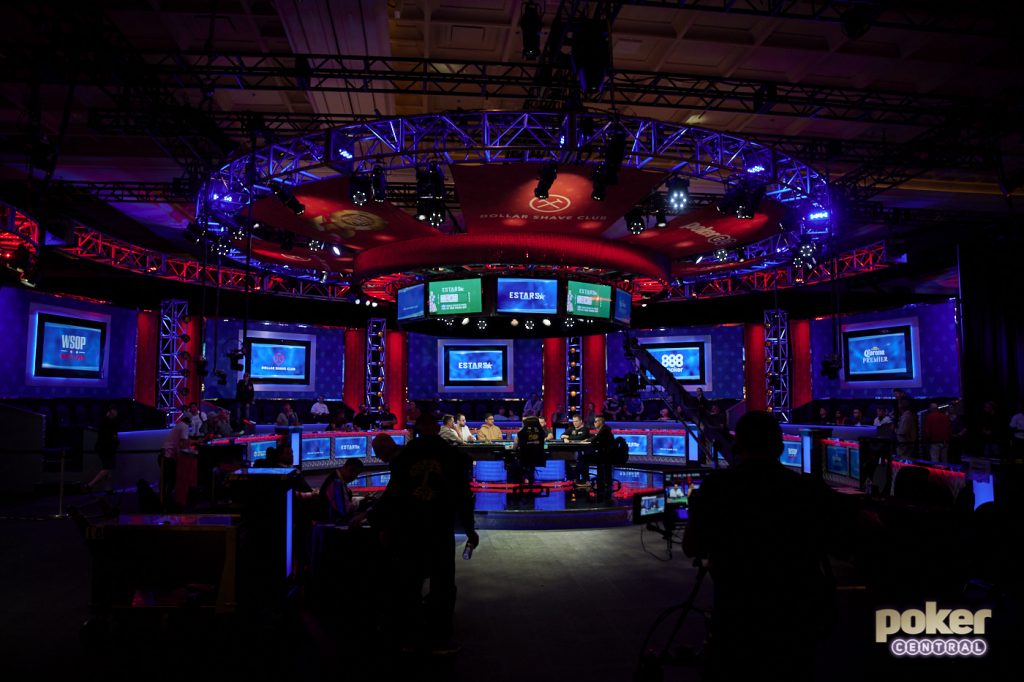 TEAM GEIGER WIN A TRIO OF TAG TEAM BRACELETS
After an entertaining couple of days, the $1,000 Tag Team event came to a close with Team Geiger taking home the bracelets. With three young Israeli poker players their team members, Ohad Geiger, Daniel Dayan and Barak Wisbrod got the better of Team Smith heads-up to take the title of WSOP event winner and scoop up $168,395 in addition to the WSOP bracelets.
With an entertaining final table containing players of huge repute and vast experience, like Kenny Hallaert and Steven van Zadelhoff to name just one team, Team Geiger's victory was all the more impressive. Having outlasted Zadelhoff and Hallaert, there were five teams left when a stand-off ensued, and blinds were whittled away as play became shallower. With Team Hinds's combination of John Hinds and Anthony Zinno making a move, Team Geiger took them out and always had the momentum from there on in.
Heads-up took just a dozen hands, as Jerod Smith of the team bearing his own name bluffed it all off to Barak Wisbrod, who had the simplest of calls with a Broadway straight on the river.  Cue raucous celebrations and much cheering from the rail and at the table as Geiger got the count they were after, namely all the chips in front of them.
Final Table Results:
| | | |
| --- | --- | --- |
| Place | Team Members | Prize |
| 1 | Ohad Geiger – Daniel Dayan – Barak Wisbrod | $168,395 |
| 2 | Jerod Smith – Matthew Moreno – Lawrence Chan | $104,025 |
| 3 | John Hinds – Anthony Zinno | $73,329 |
| 4 | Timothy Jurkiewicz – Zachary Gruneberg | $52,390 |
| 5 | Richard Washinsky – Fabio Coppola | $37,944 |
| 6 | Chahn Jung – Danny Wong – Steve Sung – Aaron Motoyama | $27,864 |
| 7 | Michael Marder – Daniel Marder – Paul Steinberg | $20,750 |
| 8 | Kenny Hallaert – Steven van Zadelhoff | $15,674 |
| 9 | Shaotong Chang – Jie Xu | $12,011 |
Who'll become the latest player to win a WSOP gold bracelet at the 2019 World Series of Poker? You can watch the action unfold live today on PokerGO and CBS All Access as more coverage of the 2019 WSOP bracelet events takes place. Selected bracelet events will be streamed exclusively on CBS All Access in the United States.