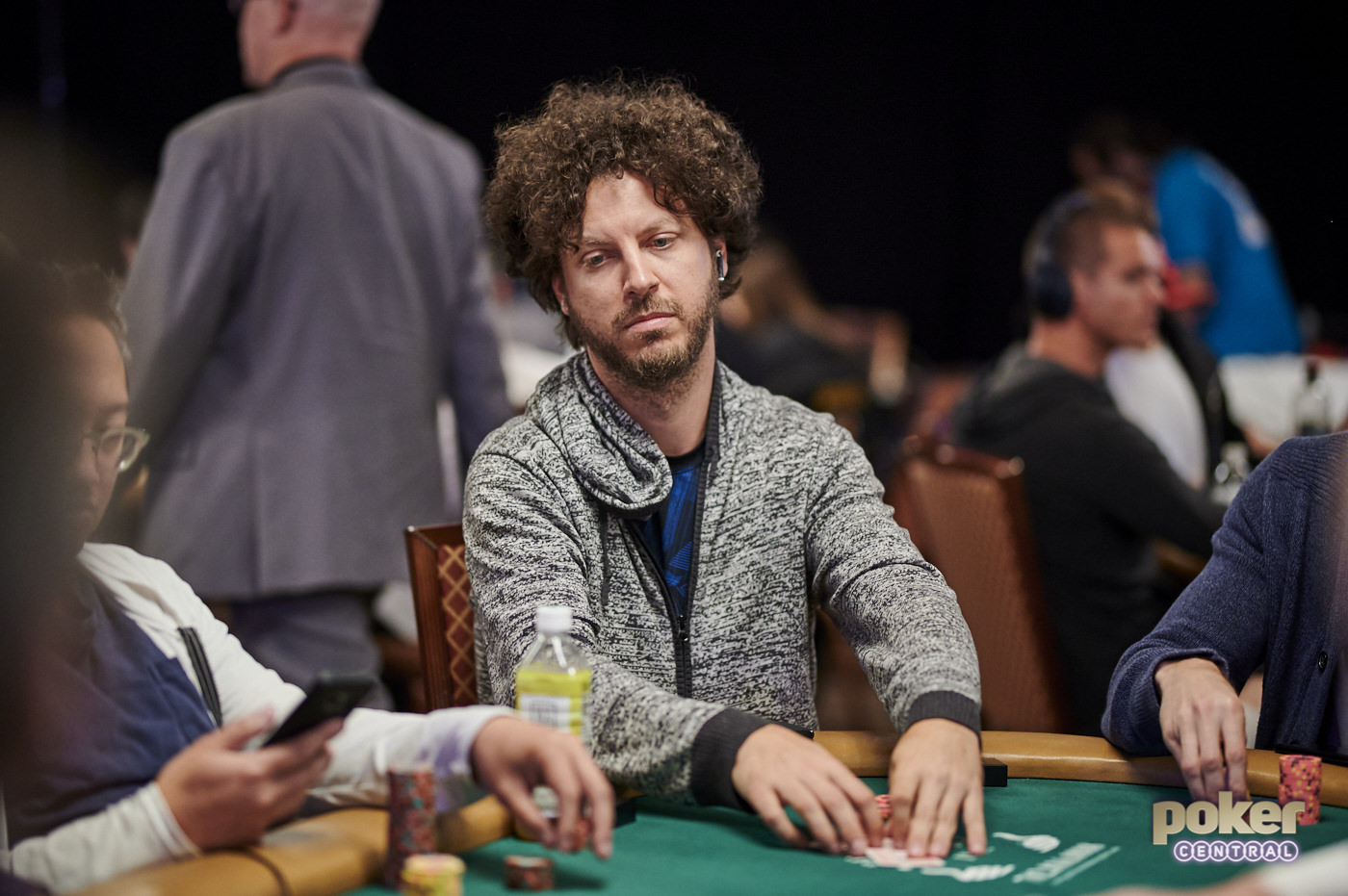 Five tournaments didn't play to a finish on Saturday at the World Series of Poker, with some huge names making it through tough fields, but with other big superstars falling to emerging talents. Which players reigned supreme at the World Series of Poker felt? Check out our round-up.
VITCH PLAYS HIMSELF INTO A GOOD POSITION
Chris Vitch is the chip leader in the $10,000-entry Pot-Limit Omaha Hi-Lo 8 or Better Championship, with a soaring stack of 795,000 after a busy Day 2 at the felt. With a total of 136 players, some of that number registered on the day to add to Day 1's total, but only 43 still had chips at the close of play. Vitch, who won $93,764 for finishing 10th in the recently-completed $50,000 Poker Players Championship, is now in pole position to add a bracelet to his already-excellent 2019 World Series.
Plenty of others are still in the hunt, with Scott Bohlman second-in-chips with 628,000 chips and Bryce Yockey recovering quickly from the worst bad beat of all-time, bagging up 535,000. Yesterday's chip leader Michael McKenna (477,000) and Kim Kallman (420,000) both have stacks with which to attack the leaders. Among the fallen were 2018 WSOP Player of the Year Shaun Deeb, bracelet bettor Alex Foxen and Anthony Zinno, though as Zinno told us, he might be able to celebrate his second WSOP bracelet now.  With a top prize of $463,670 on offer, Chris Vitch will be hoping it's him who is having his picture taken last tomorrow evening.
ZHU STILL BIG IN OMAHA MIX
With results in both previous incarnations of this tournament, Yueqi Zhu sits in second place with four players left in the $1,500-entry Omaha Mix event.
Only Zhu and James Van Alstyne have prior bracelets of the four remaining competitors, with Van Alstyne looking like he needs the most help. Having won this event last year, Zhu is going for back-to-back titles and will hope to win the $199,838 on offer for the winner of this tournament.
While Zhu might be favorite, he's not chip leader, holding only 2,735,000 to Anatolii Zyrin's chip-leading 3,330,000 stack.
Final Table Chipcounts:
| | | |
| --- | --- | --- |
| Rank | Player | Chips  |
| 1st | Anatolii Zyrin | 3,330,000 |
| 2nd | Yueqi Zhu | 2,735,000 |
| 3rd | Mesbah Guerfi | 1,960,000 |
| 4th | James Van Alstyne | 585,000 |
KAPALAS OUT IN FRONT AS COLOSSUS REACHES FINAL
Just seven players remain in The Colossus, the $400-entry tournament with a $451,272 top prize. With 13,109 entries across all the Day 1 flights, we've reached the business end of the event, and Greek player Georgios Kapalas has the chip lead with an impressive 105,700,000 chips.
The remainder of the table hail from the United States of America, and leading the home charge is Andrew Barber, who has 89 million chips. He's followed by Maksim Kalman (85.5 million) and Ryan Depaulo (72.4 million) while Patrick Miller (18.5 million) is the short stack.
Final Table Seat Draw:
| | | |
| --- | --- | --- |
| Seat | Player | Chips |
| 1 | Georgios Kapalas | 105,700,000 |
| 2 | Andrew Barber | 89,300,000 |
| 3 | Maksim Kalman | 85,500,000 |
| 4 | Norson Saho | 47,900,000 |
| 5 | Patrick Miller | 18,500,000 |
| 6 | Ryan Depaulo | 72,400,000 |
| 7 | Juan Lopez | 56,500,000 |
| 8 | Sejin Park | 48,400,000 |
THOSE CRAZY BRITISH PLAYERS!
Three British heavyweights finished in the top five chipcounts on Crazy Eights Day 1c, with a top trio of professional players heading into the combined Day 2 as part of the 333 players who progressed overnight.
Ian Simpson has the chip lead from the flight with 1,284,000 chips, while Norwich-based Adam Daniel (1,078,000) and former WSOP runner-up and final table player already this year Sam Razavi (926,000) also hopeful of earning their first bracelets for Britain. French player Alexandre Fradin (1,125,000) and Shaun Mcbride (938,000) round out that top five, but plenty of others made the Day 2 cut.
Dan O'Brien (662,000) former WSOP Main Event runner-up Jesse Sylvia (292,000) and Mike Shariati (224,000) all survived the action, while others such as Matt Stout, Glenn Lafaye and former Main Event champ Martin Jacobson all missed out on Day 2, which will happen on Monday July 1st.
ROSARIO RULES LIMIT HOLD'EM DAY 1
Shirley Rosario bagged up 107,600 and the chip lead in the $1,500-entry Limit Hold'em event, which saw 541 entries across its Day 1. With 184 survivors, one of them Kevin Roster (50,100), who is raising awareness for the rare form of cancer he is suffering from, Sarcoma.  He wasn't the only one making the most of another day, with mixed game specialist Benny Glaser bagging up 77,200, former WSOP Main Event winner Joe McKeehen (73,300) and Daniel Negreanu (34,200) all in the Day 2 seat draw.
Who'll become the latest player to win a WSOP gold bracelet at the 2019 World Series of Poker? You can watch the action unfold live today on PokerGO and CBS All Access as more coverage of the 2019 WSOP bracelet events takes place. Selected bracelet events will be streamed exclusively on CBS All Access in the United States.