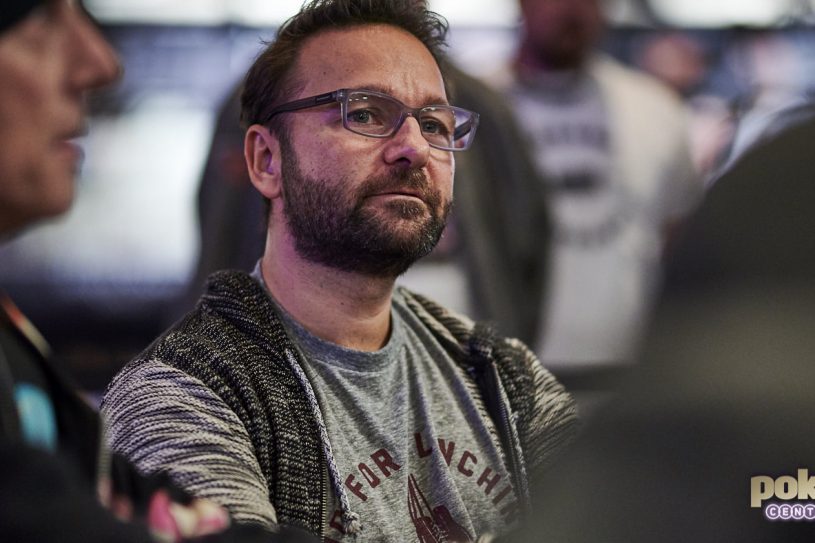 With six tournaments failing to reach their conclusion on a super Tuesday at the 2019 World Series of Poker, there were reasons to celebrate for a six-time winner and a player who most would say is overdue his first bracelet. Let's start with Kid Poker.
NEGREANU LEADS SEVEN CARD STUD FINAL SEVEN
With a rollercoaster day of action in the can, Daniel Negreanu will have been one of the happiest players to bag up, as he did so with the chip lead in the $10,000 Seven Card Stud Championship. With seven players still remaining, 'Kid Poker' is out in front as one of only two men with seven figures in chips at the final table.
The final table of this event is streamed live on PokerGO and CBS All Access. Tune in for live coverage at 6pm ET.
Having seen the field of 88 total players whittled to just 48 ahead of Day 2, there were multiple leaders across the day, with John Hennigan at one point looking like he might run away with an insurmountable lead. It was not to be, with Negreanu besting him in several key hands.
Negreanu didn't have it all his own way, however, with Frank Kassela a late and persistent thorn in his side. Kassela didn't get close to Negreanu's total of 1,502,000 chips, as that honor was David 'ODB' Baker's, the mixed game specialist bagging up 1,040,000. But Kassela himself stacked 919,000 after that late flurry of action.
Losing chips late on apart from Hennigan was Mikhail Semin, and the Russian will have work to do almost as soon as the final table begins. Others still in with a chance include David Singer and Chris Tryba, who, two to the left of 'Kid Poker' will be hoping that position is everything.
Final Table Seat Draw:
| | | |
| --- | --- | --- |
| Seat | Player | Chip Count |
| 1 | David Singer | 388,000 |
| 2 | Daniel Negreanu | 1,502,000 |
| 3 | David "ODB" Baker | 1,070,000 |
| 4 | Chris Tryba | 542,000 |
| 5 | John Hennigan | 682,000 |
| 6 | Frank Kassela | 919,000 |
| 7 | Mikhail Semin | 183,000 |
CHEONG ON THE BRINK OF MAIDEN BRACELET IN DOUBLE STACK
One of the most successful players never to have won a WSOP bracelet has put himself into pole position ahead of the $1,000 Double Stack event. With six players remaining, Joseph Cheong has a massive chip lead heading into the final day, set as he is with 100,300,000 in chips, good for 100 big blinds. With the $687,782 and so-far illusory WSOP bracelet now in front of him, can Joseph Cheong seal the deal?
With over $6 million in winnings, Cheong not winning a bracelet is almost an aberration in WSOP terms. It won't define him to win it, such is his success, but his resume currently looks incomplete because of its absence. Second in chips is David Ivers, and he has 60 big blinds, so Cheong will likely never get a better chance to finish the job and book that WSOP win.
Final Table Seat Draw
| | | |
| --- | --- | --- |
| Seat | Player | Chips |
| 1 | Ido Ashkenazi | 11,700,000 |
| 2 | Andrea Buonocore | 17,800,000 |
| 3 | Joseph Cheong | 100,300,000 |
| 4 | Zinan Xu | 53,900,000 |
| 5 | David Ivers | 60,400,000 |
| 6 | Arianna Son | 4,500,000 |
HONG LEADS SHULMAN IN SUPER SENIORS
With 120 players remaining from the 2,650 entries in the $1,000 Super Seniors event, Jay Hong (1,838,000) leads Barry Shulman (1,270,000) as the penultimate day has been reached. With both Barry and Allyn Shulman (360,000) surviving Day 2, other former WSOP bracelet winners remain in the hunt too. Steve Hohn has 613,000 while Humberto Brenes sits behind 442,000. 'Captain' Tom Franklin also made the cut, after a very busy World Series so far, and he has 210,000 chips to play with on Day 3.
BAGDASAROV BUILDS BIG STACK IN $1,500 PLO
Denis Bagdasarov dominated the closing stages of the $1,500-entry Pot-Limit Omaha event which saw just 21 players from an original field of 1,216 entries survive the day. In a dramatic final hand, Bagdasarov busted both Rocco Scalmato and Peyman Ahmadi when both committed their chip pre-flop to peak at a tournament-high of 3,035,000.
That double bust-out vaulted Bagdasarov over Glen Cressman, who held the lead until the final minute with a stack of just over 2.9 million chips. Elsewhere, Johannes Toebbe (2,905,000) and former double bracelet winner Benjamin Zamani (2,900,000) run him close, and in truth, the four men are ahead of the pack.
With $298,507 and the bracelet up for grabs as the top prize, an unfortunate Barny Boatman was the bubble boy on the day, busted by Mike 'The Mouth' Matusow.
LAMPHERE HAS LOADS IN THE NHLE/PLO MIX
After an eventful 20 levels and 12 hours of poker, the $600-entry Mixed No-Limit Hold'em/Pot-Limit Omaha Deepstack event saw the field reduced from 360 to 195 on the day and from 2,402 entries overall.
Adam Lamphere ended the day as a massive chip leader, having busted two players who flopped a set when he had flopped a straight. His hold saw him also hold the lead, bagging up an incredible 1,870,000 chips overnight.  His closest challengers, such as Caleb Hershey (1,242,000), Timothy Finne (1,116,000) and Dustin Goldklang (1,114,000) all ended strongly and will hope to take their inertia into the penultimate day's action. Other big names to bag included Jake Schwartz (616,000) and Rainer Kempe (586,000), while record-holding biggest ever Main Event champion – he won $12 million in his year – Jamie Gold stacked up 402,000 and will still have eyes on the $194,759 top prize.
DEPA THE LEADER AS BLEZNICK BAGS BIG
On Day 1 of the $2,500 Mixed Big Bet event, 218 players were reduced to 52 as Jonathan Depa ended the day with a huge chip lead over his nearest WSOP bracelet rivals. Depa totalled 171,600 chips with $127,808 the top prize on offer, with Jared Bleznick one of his chief challengers. Bleznick bagged up 149,900, by close of play, with Arthur Morris (137,000) and Ryan Hughes (131,900) also challenging Depa for bragging rights.
Who'll claim a WSOP gold bracelet today and become the latest winner at the 2019 World Series of Poker? Watch the action unfold live today on PokerGO and CBS All Access as more coverage of the 2019 WSOP bracelet events takes place. Selected bracelet events will be streamed exclusively on CBS All Access in the United States.