In 2017, comedian, actor, writer, and poker enthusiast Kevin Hart made a big splash at the Super High Roller Bowl in Las Vegas. As all episodes of that event are now available on PokerGO, we are diving deep into everything you need to know to relive the best Kevin Hart poker moments!
For someone with limited poker experience at the highest level, a celebrity for that matter, to dabble in a $300,000 buy-in poker tournament is truly spectacular and praiseworthy. Hart, however, is no stranger to the most famous game of cards.
When his participation was announced, Kevin told Poker Central, "I love playing high stakes poker, and there's no better competition than at the Super High Roller Bowl – the world championship of high stakes poker."
"I am looking forward to all the support and positive vibes from my fans who will be tuning in through Poker Central to watch me stomp all over the competition."
To the surprise of many, Hart competed in the Super High Roller Bowl as if he was playing in his local home game. The comedian of global fame didn't hold back, as the likes of Justin Bonomo, Phil Hellmuth and Bryn Kenney challenged him. This is what Hart's starting table looked like in the event.
| | |
| --- | --- |
| Seat 1 | Haralabos Voulgaris |
| Seat 2 | Phil Hellmuth |
| Seat 3 | Justin Bonomo |
| Seat 4 | Kevin Hart |
| Seat 5 | Bryn Kenney |
| Seat 6 | Ben Tollerene |
| Seat 7 | Cary Katz |
While the entire 2017 Super High Roller Bowl is now available on PokerGO, we're focussing on the episodes in which Hart is featured. Being at the feature table for both Day 1 and 2, we got to see a ton of hands involving Hart, who didn't shy away from using some strong language to express his eagerness to compete.
"My approach is that they can all kiss my ***," Hart said with a straight face, "Every last one of them!"
Hart added, "I'm coming in there raw, uncut. You don't know me. You don't know me as a poker player!"
Episode 1 – Tollerene and Hart Go At It
On the first episode, Hart takes down three quick pots while entertaining the players seated with him. Hart clashed on the regular with Ben 'Ben86' Tollerene, extracting chips from the long-time pro by not being afraid to play post-flop. While Hart chips up quietly, this episode also includes the massive clash between Cary Katz and Haralbos Voulgaris who got it all in on the turn.
Episode 2 – Hellmuth's Misery is Hart's Joy
On the second episode, Hart immediately takes a bunch of chips from Bryn Kenney before Justin Bonomo and Phil Hellmuth get tangled up with a flopped straight versus top set. Hellmuth, knocked short after doubling up Bonomo, also gets a taste of the Kevin Hart Experience, getting pushed off middle pair.
Not long after this, Hart finds set over set versus Hellmuth to send him to the rail.
"I busted him out! I busted out Phil!" Hart yelled off the top of his lungs, as the entire room burst out into laughter.
In an interview on one of the breaks, Hart said, "I'm just cool enough to not give a damn, and I know that these people out here give a damn. That's the edge I got over them, baby."
Episode 3 – Hart Watches Boat vs Boat Unfold
Ben Tollerene's seat has been taken by Byron Kaverman, while Phil Hellmuth's departure moved Zach Hyman to the featured table, as Hart remains sandwiched between Bonomo and Kenney. On this episode, the focus is on one of the most spectacular hands of the tournament between Kaverman's aces and Cary Katz's king-five of hearts. Hart, a mere spectator to this spectacle, stayed rather quiet.
A redraw spiced things up midway through this episode, seating Hart with the following players, pulling off a strong bluff versus Ben Lamb towards the end of the episode.
| | |
| --- | --- |
| Seat 1 | Nick Petrangelo |
| Seat 2 | Dominik Nitsche |
| Seat 3 | Dan Colman |
| Seat 4 | Ben Lamb |
| Seat 5 | Bill Klein |
| Seat 6 | Kevin Hart |
| Seat 7 | Talal Shakerchi |
Episode 4 – The Quest for Day 2 Continues
After a quiet episode, Hart is back at it. A small win versus Nick Petrangelo gets him talking again, but he quickly quiets down when Dan Colman flops a set against him.
"What is your deal! What is your problem?" Hart yelled at Ben Lamb after taking a pot off Talal Shakerchi.
"Floor! Can we get an attitude check on Ben?" Hart continues, as he stacked his chips.
Things take a downturn for Hart, as Petrangelo rivers his gutshot straight, but at the end of the day the superstar bagged up chips and moved onto Day 2.
Episode 5 – Things Get Tough on Day 2
The action on Day 2 starts with a new table for Kevin Hart, as he's seated against some fresh opponent who lines up as follows.
| | |
| --- | --- |
| Seat 1 | Kevin Hart |
| Seat 2 | Nick Petrangelo |
| Seat 3 | Cary Katz |
| Seat 4 | Jason Koon |
| Seat 5 | Brian Rast |
| Seat 6 | Fedor Holz |
| Seat 7 | David Einhorn |
Things get real tough for Hart, who's getting tangled up with 2015 Super High Roller Bowl champion Brian Rast. Hart gets creative with pocket eights, but it backfires as Rast makes two pair. Hart can't get much going but remains the center of attention while Fedor Holz dominates the action.
Episode 6 – Short Stacked Magic from Kevin Hart
As players get eliminated left and right, Kevin Hart keeps his head cool while sitting on a short stack. When the opportunity presented itself, Hart found himself all in with a flush and straight draw versus Brian Rast with a bigger flush draw.
The victory dance after the win was epic, and possibly never to be seen again in a tournament of this magnitude with $6,000,000 up top.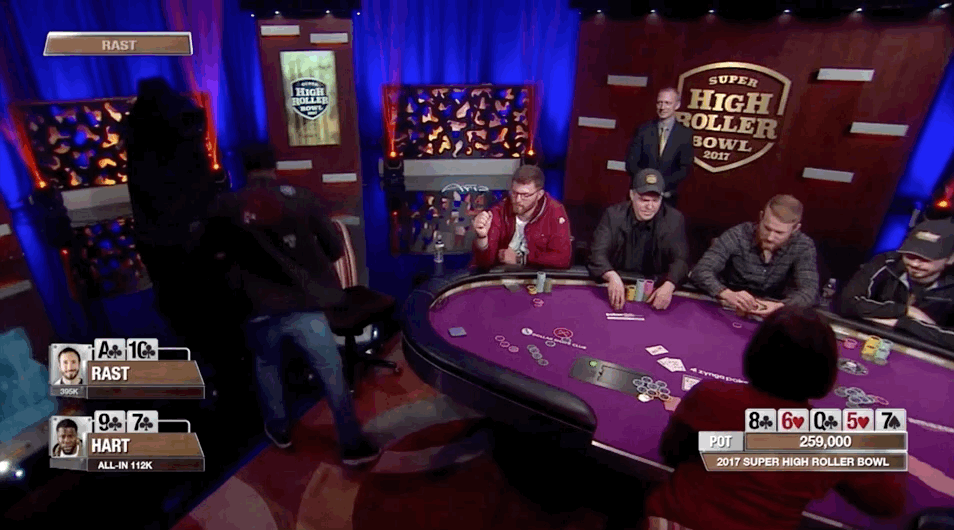 Episode 7 – Holz Dominance Ends, Hart Treads Water
There was a chance to see another victory dance, but David Einhorn was not the type of player to do that after winning a massive pot off Fedor Holz with aces versus kings. Holz took a big hit, as his dominance at the table came to a screeching halt.
The stacks of Holz and Hart were awfully similar after the German pro took a big hit, but the former did chip up through the Philadelphia born actor.
With the blinds and antes slowly chipping away at Hart's stack, it's time to get something going. There were only 25 players remaining in the tournament when the action started, and he found himself all in early on against Fedor. After his shove went uncalled, the two mixed it up again, and Hart had the best of the number five on poker's all-time money list.
Despite chipping up early, Hart remained as the short stack on the table until he got it all in for his tournament life against Holz. After both gentlemen flopped top pair, the chips ended up in the middle with Holz drawing thin. The turn, however, spiced things up by Holz hitting his kicker, leaving Hart with very few cards to help him survive.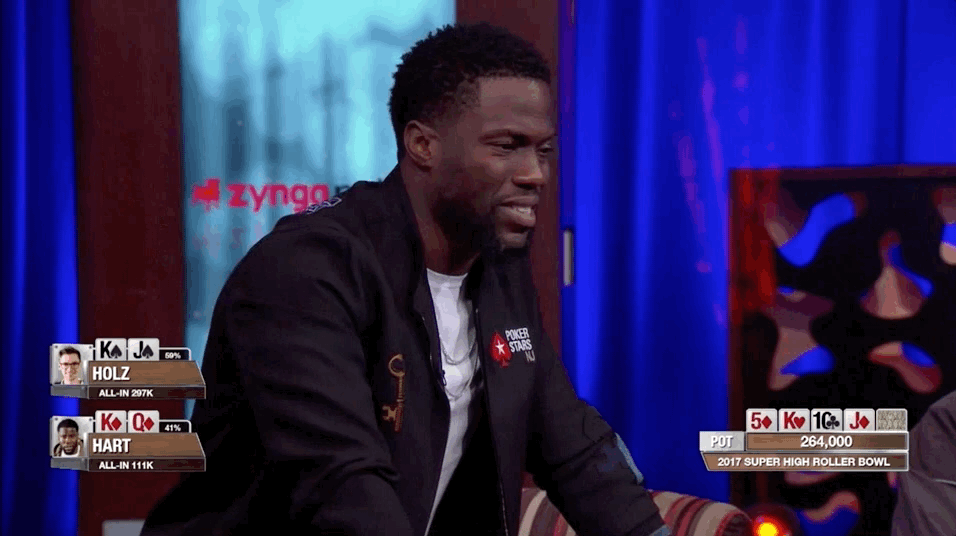 Episode 9 – It Gets Good Before it Gets Bad
Oh did we wish that Kevin Hart would make the final table! We're pretty sure that his opponents wouldn't have minded keeping his entertaining personality around, but, however, all good things must come to an end and for Hart that moment came on this episode.
Before his ultimate demise, Hart showed signs of life when Holz found himself all in and at risk holding queens versus aces. Hart flopped a set and sent the youngest player in the Top 20 of poker's all-time money list packing.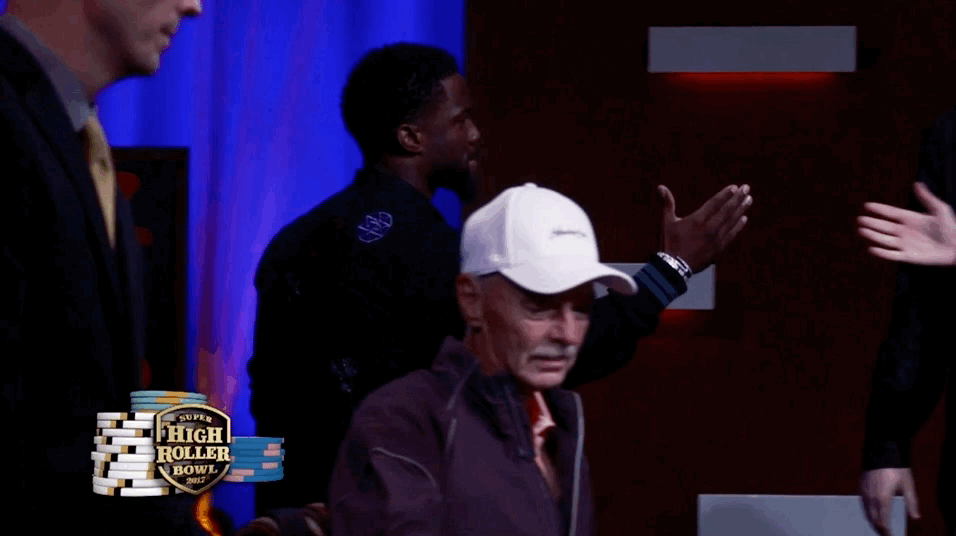 Hart's upward trend turned out to be short-lived, as he ended up all in with ace-jack versus the pocket kings of Brian Rast.
After it was all said and done, Kevin Hart told Maria Ho the following about his play in the 2017 Super High Roller Bowl.
"The overall experience was great. Today was tough, I was card dead all day. I only had two hands, ace-king once, and the pocket aces. It was just me fighting to stay alive, and you gotta get it in there when you can, try to make moves and create stuff, but I got looked up and caught and lasted as long as I could."
Hart was happy with his overall showing, and when asked about what pulls him into the game of poker, he said the following.
"It's not just the game, I love the interaction with the people. I can't stress that enough. It's a community sport, and the more you can show that, display that, the better it is for the game. I'm definitely going to continue to play, and this is definitely not the last time you've seen me. This isn't the end."
Learn More About Kevin Hart
Now that we're all caught up with Kevin Hart's play, it's time to relax! Hart took a seat on Drea Renee's massage chair for an episode of Deep Issues in which things got really interesting. The King of Comedy didn't hold back, as he talked about his recent travels, upcoming events, how he started out playing poker, and his excitement for the Super High Roller Bowl.
If you're looking for some bite-sized ways to relive Kevin Hart's tournament, make sure to check out 'The Best of Kevin Hart' on PokerGO. If you're new to PokerGO, please subscribe right now and enjoy over 100 days of live poker action on top of an extensive on-demand library that includes the World Series of Poker, World Poker Tour, Poker After Dark and original series such as Stories from the Felt, Deep Issues, Pokerography, Poker Nights, Dead Money and the Super High Roller Club.