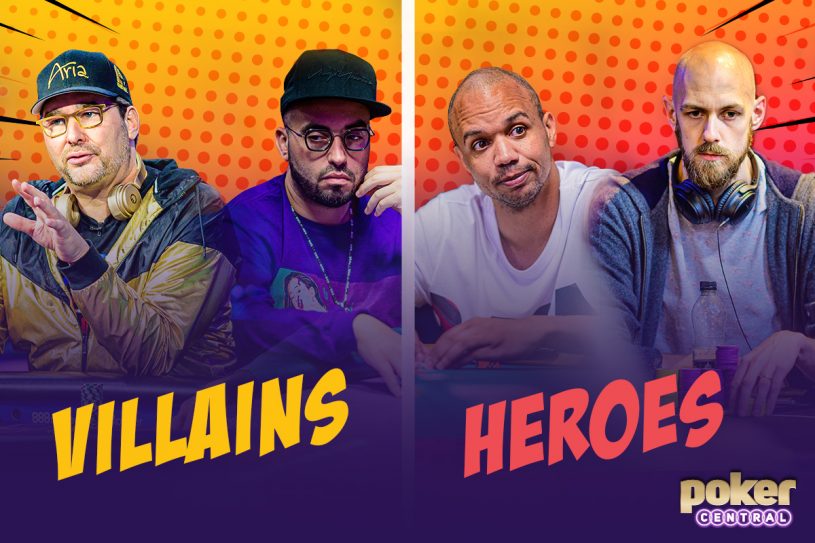 We all love to watch our poker heroes in action, but who doesn't love poker villains too? While villains playing poker may sound like the plot of a James Bond film where the good guy doesn't win the day, poker is full of both heroes and villains. We love to root on the players we look up to, but we also love to see villains stay in the game, purely because of how entertaining it is to root against them. What's not to like?
THE TYPICAL POKER HERO
How do we define a poker hero? Well, just like in your favorite action movie, he or she needs to be larger than life, always do the right thing and have the ability to see what we can't. There are so many poker heroes to look up to that it's hard to bring the number down to a handful, but many of our favorites are at their very peak at this very moment.
Another poker hero no-one can get enough of at the moment is surely Stephen Chidwick. The most successful tournament player in British poker history has won six of the 33 Poker Open events staged by Poker Central and even claimed his maiden WSOP bracelet in 2019. Currently sixth on the all-time money list, Chidwick is revered for his heroism and qualities as a nice guy in equal measure, which says a lot given the success he's had.
Erik Seidel is a poker hero to players and fans from at least three generations. Having finished as runner-up to Johnny Chan in the 1988 WSOP Main Event, Seidel sealed his place in history, but he has since become something of a high rolling everyman. Adapting to each incoming style and maintaining an incredible winning record, Seidel is easily one of the biggest poker heroes in the game.
Old school heroes like Daniel Negreanu and Phil Ivey have always been idolized by fans, seen by many as being at the top of their games for so long that they have achieved a level of immortality, something that superheroes might well identify with. Both Kid Poker and the man once known as 'No Home Jerome' have reputations that appeal to the aspirational poker player more than most – the two men most associated with the modern game are heroes to more poker fans than anyone else.
Dan Smith is one of the nicest guys in poker, not only one of the best players. He's a poker hero to many fans and other players for the way he plays at the table, but he should be commended for his heroic devotion to making money for charity via his website.
THREE CHEERS FOR THE VILLAINS
Villains in poker aren't bad players. The best villains get their wins along the way before they are vanquished by your favorite hero. To many of us, however, we love the villains. Think of Batman and you can't help but think of The Joker, too. We all love those baddies really.
Bryn Kenney has taken a heroic route to the top of the poker tree, but the loud character could just as easily be seen as a villain (and we're assuming that he likes the bad-boy image just a tad!). He might be by other players too, with the poker legend now the man to be shot at by overtaking Justin Bonomo in 2019 at the top of the all-time money list. Kenney has proven that he's there to be shot at, all he needs is an evil lair, and let's face it, with the tournament winnings he brought in due to his risk-it-all, win-it-all power, he could afford to build one under Las Vegas. If it happens, you read it here first.
Phil Hellmuth or the 'Poker Brat' is the villain we all love to watch in action. Highly-decorated, no-one has dominated the World Series of Poker like Hellmuth has, with the 15-time WSOP bracelet winner has done it time and time again in Las Vegas. From his epic blow-ups to his many reinventions, Hellmuth is one of the most famous villains in poker, and he plays up to that image brilliantly.
Mike Matusow is another poker villain whose fans clearly can't resist. The recent relaunch of his podcast has seen 'The Mouth' reach as big an audience as he has ever had, which is saying something for the former WSOP Main Event final table player.
Luke Schwartz is the Brit with a mouth as big as his action, and while he's a hero to British poker fans, he's a villain to many others. Loud, brash, often toting designer handbags and never shy about how he's solved parts of the glorious game we call poker, if the game was a Batman movie, he'd be the main baddie's crazy sidekick. You wouldn't want to mess.
If there was an arch-villain, then that might be Men the Master. It even sounds like the ultimate baddie's name, doesn't it? Men the Master may have an impressive record in poker tournaments, but he's also renowned for being uncompromising and controversial too. Who are we kidding, Men is probably poker's only real villain.
You can watch all your heroes as well as your favorite villains in action on PokerGO by subscribing today. With 24/7 content for every poker fan, you're always in the best seat in the house – your house.