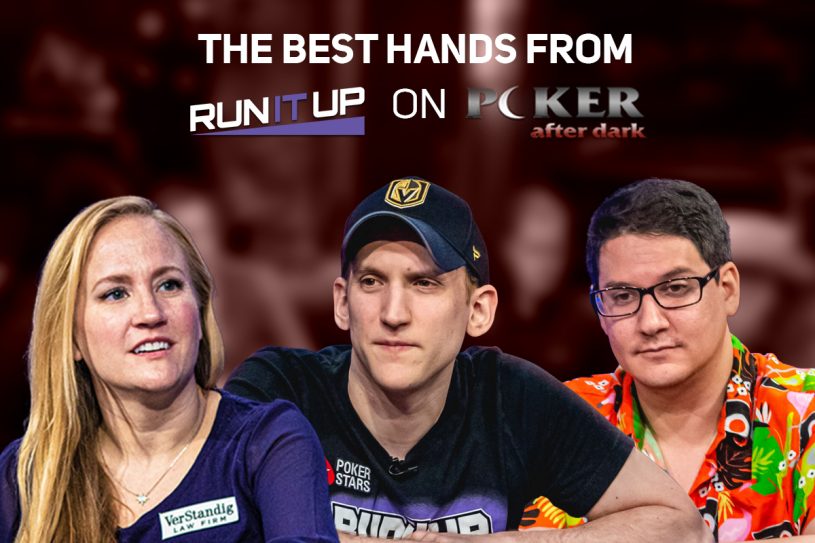 For the third week in a row, cash games with poker's biggest names streamed live from the PokerGO Studio. Jason Somerville headlined both sessions and the poker superstar dominated during his Poker After Dark debut. A collection of Run It Up fan favorites, streamers, and vloggers joined "jcarver" and were at the center of the action in the some of the week's biggest hands.
Why does it feel like Poker After Dark hosts – except for Phil Hellmuth – always run good? Because they do! Jason Somerville was the latest host in the hot seat and it wasn't just in this hand against Pat Carter. Somerville found a few ways to beat sets during Run It Up week, including a record-breaking win which we'll get to later.
When Somerville wasn't scooping pots he was shouting out Scott Van Pelt for his jaw-dropping SportsCenter segment that had everyone talking and when Marle Cordeiro isn't talking to Jamie Kerstetter on their newly released podcast she's beating her in pots. In one of the first hands of the opener, the The Rake co-hosts clashed in what could have been a more costly collision.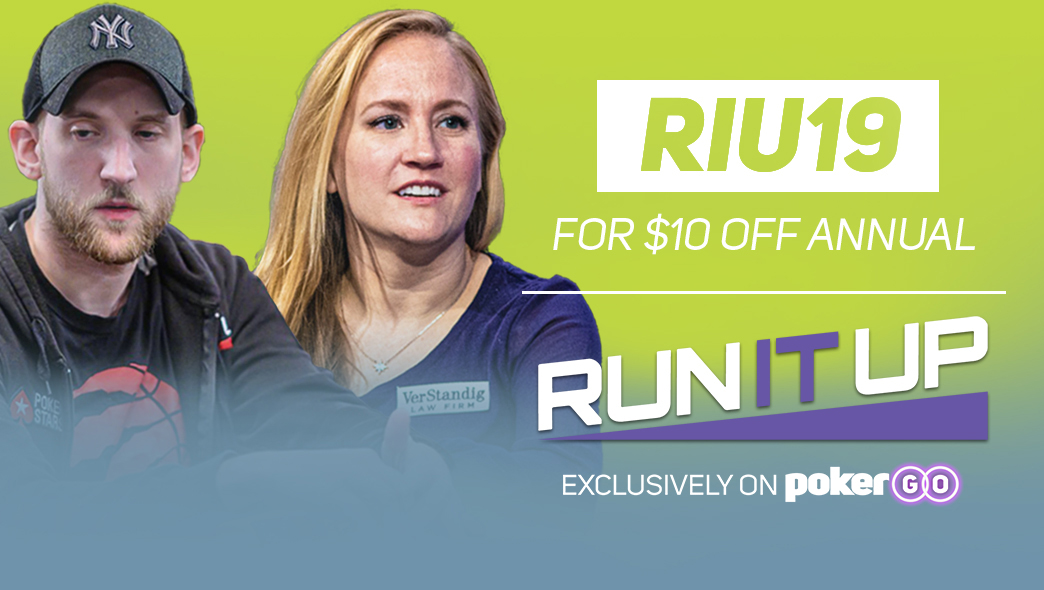 Don't forget to use code "RIU19" for $10 off when you sign up for an annual PokerGO subscription. 
If you identify as a Mark Mazza fan, look away. It's about to go from bad, to worse, to ugly – and we're not talking about the Philly fan's fashion sense. Mazza played three of the week's biggest pots and made the second best hand each time. It started innocently enough on opening night and Somerville was in the booth to call the battle between the Young Wizards.
Different shirt, different pocket pairs, same outcome for Mark Mazza. Midway through the second session, Mazza made a full house against Ricky Guan in a Roundersesque cooler. Guan checked until Mazza made his move and by that time it was already too late. Guan couldn't lose after flopping the nuts and Mazza couldn't breath after he had to reload again.
While everyone else seemed to have fun during "Run It Up" week, Mark Mazza was stuck in his own personal "Run Into It" hell. After getting smashed by Ricky Guan's slow play, Mazza's flopped set got smacked by Jason Somerville's flopped flush. There's running bad and then there's bricking all three run outs in the biggest pot of the week. Better luck in Reno, Mark.
Relive every episode of "Poker After Dark" on demand plus hundreds of hours of the world's biggest tournaments including World Series of Poker, partypoker MILLIONS, World Poker Tour, and more exclusively with PokerGO.