Poker is the ultimate equalizer. If you have the money to play, you will get a seat at the table. While for most, the game is a past-time to enjoy for small money and casual fun, others make their way up the ranks and compete for big money and prestige. In addition to those two types of players, there's also athletes and celebrities that find in poker what they loved about competing at the highest level or performing on the big stage.
Fatima Moreira de Melo falls into that latter category, drawing a direct comparison between pro sports and poker.
"In poker and in sports nothing is guaranteed until you pass that finish line." – Fatima Moreira de Melo.
This quote perfectly describes the three-time Olympic medalist from the Netherlands, who is chasing a second cash career cash in the WSOP Main Event and redemption from the sour taste that was left behind in 2015.
Competitive on a level that not many will understand, we spoke to Moreira de Melo about her drive, the mental focus it takes to be at the top, and how even winning can sometimes not be the ultimate satisfaction.
"I hate yoga, I hate ballet, because there is no competition," the former athlete said with a big smile late on Day 2C when talking about her competitive spirit that lives on strong as ever despite retiring as a professional athlete almost 10 years ago.
Battling her way through the first two days of this year's Main Event, Moreira de Melo sits on 156,100 chips and could be on her way to best her 2015 deep run when she nearly made it into Day 5. Back then, Moreira de Melo busted in 286th place finish for $34,157, and while that result might not jump off the page, the emotions that came with that run remain vivid in the mind of the retired pro athlete.
"I've lost an Olympic final, which was really sad and frustrating, but when I was on the plane back home after busting the Main Event late on Day 4 in 2015, I truly understood what 'feeling gutted' means."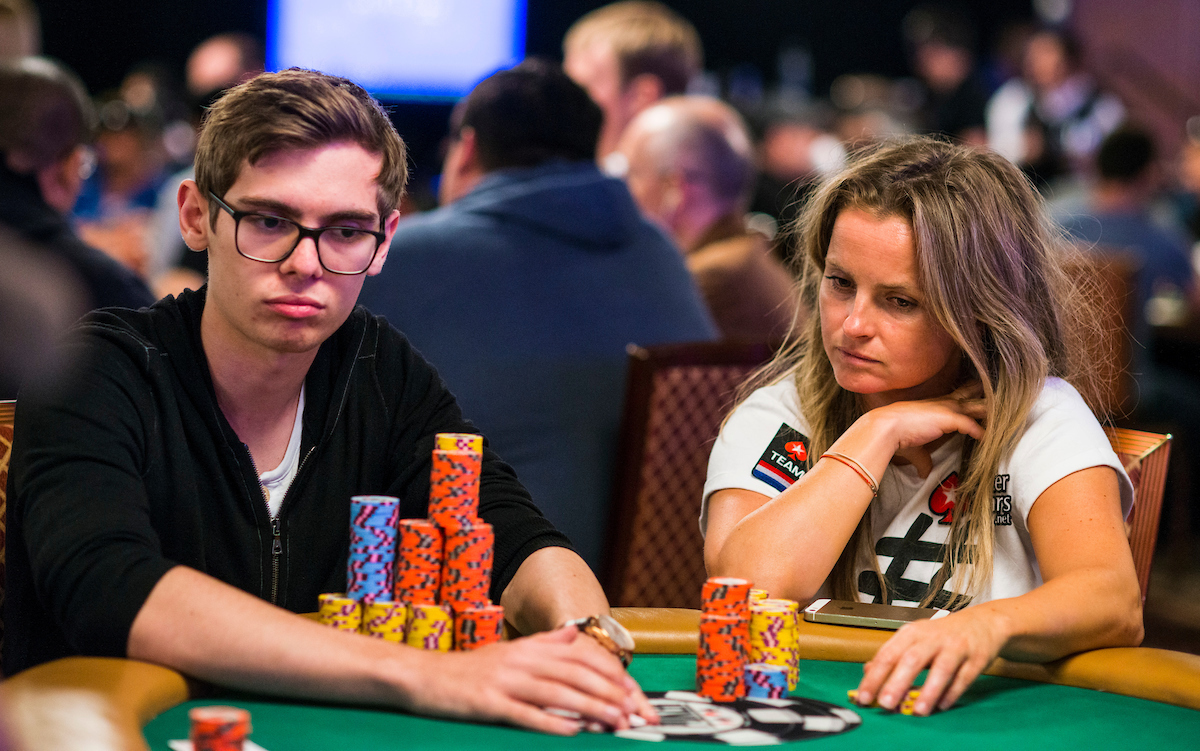 The rollercoaster of emotions that the WSOP Main Event serves up can be hard to digest. Moreira de Melo perfectly sums up why this is a one-of-a-kind poker tournament.
"When you're deep in the Main Event and you're playing well, it still only takes one mistake to lose a big pot and become a short stack, and then one all in to find yourself on the rail."
"In that moment, it's hard to believe that the dream has ended, and it's a horrible feeling to go from the excitement of being in this tournament from being on the plane home."
During her run in 2015, Moreira de Melo spent considerable time on the secondary feature table, increasing the adrenaline with each passing level. While trying to remain focused and determined to make the best decisions, Moreira de Melo thought back of her days as a professional athlete, realizing that there's never room to celebrate, or take the foot off the gas, until the ultimate goal of winning has been reached.
"The similarities between playing at the Olympics and the WSOP Main Event is that you cannot be satisfied or about winning one hand, one game or moving on to the next day. In the Olympics, when you win a group stage match or move on to the semifinals, that's great, but you still haven't won the tournament. In the Main Event, making the next day is also great, but that's not the ultimate goal."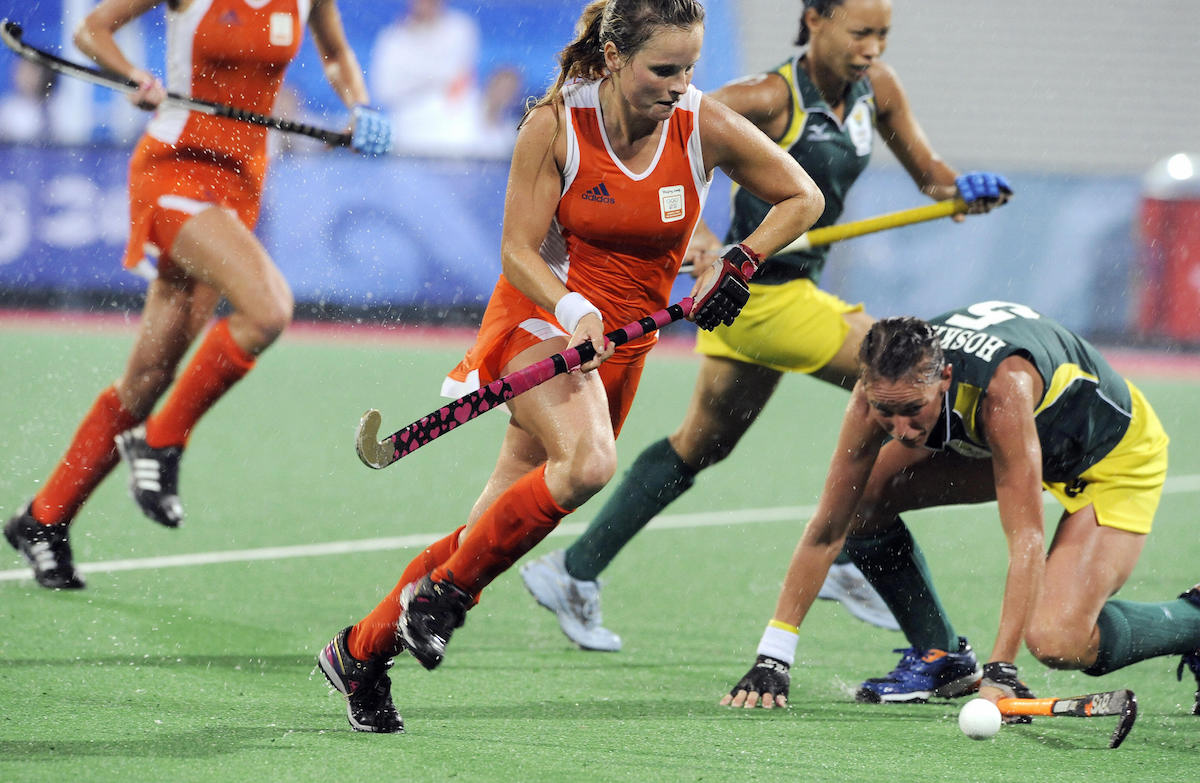 Fatima Moreira de Melo at the Beijing 2008 Olympic Games versus South Africa. Moreira de Melo went on to win Olympic in this tournament. (Photo: Getty)
Moreira de Melo's boyfriend, Raemon Sluiter, is a former tennis pro and the current coach of Dutch pro Kiki Bertens. Bertens beat tennis legend Venus Williams on Friday at Wimbledon, and Moreira de Melo sees a lot of similarities between the evolution of Bertens' game and what's needed to perform at the highest level in poker.
"Resilience and adaptability are so important in both tennis in poker. When you get knocked down, what are you going to do? Are you going to spew it all off? Can you handle being a short stack? Can you handle being moved to a new table, or even something such as playing with a big stack, that can be hard as well."
Emphasizing that her strength lies in adapting and showing resilience, Moreira de Melo ads, "I love that about this tournament. I grow into a tournament, and I love getting a feel for it."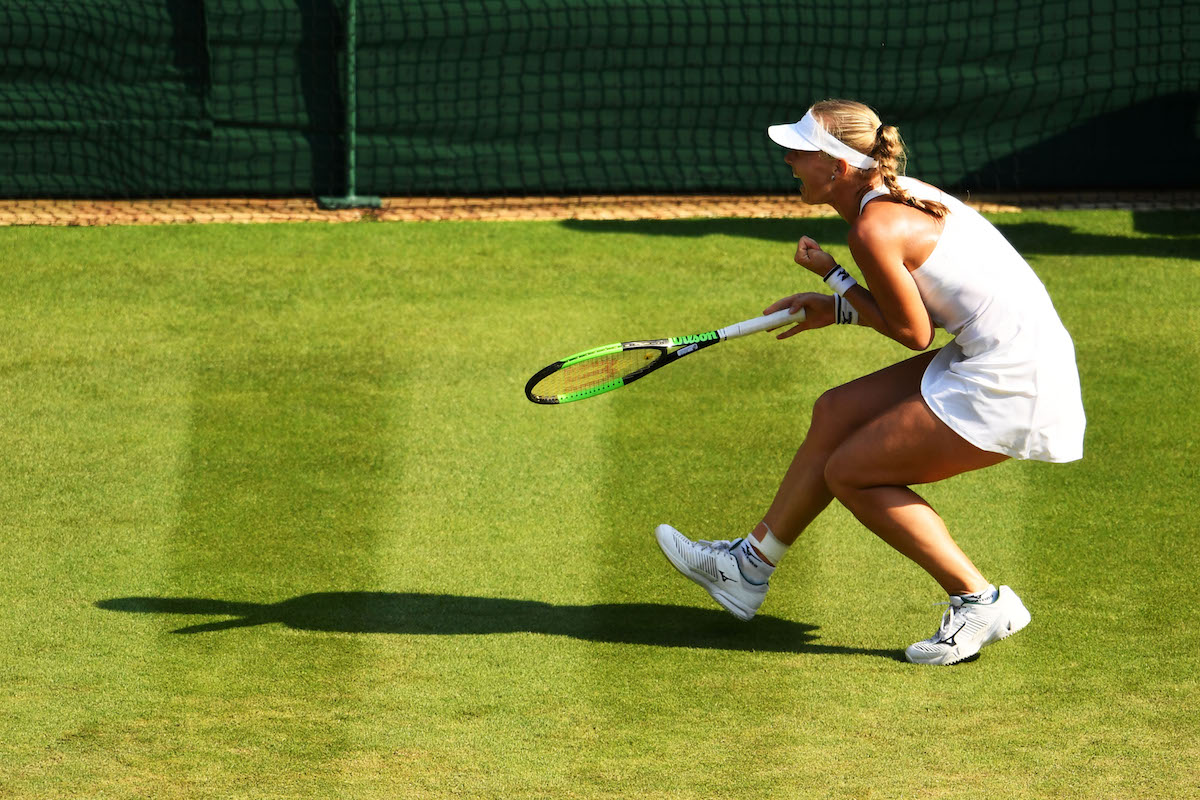 While pro tennis players such as Kiki Bertens slowly earn their way to Wimbledon through a mix of talent and hard work, poker offers anyone a chance to compete on the game's greatest stage if you can fork up the $10,000. Moreira de Melo believes that the freedom to compete at the highest level of poker adds another dimension to the mental aspect of the game that shouldn't be overlooked.
"In poker, you don't need to earn your seat at the table, and that can be tough mentally. You can just buy-in and compete, but feeling as though you belong at the table is something completely different."
"Believing in yourself, feeling as though you belong, you're good enough, and you own your seat, is very important in this tournament."
With every passionate sentence that comes out of Moreira de Melo's mouth, her intensity grows and her eyes get sharper as if this interview is part of the competition. But while her high-energy and competitive self finds satisfaction in poker, there's still room to have fun and enjoy the experience at the same time.
"I love to compete, so for me, it all goes hand in hand. That's why I loved my sporting career, and that's why I love my poker career. This is also why I love talking at the table because it is very possible to compete and have fun at the same time."
At the end of the day, it's remarkable how the mind works of a person who's been the best in the world at something they put their heart and soul into. Moreira de Melo might never be truly satisfied, as she always looks to improve, holding herself to the highest of standards in life and competition. Ultimately, success in the 2018 WSOP Main Event does not lie within besting her result from 2015 but besting her self in every possible way.
"Fulfilment, for me, only comes from a great result and great decision-making. Even when I look back on winning Olympic gold, I'll never forget that I didn't play my best in that tournament. When you've played your best and get that result, that's when it all comes together."
Watch Fatima Moreira de Melo and thousands of other hopefuls on PokerGO and ESPN during the WSOP Main Event. Subscribe to PokerGO right now and enjoy more than 100 days of live poker action on top of an extensive on-demand library of content that includes every WSOP Main Event broadcast from 2011 through 2017.