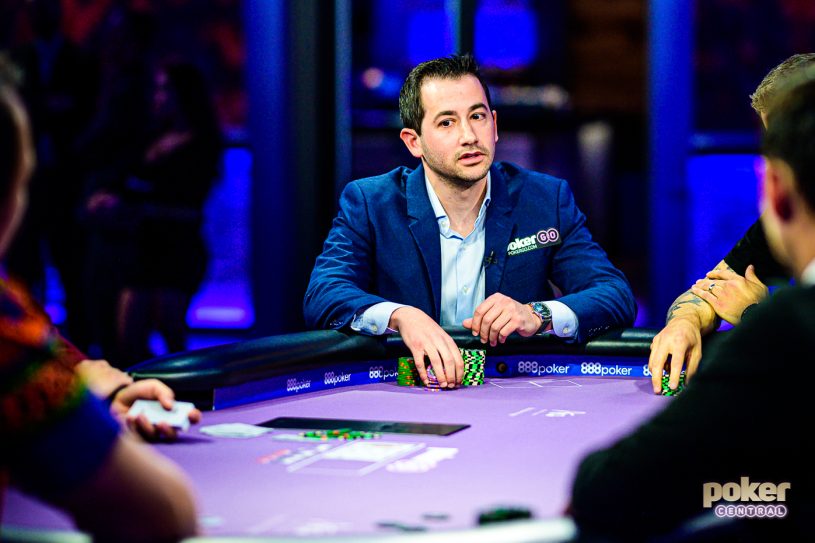 The beauty of the game of poker is that anyone can sit down in any cash game or tournament as long as you have the funds to play. Last night, Jeff Platt took his shot as he made his debut on the felt inside the PokerGO Studio.
Seeing new faces play under the bright lights of the PokerGO Studio on the Las Vegas Strip is not uncommon, but seeing someone do it who I work with and consider a close friend is definitely a little surreal.
Watch the full first night of "Open Seat" on Poker After Dark on PokerGO right now.
The people who work in poker carry a passion for the game that rivals, or sometimes even outpaces, that of the actual players they are reporting on and it's safe to say Jeff Platt fits into the latter category.
"It's kind of surreal," Platt said with a big smile prior to taking his seat. "I think it's extra surreal because I've walked into the studio so many times for work and I've always thought, in the back of my mind, 'What if? What if maybe just one time I'd be walking in here as a player?' and that's exactly what I did today."
"So I'm going to keep on referring to the word 'surreal' again and again and again and again."
Savage AF from @TreMomey. 💪💪💪#PokerAfterDark https://t.co/5rUlItuiNK pic.twitter.com/skOjzOE1zb

— PokerGO (@PokerGO) August 7, 2019
The hand of the night was played between Barry Woods and Trevor Savage who went wild with 7-2!
Things are definitely surreal for Platt, host of Friday Night Poker and sideline reporter for the 2019 World Series of Poker bracelet events, as he grew up loving the game of poker partly because of Poker After Dark.
"I can remember the night that Poker After Dark premiered on NBC and watching it with my college friends," Platt said.
That episode, where Phil Hellmuth famously went off against his entire table and clashed with Gus Hansen, proved to be the perfect catalyst for a college kid to get completely hooked.
Watch the first-ever episode of Poker After Dark on PokerGO right now by clicking this link.
"I watched every season since and obviously, I've been watching the shows since PokerGO brought it back. It's a show that really means a lot to me but I'm not that nervous. I mean, if you were telling me that I had to play in a $25/$50 cash game, I'd be like 'That sounds terrifying, no thanks, I'm out.' But I'm just so appreciative of the overall experience because it does mean that much."
"It's just such a special show in poker and it's like this might sound corny but it's a real honor to be a part of it."
Usually, the Poker After Dark lineup gets put together by invitations that are being extended to players from all over the world but for this session, we've decided to make it an open invite for all our Twitter and Facebook followers. Of the many responses we received, Jeff Platt was one of the players selected.
Oh man so in. Will wear sport coat, will only need to be staked for 99% of buyin. Will try to insult @Ali_Nejad. Will be unsuccessful. Will be made fun of. https://t.co/vLWdLMF1AY

— Jeff Platt (@jeffplatt) July 31, 2019
The first night of action saw Platt cash out a whopping $150 profit while going up against poker legend Mike Matusow, Brandon Cantu, Brandon Schaefer, Justin Young, and other invitees after their social media responses, Barry Woods, and Trevor Savage. Tune back in for more action tonight at 6:00 pm ET as this lineup will battle again for an exciting six-hour session.
"My job is being a poker broadcaster, not a player. I play poker because I love it. Win or lose, I'm just going to have a great time and have fun with it."
New to PokerGO? Subscribe right now and never miss another exciting night of live poker action.