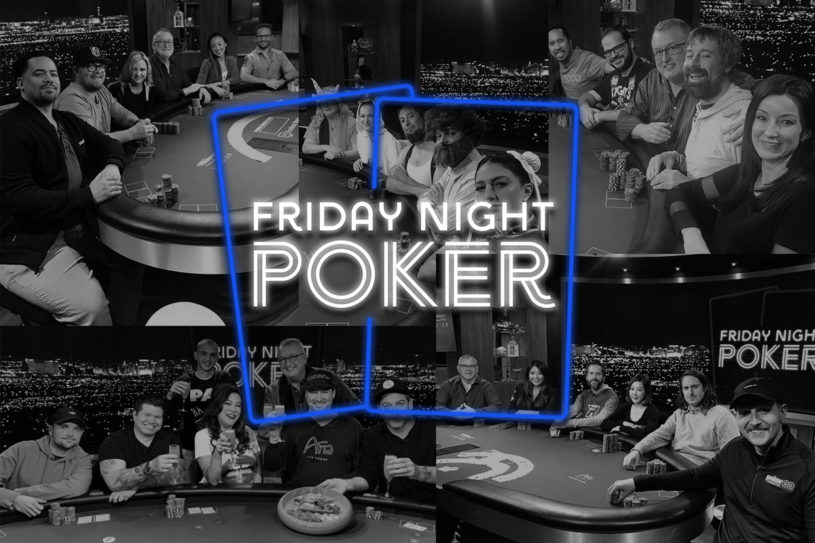 For nearly three months, Friday Night Poker from the PokerGO Studio has created exciting action as a rotating fun cast of characters battle in a $5/$10 No Limit Hold'em game on Stadium's Facebook Watch page. The show has proven once again that poker, in essence, is about having fun.
Watch Friday Night Poker both live and on-demand on Stadium's Facebook Watch page by clicking this link.
This trip to Las Vegas for me started with two nights of the Super High Roller Cash Game and ends with the final table of the Super High Roller Bowl. As someone who has followed and created content around high stakes tournaments and cash games for over a decade, it's sometimes easy to forget that the vast majority of people play and enjoy games at lower stakes than what the big time pros play.
While Friday Night Poker is out of my reach, and that of most poker fans' bankrolls, it's at least much easier to identify and relate to a $5/$10 No Limit Hold'em game where people share some laughs and drinks.
Over the last few months, I've grown very fond of this game and its positive vibes without scarfs, aside from some questionable fashion choices, intense staredowns or posturing over completing the big blind. It's all about having a good time, and I think that translates very well into the live chat on Facebook where the fans are clearly also taking a liking to this format, and the excellent commentary provided by Jeff Platt, Brent Hanks, and Amanda Leatherman who've found the perfect balance between the action and its surrounding banter.
The Players Love it
On set before this week's action kicked off, I had a chance to talk to some of the players involved, one of which, is a multiple WSOP bracelet winner and a former WSOP Player of the Year. Frank Kassela has already played on Friday Night Poker eight times and is always ready for more.
"I just like have fun playing poker, and this is the most fun I've ever had playing in a televised poker game," Kassela said, while I'm used to seeing him battle for bracelets in the bigger mixed game bracelet events.
"At these stakes, you can drink and have some fun, and I love coming down to the ARIA, so overall it's just great. Oh, and I lose every week so I think they love having me back as well!"
Eli Elezra, a World Poker Tour champion and three-time WSOP bracelet winner, made his debut on Friday Night Poker this week, and he echoed Kassela's sentiments.
"Poker doesn't always have to be for big money. Sometimes you just have to play poker, have fun, laugh, and it's great we get to show that to the world."
Do The Stakes Matter?
Having played in Bobby's Room for many years, Elezra emphasis that even for a player like himself the game of poker doesn't need to be cutthroat to be enjoyable.
"From the highest stakes down to this game, I always have fun in poker. For me, it's always about enjoying the game no matter what the stakes are. It doesn't always have to be about trying to kill each other at the table. Most people that play poker do that in a small home game for cents and dollars, and the people just want to be around their friends, drink, laugh, and have a good time. That's what poker is all about."
The lineups for Friday Night Poker have brought a wide variety of characters to the PokerGO Studio, and this week was no different. Winning her seat in the One Step Closer charity poker event last week, Poker Central's own Delphine Szwarc saw a dream come true playing under the bright lights against some tough competition.
"This is the best day of my life," Szwarc said with a big smile on her face just a few minutes prior to the game getting underway.
"This was a bucket list item and I'm very excited. It's going to be a tough table because I'm not used to playing with high rollers like this. I'm a recreational player, usually $1/$2 and $2/$5, so the $5/$10 stakes are not what scares me, it's all those pros at the table. They have been playing for many years at the highest level, so that's what I'm scared of."
So while for players such as Kassela and Elezra this is a step down from their regular stakes, it's still very real for someone like Szwarc who's crossing an item off her bucket list by playing in this kind of environment. For me, this perfectly summarizes why it's so important for poker players not to lose sight of the enjoyment people get out of this game that usually brings out everyone's most competitive urges.
Frank Kassela said it best when putting televised poker into perspective by saying, "When I watch those crazy high stakes, the guys playing $3,000/$6,000 on the Super High Roller Cash Game, I just ask myself 'How can this be fun?' You run bad for four hands and you'll have a miserable night, and overall I just don't like playing stakes that have the potential to piss me off if I end up having a bad session."
"Whether or not I lose in a session like this, I can still have a good time and I think the people watching on Facebook can see that we're enjoying it, and I like to think that they enjoy that. Watching people play $3,000/$6,000 has the potential to not even feel real to the people watching. When you see people play $5/$10, you know it's real and on some level that might make it even more enjoyable."