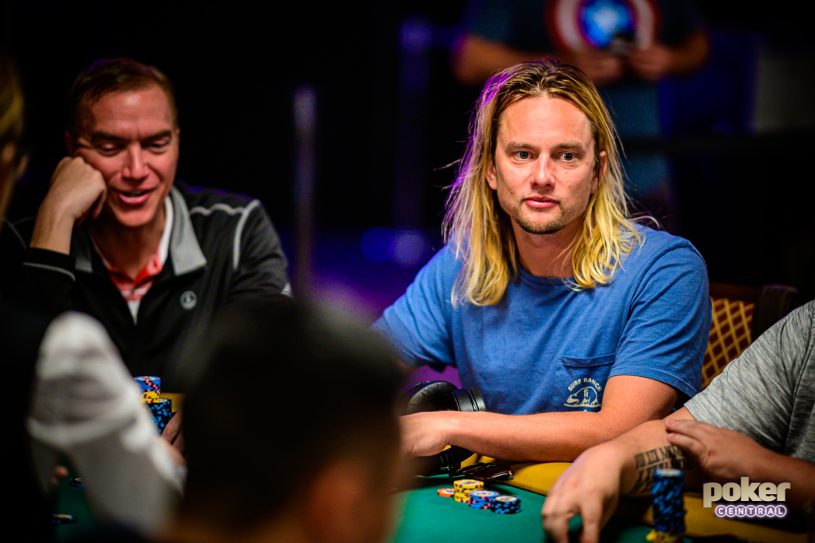 If his Instagram handle – "OneLuckyGuy" – was any indication we might've been looking at the future World Series of Poker Main Event champion, but it wasn't meant to be for Eric Ethans on Day 1a.
The entrepreneur and extreme sports fanatic who's based in Lake Tahoe absolutely loves the challenge and excitement of the world's biggest tournament even though his day did not go as planned.
Ethans gained fame and fortune as the co-founder of Suja Juice, the wildly popular juice brand that took the world by storm a few years ago, allowing him to live his poker dreams when his schedule allows.
"It's been a dream of mine to take down the Main Event," Ethans said, playing the event for the third time in the last eight years.
"It's like David vs. Goliath, a situation in which you have to take everyone's chips for a chance to walk away with close to $10 million dollars, and your banner on the wall."
Ethans dreams of the idea of becoming part of poker history, emphasizing that having his banner on the wall would be a memento that would last well beyond the span of his life.
A highly motivated online player as well, Ethans loves tournament but avoids cash games.
"I like the idea of tournaments where you have one chance to win big, beating a huge field, in that competition format."
With a smile, Ethans compared the WSOP Main Event to the Iron Man, "But less physical of course."
"This game is really mental and that fits with my love for chess, backgammon, and gambling."
As the co-creator of one of the most popular organic juices, Ethans runs in circles where the focus is always on health and well-being, which might not have the most overlap with the world of poker.
"A lot of people don't understand why I love it, some even think it's a waste of time. To me, if you have a general understanding of poker, you have a chance to win the World Championship and that's why people love to play it. It's almost the same as why people play the lottery, if play it, you can win it."
But, on Ethans' third Main Event attempt, nothing went his way.
"Today was a struggle. I got unlucky early and then made some bad decisions to bring me down to just 25% of the starting stack. But hey, a chip and a chair is enough, right?"
"As long as I have just one chip, I can make it to Day 2 and keep the dream alive," Ethans said, but unfortunately he was eliminated on the homestretch of Day 1a.
For Ethans, it's back to his regular grind and we're pretty sure nobody will feel sorry for him! The entrepreneur never sits still, despite tearing his Achilles recently, as he's brought the Uluwatu Surf Villas to life on Bali.
"It's like you're on the edge of the world with amazing food, drinks, and surfing. It's an incredible spot and I'm thinking of starting a small juice cafe there as well."
Watch the 2019 WSOP Main Event on ESPN and PokerGO. New to PokerGO? Subscribe right now.