Surrounded by top pros such as Justin Bonomo, Dan Smith, and Fedor Holz, the name 'David Einhorn' stands out as one of the players that we don't see too often in the big poker tournaments. When Einhorn shows up, however, it's always a big occasion!
From his first introduction to poker fans in the 2005 World Series of Poker Main Event, finishing 18th for $659,730, finishing third in the first-ever Big One for One Drop in 2012 for $4,352,000, to playing in the 2017 Super High Roller Bowl, Einhorn is not strange to big spots, but just as he enjoyed himself during those first two big runs, he'll be the calmest and coolest player at the table today during the 2018 Big One for One Drop final table.
After the final six were reached, live on ESPN2 on Monday night, Einhorn spoke about pressure and the lack thereof while looking ahead in excitement to tonight's final table.
"I don't feel any pressure for tomorrow, really none. I'm just here to play my cards and I'll see how it goes. I feel like I deal with a lot of pressure in a lot of other places, and maybe I'll get an adrenaline rush and get excited about the game, but I don't feel any pressure to do well."
Einhorn, a highly successful hedge fund manager and founder of Greenlight Capital, donated the entire $4.3 million he won during the 2012 Big One for One Drop to charity. Back in 2013 Forbes ranked Einhorn 44th on its Top 100 list of most influential people. Poker is one of Einhorn's favorite hobbies and the Big One for One Drop is part of his summer vacation with family and friends who were seen supporting him on the rail on Day 2.
"I'm feeling super relaxed and calm, and I really enjoy playing and competing. I don't know how all the pros are feeling, but I'm probably a bit more relaxed."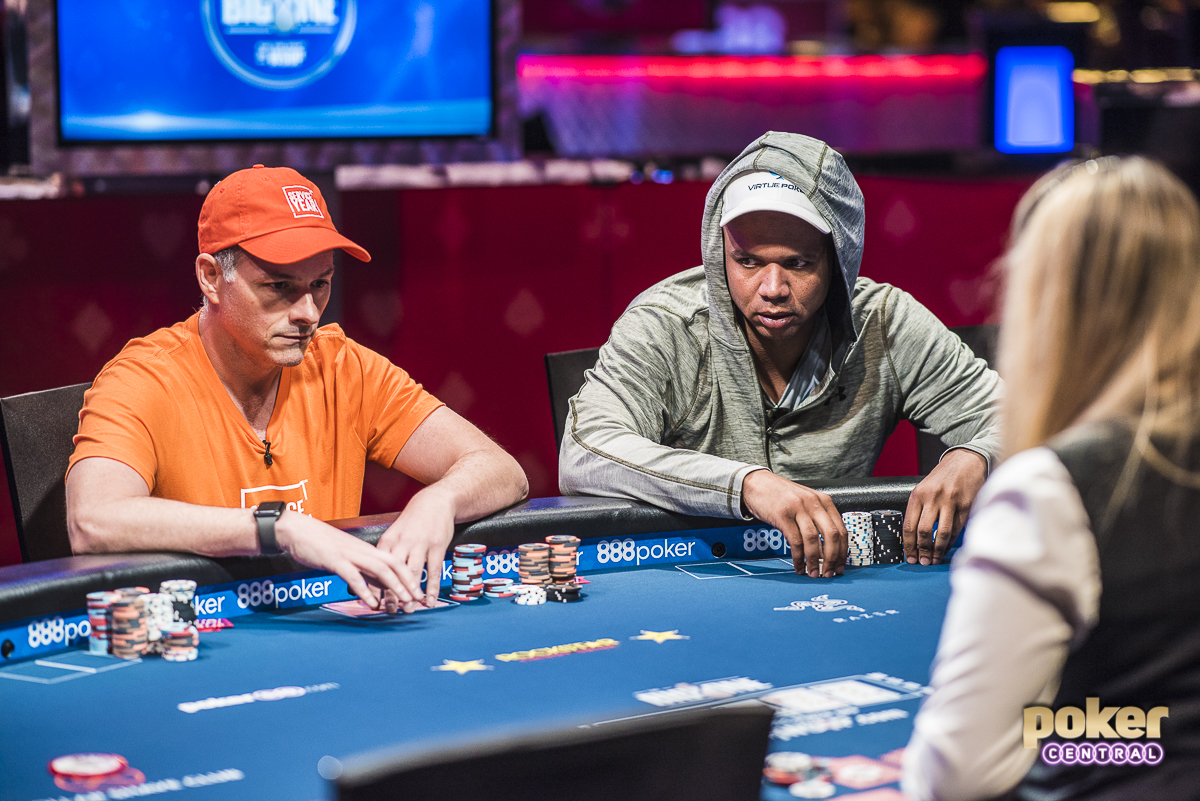 After Day 1 in which he was card dead for many hours, Einhorn caught a rush of big pairs on Day 2, seeing aces no less than five times, along with queens and jacks, putting him in a great spot to lock down another cash in the fourth edition of this event.
"I won some and lost some, but for me it was really just a blast trying to compete with these guys. Sometimes the more volatile days, like today, are more fun."
Throughout the year, the passionate poker player seeks out charity events and home games, but he admits that there's nothing more fun than spending three full days of his summer vacation focusing on the game as intensely as he has during this run.
Einhorn is optimistic about getting a good result at the final table, coming in with 25 big blinds and fifth out of six players on the money bubble, while also recognizing that it's not his technical poker skill that allows him to duke it out with the top pros.
"It would be nice if things go well at the final table, and I feel a lot of support from a lot of people, but look, the truth is that these guys are all better technically skilled poker players. If I'm going to have any advantage at all, it's going to be my inner calm."
Final table coverage is scheduled to start at 9:00 pm ET on ESPN2 until a One Drop champion is crowned. Find all World Series of Poker final tables from 2018 by subscribing to PokerGO today. PokerGO coverage is available in non-ESPN and non-ESPN affiliated regions.