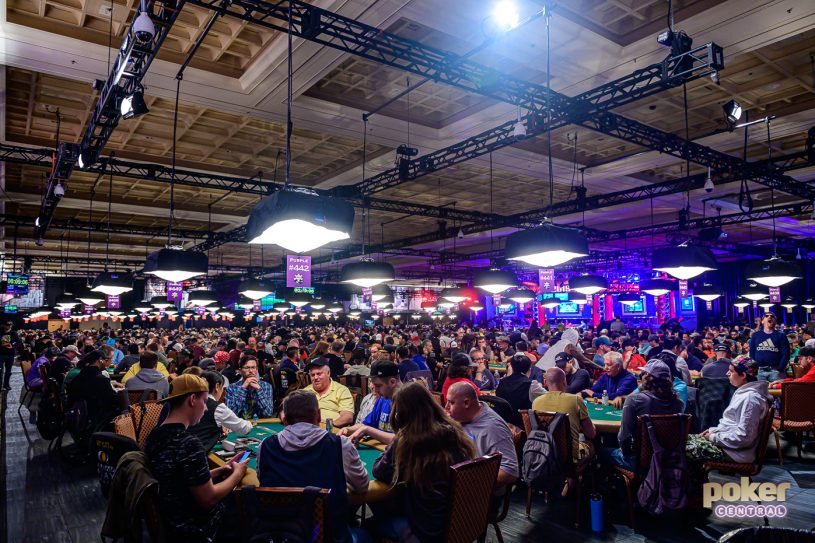 The 2019 World Series of Poker is in full swing with events #14 and #15 getting underway today but for the next three days, all eyes will continue to be on the giant that is the Big 50. After four starting flights and an equal amount of Day 2s, the remaining 1,597 players will combine today for a race to the final table that will culminate live on CBS All Access and PokerGO on Friday, June 7th.
Still in the hunt for glory in this massive minefield of a tournament are notables such as Amit Makhija, Jason Wheeler, Anton Morgenstern, last year's WSOP Main Event finalists Tony Miles and Alex Lynskey, as well as $25k Fantasy front-runner Dan Zack who's coming off a bracelet win in the $2,500 Triple Draw Mix, as well as WSOP bracelet winners Justin Liberto, Anthony Reategui, and Benjamin Dobson.
Mind-Blowing Numbers
Courtesy of the World Series of Poker, here are some jaw-dropping Big50 numbers to put into perspective how much of a juggernaut this event truly is!
Total entries: 28,371 (a WSOP record)
Total prize pool: $13,509,435 (largest ever for a $500 price point)
Total places paid: 4,258 (most ever)
First prize: $1,150,500 (2,300 times the buy-in – estimated payout)
Unique entries: 17,970
Players entering once: 11,555
Players entering 8 times: 10
Male entrants: 92.98%
Female entrants: 7.02%
Average age: 44.02
Oldest entrant: Thomas Gieri, Miami, Florida (91 years old)
Youngest entrant: Jovan Santiago, Leominster, Massachusetts (21 years and 9 days)
Physical chips used: 709,275
Dealers used: 1,208
Countries represented: 89 (total international entries: 4,399)
Decks of cards used: 4,912
Chips needed to win the event: 1,418,550,000
BIG 50 #FunFact 95 players cashed multiple times, 27 advanced to Day 3.

— WSOP (@WSOP) June 5, 2019
Social Media Buzz!
As one of the most vocal players going strong in this event, there's no denying that a big run by Barstool Nate would draw a lot of attention to this event. Nate has been on a tear in this event and he's sitting on a pretty stack with a long day of poker ahead!
I'm Currently In 95th Out Of Around 1,600 Remaining Players In This Massive WSOP Event https://t.co/1ebENEQuI2

— Nate Blogg (@BarstoolNate) June 5, 2019
Here's some more excitement from Twitter about this event as things are starting to get real serious!
Day 3 hype LFG #Big50 #WSOP pic.twitter.com/NhiaxbD55X

— Scott Davies (@sdaviespoker) June 5, 2019
Excited for day 3 of the #Big50 today. Thanks to @JonathanLittle and @PokerCoaching_ for guiding me. I've got my 17 bigs and my 'fold or shove' chart ready. Lol (Just wish the patches arrived in time for me to represent.)

— Greg Bender (@idiotg) June 5, 2019
Day 3 of the biggest live poker tournament in the history of the world. Average stack but always happy for a day 3. #Big50 #wsop2019

— Neil Blumenfield (@nrb1) June 5, 2019
Big50 day 3. Time to play great run better and bag up for day 4! #wsopbig50 #cbWSOPpart4 pic.twitter.com/UydVeKAYWt

— Chris Barrett (@CB860poker) June 5, 2019
A total of 12 50-minute levels are slated for Day 3, so keep an eye out for the live reporting coverage provided by PokerNews and the WSOP until the live streamed final table gets underway on Friday.
The final table will be live-streamed on CBS All-Access in the United States and available everywhere else in the world on PokerGO on Friday, June 7th as the finalists will battle for a life-changing score that will certainly be one of the highlights of the summer!