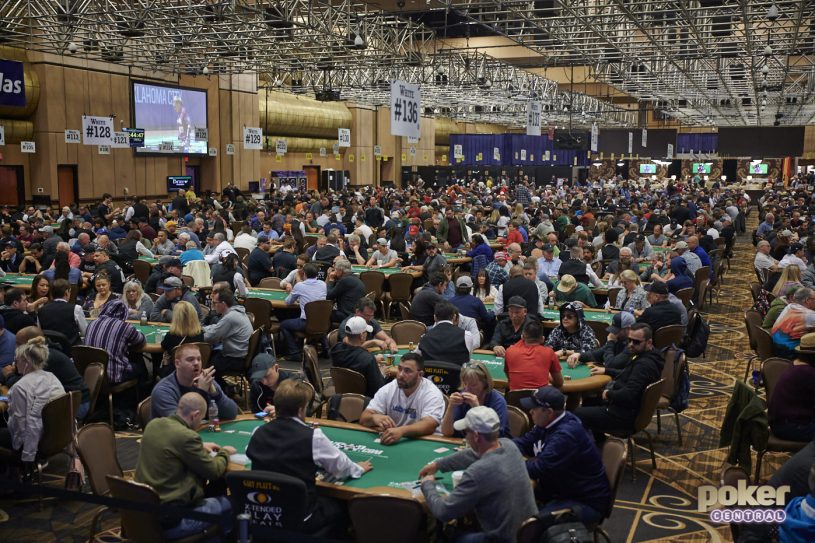 You know it's going to be a great World Series when the Seniors Event starts and Twitter is lit like so much firewood was back in the days when the Seniors were making their first three-bet. Nowadays, it's all Insta this, Snapchat that. But it's good to know that the WSOP has got everyone's back, no matter what age they are.
SENIOR EVENT BRINGS THE BANTER
Let's face it, we're all youngsters when it comes to cracking jokes and no-one does it like the older generation. It turns out the powers that be at the World Series have a sense of humour, too.
The announcement for Seniors event break was awesome. "Attention you are now on a 30 minute break. Please take note or take a picture of your table number before you leave"

— Blair Hinkle (@blur5f6) June 13, 2019
One player who has not yet been named is either lying about his dating profile or needs to grow some grey hairs pronto to validate his Seniors ticket.
A poker player I've definitely seen on dating apps claiming he is 40 is definitely playing in the Seniors Event. #justsaying

— Jessica Welman (@jesswelman) June 13, 2019
Layne Flack is, at least, sympathetic to the needs of any elderly players taking part in their first event this summer. Well, kind of.
The waitress's are walking around offering water and Metamucil. I wonder if that's the official sponsor of the senior event

— layne flack (@back2backflack) June 13, 2019
REG RAGE AS PLAYER FOUR-BET CALLS
Some players just aren't happy with the game when it's not played their way. If we were all the same, we'd be playing Bridge, right?
Can u imagine flying all the way here from northern fucking Europe to 3 bet the button w king queen off and proceed to call of a cold four all in for 30 bigs and think ur good at poker

— Angry New Englander (@slayAbides) June 13, 2019
THE GRINDER GATHERS ANOTHER
It's not like Michael Mizrachi to be competitive with his brothers, poker history or records, is it? No, wait, that's exactly what The Grinder is known for. What a boss…
I got 5 on It. #wsop #champion #studhilo Love you All! On 2 The Next 1. 🏆🏆🏆🏆🏆👊🏻👊🏻 @ Rio All-Suite Hotel & Casino https://t.co/BzuJEwhaXm

— Michael Mizrachi (@TheGrinder44) June 14, 2019
$25K FANTASY LEAGUE TOP FIVE
The action at the top of the $25k Fantasy League is really getting competitive. Any league winning team is expected to need at least 800 points to take the title, but Teams Maths are starting to look like they know how to add up. You can review the entire standings in full right here.
Current Top Five Standings:
| | | |
| --- | --- | --- |
| Place | Team | Points |
| 1st | 1. Team Maths | 368 |
| 2nd | 2. Team Shafer | 304 |
| 3rd | 3. Team Noori | 283 |
| 4th | 4. Team Poker Central | 247 |
| 5th | 5. Team Baker | 239 |
Who will be the latest player to star at the 2019 World Series of Poker? Watch all the action unfold live today on PokerGO and CBS All Access as more coverage of the 2019 WSOP bracelet events takes place. Selected bracelet events will be streamed exclusively on CBS All Access in the United States.