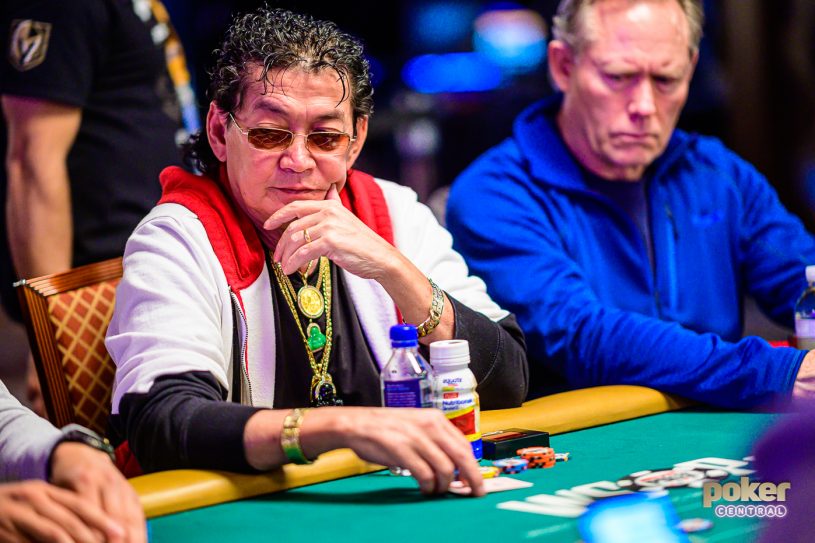 To say it's been an entertaining World Series of Poker is an understatement. With just a few dramatic days to go, some light-hearted relief filled Sunday's socials.
EVERYONE'S A NGUYEN-ER
There have been many former World Champions who have been great value on and off the tables, but Scotty Nguyen might just have been 'tops'…
#bottlecapchallange yeah baby! #poker @WSOP @PokerNews @espn pic.twitter.com/92DeWzHz0h

— Scotty Nguyen (@TheScottyNguyen) July 13, 2019
VAN ZADELHOFF NEEDS A LIFT
Who doesn't need a lift with the last sprint ahead of them? Steven van Zadelhoff sure does. A big one.
Yes playing poker for a living is fun, but have you tried weighted declined sit-ups?
.
Recharging in the gym, then back to the Wynn for their $2M guaranteed main. I took 4th here last year for $144k – let's aim 3 spot higher this time 🏆
.#fitness #sanity #discipline pic.twitter.com/rUaAj3UVnC

— Steven van Zadelhoff (@svzff) July 13, 2019
RACKS RACKING UP
Kevin 'Racks' Roster may have left the World Series of Poker, but he's still racking up the chips. Great to see. For more information on his awareness campaign, check out his website.
One more for the sarcoma awareness tour. Tomorrow to Reno hoping for a deep run in the summer saver and maybe some gold jewelry @StonesLivePoker #wsop2019 #sarcomaawareness #summersaver #highstakes #grinder #fuckcancer #cashmeout #bucketlist #shipit pic.twitter.com/a4JabsAy0b

— Kevin Racks (@KevinRacksPoker) July 14, 2019
CODY'S FATE SEALED
Jake Cody may have got the better of a certain active 'shower' fan during the Main Event, falsely busting himself on Twitter to provoke a 'showers' reply that was re-pranked by the British triple crown winner. But his shower caught up with him!
We got another victim , he's down for the count. Didn't donate either very vile . Tried to run a ruse on me and wasn't even showered, but the lesson here is the showers come for us all @JakeCody 🚿🚿🚿🚿🚿🚿hopefully u catch on w another 90s punk band soon cuz poker ain't it pic.twitter.com/X1G3Xyskdq

— The Showers (@slaymericainc) July 14, 2019
SLOW PLAY THE ENEMY
Slow play. We all hate it, from pros to recs and everywhere in between. But if there's one thing that's worse…
The only thing worse for poker than outrageously slow play is when elite players & role models like Sammartino & Greenwood do it on the biggest stage in poker. We gotta get a shot clock in there starting on day 5, it's such a win-win for ESPN, fans, & non-tanking players alike.

— Garrett Adelstein (@GmanPoker) July 13, 2019
POSITIVITY? YOU SURE, KID?
Did Phil Hellmuth just troll Daniel 'Kid Poker' Negreanu after his second runner-up finish of this year's World Series? Surely not.
Sorry to hear my friend @RealKidPoker finished 2nd in @WSOP High Roller. When Daniel wins, it's GREAT for the poker world. However, Daniel did pick up $1.7 Million for 2nd. Also, he tied a WSOP record of mine: most 2nd place finishes (9) #POSITIVITY #DNNiceLife pic.twitter.com/8xttbzbAtq

— phil_hellmuth (@phil_hellmuth) July 14, 2019
TIGHT AT THE TOP AS NEGREANU MAKES PUSH FOR PLAYER OF THE YEAR
With just a handful of tournaments left in this World Series of Poker, Daniel Negreanu is now just one place behind his nemesis, Shaun Deeb, in the race to become 2019 Player of the Year. As someone on Twitter pointed out, it might be awfully busy in a certain very quiet town on the Czech/German border between October 15th and November 4th. Fireworks? Guaranteed.
Here's the current top 10:
| | | |
| --- | --- | --- |
| Position | Player | Prize |
| 1 | Robert Campbell | 3,079.31 |
| 2 | Daniel Zack | 3,073.42 |
| 3 | Phillip Hui | 2,881.67 |
| 4 | Shaun Deeb | 2,813.43 |
| 5 | Daniel Negreanu | 2,746.27 |
| 6 | Jason Gooch | 2,643.72 |
| 7 | Anthony Zinno | 2,443.22 |
| 8 | Chris Ferguson | 2,417.92 |
| 9 | Jon Turner | 2,371.64 |
| 10 | Scott Clements | 2,368.02 |
You can watch the WSOP Main Event action unfold on ESPN and check out additional coverage on PokerGO throughout the biggest poker tournament in the world and bracelet event coverage on CBS All Access.