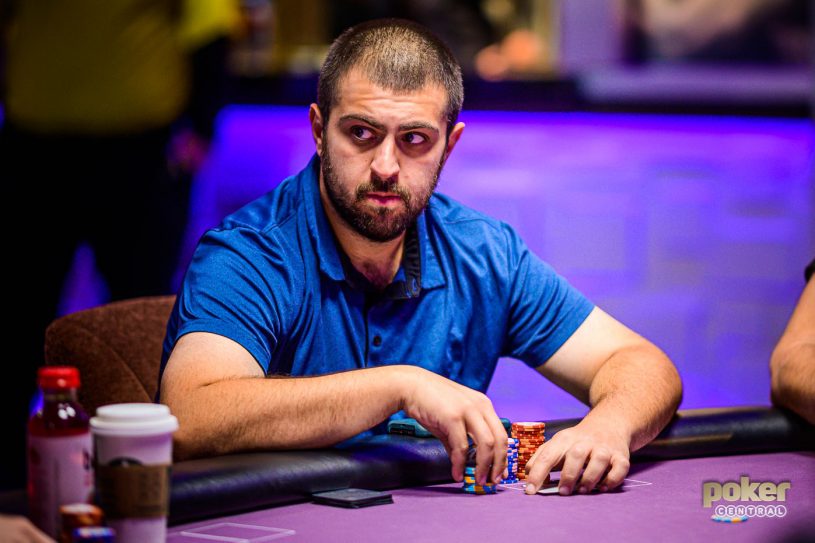 If Scott Blumstein never plays another hand of poker his name will still always be linked to the game that brought him fame and fortune. Winning the 2017 World Series of Poker Main Event came with a check for $8,150,000 and ever since Blumstein has been on a path to rediscover himself and learn what it is that he sees himself doing in the future.
During Event #1 of the Poker Masters, we spotted Blumstein in the field of high rollers and high stakes businessmen and despite his poker accolades, he wasn't a face I expected to see.
"I've really played a tournament outside of the Borgata $3,500 since the WSOP Main, to be coming in fresh and not to be burnt it out was a huge advantage," Blumstein said about his successful appearance inside the PokerGO Studio.
Listen to Scott Blumstein talk about the aftermath of winning the WSOP Main Event on Real Talk on PokerGO.
Blumstein made the final table of the $10,000 No Limit Hold'em event that attracted 97 entries and ultimately he busted in sixth place for $58,200.
"I'm a Vegas local now and this is a really cool series that's going on. Anytime you can try to play versus the best players in the world is a cool opportunity and I've always wanted to do that. I decided that this was my time to take that shot and it went really well."
The New Jersey native that relocated to Las Vegas after his big Main Event score emphasized that the high roller style of events doesn't really suit him with the quicker structures, but overcoming that is now part of his sense of satisfaction with making a deep run.
'I like kind of the underdog role," Blumstein said about his place in the poker world among the Poker Masters regulars.
"I think confidence is really important in anything you do and poker is no different. I just try to make the best decision I can every hand and trust myself to do that. If you're gonna play, you might as well believe you can win and that's the approach I take."
Having made his mark on the poker world, being crowned World Champion inside the Brasilia room, the PokerGO Studio was a new experience to Blumstein.
"That was part of the appeal, too, playing in the PokerGO Studio. Everything ARIA and Poker Central do, it's just a high0class event and a great facility, great staff. It's the allure, It's just a different atmosphere and that's kind of why I decided to take a shot in this one."
Still only 27 years old, Blumstein has been in search for health and happiness much more than poker success. Looking back on the two years since his big win, Blumstein looks significantly healthier and proudly talks about his weight loss as well as his continuous search for happiness, something that he long struggled for.
"Having an event like that happen to you changes everything overnight. I look at myself before winning the Main Event and I see someone who didn't really know what was going on and I wasn't in a great place.  I feel good about where I've come from given all the things that I've worked on since winning the Main.
"I think that, honestly, taking care of my health was my number one priority and I've done that. The freedom to figure out what it is I want to do for the rest of my life has been cool because that's what winning the WSOP Main Event has done for me."
While Blumstein's Poker Masters adventure has finished, and he won't be competing in the $25,000 No Limit Hold'em tournaments later in the series, he looks forward to playing the World Poker Tour Five Diamond and potentially the Aussie Millions in January. Above all else, however, it's his search for happiness that will dictate his schedule and decision-making in the future.
"I'm on the pursuit of happiness, just like all of us are. I'm working on the relationships in my life and I want to help people out where I can. Those are the things that really motivate me. I don't think poker is a massive part of my future, but it will always be a part of my life."
Relive Event #1 of the $10,000 No Limit Hold'em Poker Masters event on PokerGO right now. Watch Scott Blumstein win the WSOP Main Event on PokerGO right here. New to PokerGO? Subscribe right now.