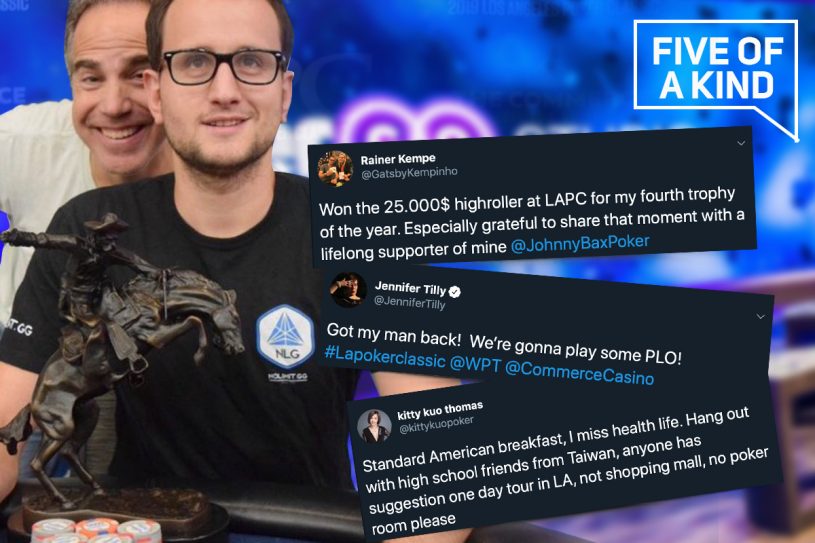 Every week, Five of a Kind brings you the funniest and best moments from #PokerTwitter, and this week we got five new fresh ones that perfectly sum up this crazy little part of the universe. As always, Kitty Kuo makes an appearance, Farah Galfond makes waves and Rainer Kempe – after falling out of the Top 10 of the Power Rankings – makes an appearance!
Saved By Tuchman?
Wait, what? David Tuchman has an IMBD worthy acting career that I'm just finding out about now? Brought to our attention by Ryan Feldman, we now want to highly encourage everyone to dive into the episode listed below. What a shame that Tuchman didn't continue to pursue acting as we potentially missed out him becoming a celbrity who loves poker!
You learn something new every day. Didn't know til today that @TuckonSports was an actor 20 years ago.

I just watched a Saved by the Bell: The New Class episode just so that I could see @TuckonSports's part. pic.twitter.com/vHrGas9k0U

— Ryan Feldman (@TheRyanFeldman) March 4, 2019
Laak & Tilly Reunited
One of poker's premier power couples, Jennifer Tilly and Phil Laak, reuinted to play some Pot Limit Omaha at the L.A. Poker Classic, to the excitement of many poker fans. Laak & Tilly have played on several big poker shows together, but it's been quite a while since we've seen the former in action. We're left wondering whether we can expect to see them both in the PokerGO Studio any time soon?
Got my man back! We're gonna play some PLO! #Lapokerclassic @WPT @CommerceCasino pic.twitter.com/ohMckDyLsk

— Jennifer Tilly (@JenniferTilly) March 4, 2019
Kempe Victorious Again!
Rainer Kempe must've read that he's no longer in the Poker Central Power Rankings Top 10 as he ripped off another win in 2019. At the L.A. Poker Classic, the German high roller took down the $25,000 High Roller and everyone's favorite poker father – Cliff Josephy – was there to celebrate with him! Congrats Rainer, it's good to have you back in the Top 10, if it were up to me!
Won the 25.000$ highroller at LAPC for my fourth trophy of the year. Especially grateful to share that moment with a lifelong supporter of mine @JohnnyBaxPoker pic.twitter.com/WpL19b1H49

— Rainer Kempe (@GatsbyKempinho) March 5, 2019
Short Deck, Snooze Fest?
The game that's lauded and touted for its crazy action and the constant string of big all-ins might be that for some, but it's putting Farah Galfond to sleep! We're not sure whether Farah's playing the game herself in reference to this Tweet or if she's watching the super high stakes action in the Triton series, but either way: I'm with you! Gimme the traditional 52-card deck, or rather even some mixed games to switch it up! Short Deck is overrated.
Short deck 💤

— Farah Galfond (@Farah_Galfond) March 5, 2019
Kitty Needs a Break
As a frequent traveler and someone who's spent considerable time in Asia, I can attest to the fact that sometimes you just want to take a break from the incredible variety the Asian food culture provides. A simple croissant and a black coffee are a great way to start any day, and for Kitty it's part of a break that goes beyond just switching up her food choices. No poker, no shopping. Just touring around L.A. and taking it easy. Get your rest, Kitty, we're excited to see you back in action, and then to celebrate we'll all go out for hot pot!
Standard American breakfast, I miss health life. Hang out with high school friends from Taiwan, anyone has suggestion one day tour in LA, not shopping mall, no poker room please pic.twitter.com/f5UDjFM1H6

— kitty kuo thomas (@kittykuopoker) March 4, 2019
Suggestions for Five of a Kind? Send them into Poker Central on Twitter. New to PokerGO and ready for some poker action? Subscribe right now and never miss another big moment.