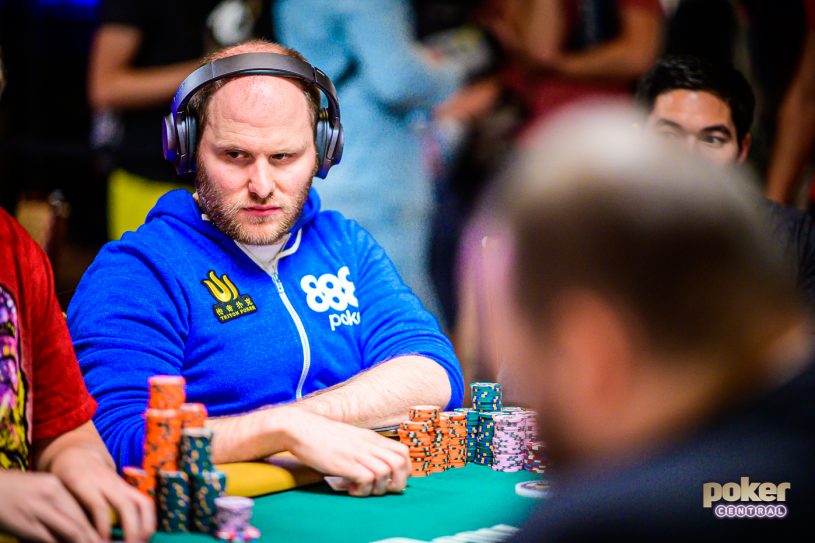 Just a few days of action remain at the 2019 World Series of Poker, but players of all levels are still loving life inside the Rio…or outside in the torrential rain! Yes, we're talking showers all round here on the final Friday as one of the busiest periods of the summer has sent many players a little crazy.
GREENWOOD GETTING STYLISH OVER BUST-OUT
Sam Greenwood's bust-out was the stuff of nightmares for him and his rail…but he looked good taking it.
At least the most watched moment of my poker career will showcase the style icon's duo of an 888Poker Squad hoodie and noise cancelling headphones on top of a snapback

— Sam Greenwood (@SamGreenwoodRIO) July 12, 2019
HIS WATCH IS OVER
Zackary Koerper hit the showers in the Main Event, walked outside for some fresh air and that feel of the Vegas sun on his … oh. More showers.
My watch is over.
.
.
.
.
.
.#poker #pokerstories #wsop #WSOPMainEvent #wsop50 #wsopme #wsopmainevent2019 #vegas @wsop @pokergo pic.twitter.com/vC6sJYZVU1

— Zackary Koerper (@Thrash370) July 13, 2019
FRENCH BLUFF AT LUNCH IS TRES BON
Ever wondered if that waiter is really from the country of the restaurant's cuisine? Go all-in with a friend who speaks the language.
Had lunch at Mon Ami Gabi. We're unsure if waiter puts on a French accent. So @JoelleParenteau responds to him in French and he looks dumbfounded. Called the bluff 😂

— Daniel Weinand (@danielweinand) July 12, 2019
GAGLIANO THE PERFECT GENTLEMAN
Michael 'Gags' Gagliano was quick to credit his heads-up opponent…..
Got 2nd in the $1500 bracelet winners event for around $40k. Congrats to @pillaimignon for winning!!

— Gags30 (@Gags30poker) July 13, 2019
…who hinted at his near-impossible nature that makes him such a winner earlier in the summer.
I've honestly never understood the point of a slowroll I feel exactly the same whether you show me I'm an idiot immediately or a minute later am I just dead inside

— Shankar Pillai (@pillaimignon) June 19, 2019
TEAM POKER CENTRAL FACE DECISIVE FIVE DAYS
If Team Poker Central is going to win the 2019 WSOP $25k Fantasy League, then they're going to have to force their way back into the upper limits of the leaderboard, dropping to 4th overnight, one place shy of the money.
Their team is doing well, but not quite well enough, with the rises of Teams Baker and Riess over the last couple of days have put Team Poker Central on the outskirts of a phenomenal result.
You can check out the full standings right here, but below is an illustration of where the vital players have bagged points for the home team here at Poker Central.
Team Poker Central Top Five Players:
| | | | | | | |
| --- | --- | --- | --- | --- | --- | --- |
| Position | Player | Price | Score | Budget% | Score% | Difference |
| 1st | Jeremy Ausmus | $2.00 | 193 | 1.09% | 23.34% | 22.25% |
| 2nd | Dan Zack | $39.00 | 179 | 21.31% | 21.64% | 0.33% |
| 3rd | Robert Mizrachi | $46.00 | 162 | 25.14% | 19.59% | -5.55% |
| 4th | Jon Turner | $1.00 | 122 | 0.55% | 14.75% | 14.20% |
| 5th | Stephen Chidwick | $3.00 | 102 | 1.64% | 12.33% | 10.69% |
You can watch the WSOP Main Event action unfold on ESPN and check out additional coverage on PokerGO throughout the biggest poker tournament in the world and bracelet event coverage on CBS All Access.