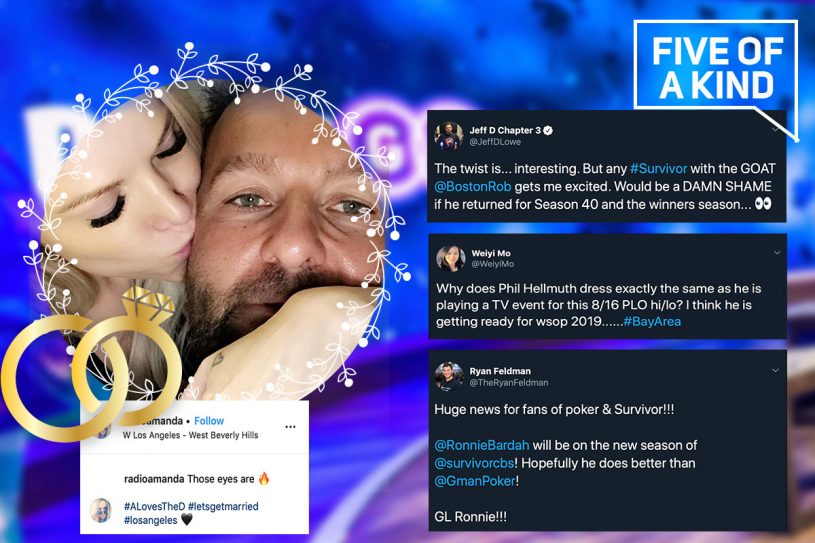 This edition of Five of a Kind centers around four crazy storylines in poker that everyone's talking about! Ronnie Bardah is going to be on the next season of Survivor, Danie Negreanu is getting married, Phil Hellmuth is grinding low stakes, and none other than Jungleman and Durrr teamed up for some beer pong!
Ronnie Bardah on Survivor!
After Jean-Robert Bellande and Garrett Adelstein, it's time for the next poker player to get on Survivor! This time it's Boston legend Ronnie Bardah who's going for it on Season 39!
Huge news for fans of poker & Survivor!!!@RonnieBardah will be on the new season of @survivorcbs! Hopefully he does better than @GmanPoker!

GL Ronnie!!!https://t.co/HaCqIQqFYk

This website posted the rumored cast members & my sources have confirmed

— Ryan Feldman (@TheRyanFeldman) May 7, 2019
Boston Rob Back for More?
One of the all-time Survivor favorites and avid poker player, Boston Rob, is seemingly back for more as we look ahead at Season 40 featuring a lot of previous winners! While I'm no Survivor expert, if Boston Rob is playing you better know that I'll be watching.
The twist is… interesting. But any #Survivor with the GOAT @BostonRob gets me excited. Would be a DAMN SHAME if he returned for Season 40 and the winners season… 👀 pic.twitter.com/x0KC9CZvb9

— Jeff D Chapter 3 (@JeffDLowe) May 16, 2019
The Durrrr Challenge!
For a fun game of beer pong we saw one of the most unlikely duos join forces! Dan 'Jungleman' Cates and Tom 'durrrr' Dwan battled against Joe Stapleton and Pete Latham in a weird new chapter to the Durrrr Challenge.
Last night @PeteLathamComic and I played beer pong against @junglemandan & @TomDwan (yes, they were on the same team) and I'm sad to report Durrrr is a FILTHY. ANGLE. SHOOTER. #tritonpoker #TritonMontenegro2019 pic.twitter.com/fbU3qdF9uJ

— Joe Stapleton (@Stapes) May 16, 2019
Hellmuth Be Grinding!
Phil Hellmuth is gearing up for the World Series of Poker playing $8/$18 Omaha Eight or Better! While this is seemingly well below his usual stakes it's funny to see the Poker Brat battle at lower stakes with the same intensity as the WSOP Main Event! Is No. 16 in the cards this summer?
Why does Phil Hellmuth dress exactly the same as he is playing a TV event for this 8/16 PLO hi/lo? I think he is getting ready for wsop 2019……#BayArea pic.twitter.com/BbbGiLPnFP

— Weiyi Mo (@WeiyiMo) May 15, 2019
Negreanu & Leatherman Wedding Time!
Daniel Negreanu and Amanda Leatherman are about to give each other the biggest "yes" anyone could give! Their wedding is set for later today so we're sure that social media will be full of great gems for us to recap on Monday! Congrats to the newly weds!
Got something to add for next week? Let us know on Twitter. Want to watch exciting poker action 24/7 and more than 100 days of live action every single year? Subscribe to PokerGO right now.