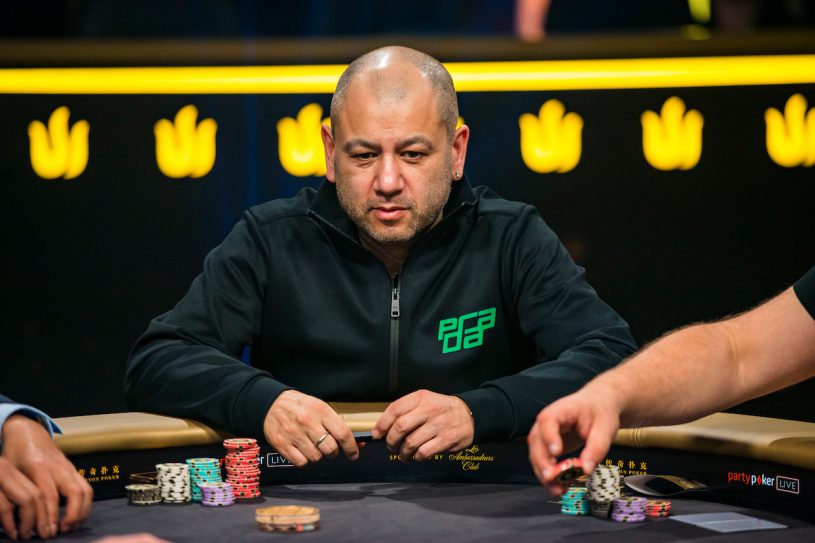 Rob Yong is not your average poker industry member and player. His passion, energy, motivation, and straight-forward nature have endeared him to both poker fans and players, while raising the profile of partypoker all over the world.
After inking an exclusive rights deal earlier this summer, subscribers will now be able to enjoy partypoker LIVE events through the PokerGO app. This summer, we caught up with the owner of the Dusk Til Dawn casino Rob Yong to talk about the rise of partypoker LIVE and his continued efforts to grow the partypoker brand.
Live streaming of the partypoker LIVE Millions event in Rozvadov is set to kick off on August 12, exclusively on PokerGO.
"We want to be a part of PokerGO reaching a more global audience," says the man behind the success of the partypoker LIVE tour about working with an exclusive streaming partner.
"PokerGO have done a number of amazing shows and tournament series mostly for a U.S. audience and want to reach out to a global audience. We want to be a part of that with the partypoker LIVE brand and we look forward to working together."
The brand name of partypoker within the industry has grown in the last few years. Big guarantees, exciting final tables, some of the biggest poker moments in recent history have taken place with the orange diamond glinting in the background. The name of partypoker has come a very long way in the last two years and Yong believes that it's now the world's biggest live poker tour.
"We have over $200 million in guarantees this year and that makes us the biggest tour in the world. We wouldn't have grown so quickly if it wasn't for the support of the poker community. I don't think there's ever been anything like it in poker, where something has grown so quickly."
Yong is quick to credit not just the players, but the other trusted partners with whom partypoker have paired up.
"This wouldn't have been possible without amazing partnerships with WPT, WSOP, Casino Barcelona, Triton, Playground Casino, Dusk till Dawn, King's Casino, and everybody has come together to create a consortium of live poker."
partypoker LIVE Millions on PokerGO
Date
Buy-in
Event
PokerGO Start Time (ET)
12-Aug
€ 100,000
Super High Roller Day 1
2:00 PM
13-Aug
€ 100,000
Super High Roller Final Table
8:00 AM
14-Aug
€ 25,000
Short Deck Final Table
8:50 AM
15-Aug
€ 10,000
Main Event Day 1b
9:15 AM
16-Aug
€ 10,000
Main Event Day 2
9:15 AM
17-Aug
€ 10,000
Main Event Day 3
9:15 AM
18-Aug
€ 10,000
Main Event Day Final Table
7:00 AM
Thriving of Player Support
"Genuinely, and it might sound cliché, but the players really support us and they make this tour possible. They get on planes and travel. When players don't get behind something, it's not possible to make it work."
While partypoker has shown significant growth in the high stakes online offerings with Powerfest and MILLIONS online, they have been unable to capture the mid to low stakes audience at a rate that Yong would have liked to see.
"In the future, I hope that we can generate more buzz and get more eyeballs on our online product through mainstream marketing to get more people playing. We haven't cracked the online side yet even though we've grown to be three times bigger than we were before. Players haven't really crossed the bridge yet to trust us online."
Yong freely admits that the partypoker LIVE tour presents different yet equally large challenges, but happily says that it's that challenge that keeps his team excited and provides a massive inspiration.
Speaking about the upcoming Rozvadov event, Yong says, "It's a big buy-in for that area, we're counting on players to travel out there. It's exciting to have a big guarantee and because we've changed the format to no longer have multiple re-entries it's going to be harder to hit the guarantee.
Rozvadov is on the border of Germany and the Czech Republic, it's not in the middle of a city like Barcelona. We have to work harder in more remote locations."
They've got the experience of successfully doing so. Take the Playground Poker Club in Montreal, Canada, or Dusk Till Dawn in Nottingham. The cardrooms are huge, the locations superbly run, but those reputations had to be built, and it was hard, painstaking work. In addition to building player relations, partypoker also offers players who play in all their Millions events during the 2019 calendar year a free entry into the Millions event at Dusk Till Dawn in January of 2020.
The Draw of Super High Roller Bowl Bahamas
One location it should be no trouble to populate with poker enthusiasts is the stunning Baha Mar resort in The Bahamas, location for the partypoker Caribbean Poker Party later in 2019. It's also the location for the Super High Roller Bowl Bahamas, the first time the highly successful high roller brand has visited the paradise region all poker players love to travel to.
"The Bahamas events will be successful because so many of our friends are in Las Vegas, Miami, New York and can't play online but they like to come to the Bahamas, in particular, Baha Mar. If we were doing it at Atlantis, it wouldn't be so interesting, but at Baha Mar, it has one of the most amazing amphitheaters to play poker in, it's such a good place to play tournament poker. I would expect that we'll see the biggest field the Super High Roller Bowl has ever had."
Recently, partypoker announced a partnership with Triton for their €100,000 Super High Roller in Rozvadov as well as €25,000 Short Deck events which kick off a week-long of streaming on PokerGO.
Breaking News. We have confirmation that Phil Ivey, Tom Dwan, @JasonKoon and Cary Katz are attending the #MILLIONSEurope festival next week @Pokerroomkings and playing the @tritonpoker events which will be covered on @PokerGo https://t.co/fxZ5fmO5gH pic.twitter.com/QN6jQbVh8F

— partypokerLIVE (@partypokerlive) August 9, 2019
Bringing Players From All Over the World Together
Yong talks fondly of the 'five communities' of the high stakes poker community; Europe, Russia, Macau & China, and America, which he believes is split into the West Coast and East Coast players.
"If you can get all five [communities] to support you, then you can make a Super High Roller tournament successful. It's all personal service. There's hardly any situation where you look at a high stakes tournament and think 'Who's that?' They're well-known people, it's about having a premium service at this level. Between everybody in our organization, I'd guess we know every single high roller in the world."
The relationship between partypoker and brands such as Triton is obviously strong, and with a steady supply of both high roller players and aspirational players, it's a certainty that partypoker, both in the online sphere and on the live circuit, is here to stay. The partnership between PokerGO and partypoker will see both companies benefit from a wider audience for tournaments such as MILLIONS Europe in Rozvadov and the Super High Roller Bowl in The Bahamas, to begin with.
Over time, however, the clear winner will be the poker viewer. Everyone loves to see the best players in the world compete at the highest stakes, and both partypoker and PokerGO will be bringing you those players consistently in the poker future that is already taking shape.
From exclusive documentaries to archive footage of the World Series of Poker, along with live streams of tours such as MILLIONS Europe and the Super High Roller Bowl as it takes a trip the Baha Mar resort, you won't miss a thing if you sign up today. The partypoker LIVE Millions Rozvadov events will be available in English, German, and Russian. Follow Rob Yong on Twitter.