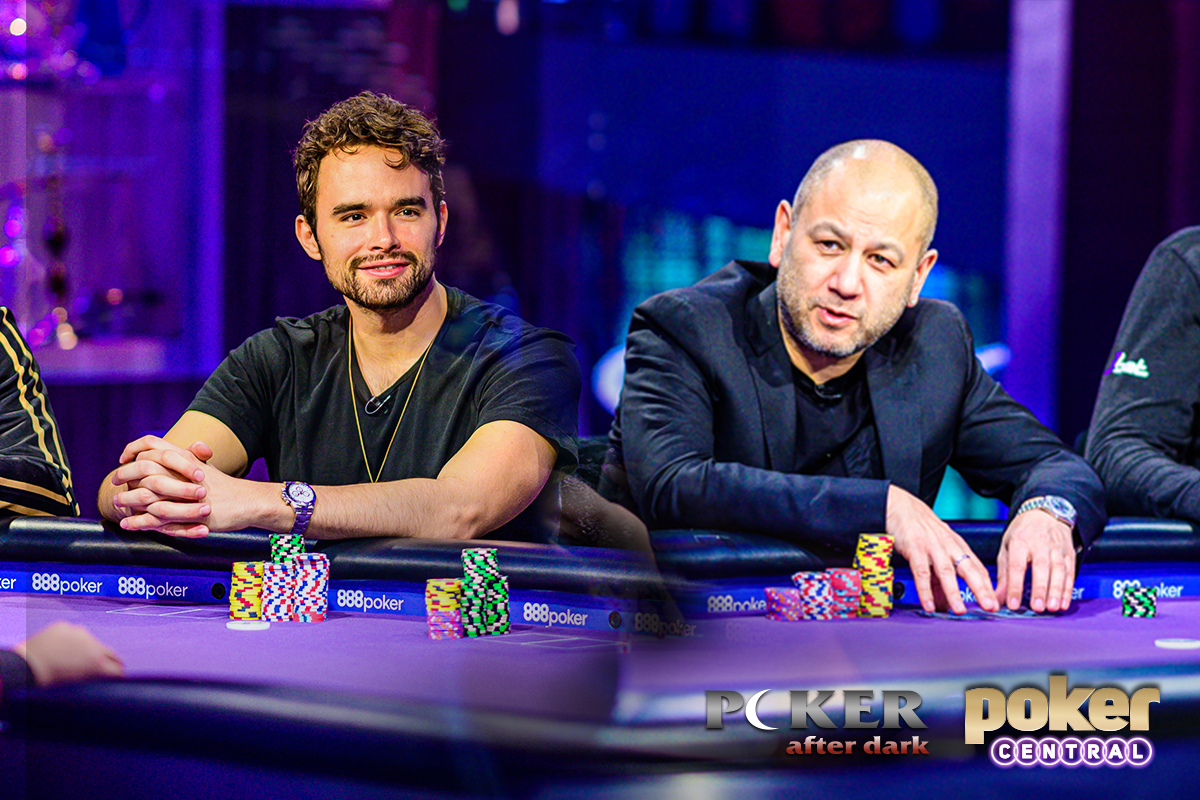 The Poker After Dark action this year has been a steady flow of entertainment for poker fans all over the world but last week it might've reached its peak of 2019 when GOAT Week generated some truly spectacular action. GOAT Week consisted of NBA legend Paul Pierce, Jennifer Tilly, Phil Hellmuth, Randall Emmett, and the two headliners of the hand we're about to run through: Alan Keating and Rob Yong.
If you've missed any of the action, watch two extensive recaps that include all the big hands from these sessions on PokerGO right now. Check out those highlights right here. 
For the PokerGO audience, both Rob Yong and Alan Keating were new faces even though both players have been playing high stakes for a long time. Yong, the owner of the Duck Till Dawn casino in Nottingham and partypoker partner, did not shy away from big pots inside the PokerGO Studio as he played one worth $467,300 versus Keating despite the blinds being "only" $100/$200 with a $200 big blind ante. Watch the hand in the player below.
🚨$500,000 pot alert! 🚨

Can @rob_yong hit the river to win one of the year's biggest #PokerAfterDark pots? 😰😱 https://t.co/5rUlItuiNK pic.twitter.com/Ir6VwBl8YD

— PokerGO (@PokerGO) August 22, 2019
Reflecting back on the hand, Yong provided context as to why this clash with Keating happened the way that it did.
"Some people might think, 'Wow, he called $200,000 with that hand,'" Yong said, "But for me having a chance to be ahead and a chance to still hit if I need to makes it a simple call. I just don't think I can fold in that spot against him but against Tom Dwan I would've folded that hand."
Walking Through The Action
Running back through the action, Yong explained that he lows playing small suited cards with deep stacks to create big pots. Keating's three-bet out of position lead the Brit to believe that he was up a range that included lots of big cards, giving him many different ways to win the hand.
"I liked this spot because I know he's not doing this is with an unreasonable hand. I think he's not going to build big pots out of position with very weak hands. If he has ace-king or ace-queen I can find a way to win the hand. I was really liking the flop even though I couldn't be sure whether I was ahead."
Keating bet $20,000 on the 
flop and Yong was tasked with figuring out the range of hands his opponent could bet with. Given Keating's highly volatile and aggressive play, there were a lot of hands in Yong's consideration to continue and he felt as though it would make no sense to try and raise him off anything he might have in this spot.
Keating's Massive Turn Shove
The turn brought the deuce of clubs, a great card for Yong who added a flush draw to his small pair.
"That card gives me 14 outs against a one-pair hand, and something very peculiar happened as he just went all-in with only about $70,000 in the middle," Yong said.
"This was a really odd situation for me now because I know Alan is capable of having an air-ball there. He could also have ace-king of clubs, and I think there's actually a 20-30% chance that I'm winning here with my one-pair hand. On the other hands, there's also a 30% chance I have 14 outs so for me, it's an even-money shot with those two things in mind."
Yong made the call and another four rolled off to give him the winning hand and he dragged in an enormous pot. Keating later returned to the table with $1,000,000, as he was certainly not backing down from the big action. Yong was very impressed with Keating and by the look of it, this is only the beginning of their rivalry.
"I had never played with Alan before and I was very impressed. He mixes it up very well and you never really know where you're at with him. His whole game impressed me and in this hand, at the end of the day, he got it in as the money favorite and I was the fish that called," Yong said with a smile.
The GOAT Week game later continued off-stream until deep in the night inside the ARIA Poker Room at Table 1. In the days that followed, Rob Yong generated a lot of buzz on social media with his plan of hosting four straight days of cash game action from the PokerGO Studio in December.
Thx for all feedback on this. I will post confirmed @PokerGO dates and the format in next few days . Dates are hopefully 10th – 14th Dec (right before @WPT Five Diamonds @BellagioPoker ) 👍👍👍

— Rob Yong (@rob_yong_) August 27, 2019
If you're a fan of big action, PokerGO is the place to be! Stay tuned for more lineup updates on these big cash games and until then, watch the British Poker Open and Super High Roller London on PokerGO, September 2-15 on PokerGO. Check out the Live Events tab on the PokerGO website right now. New to PokerGO? Subscribe right now.w