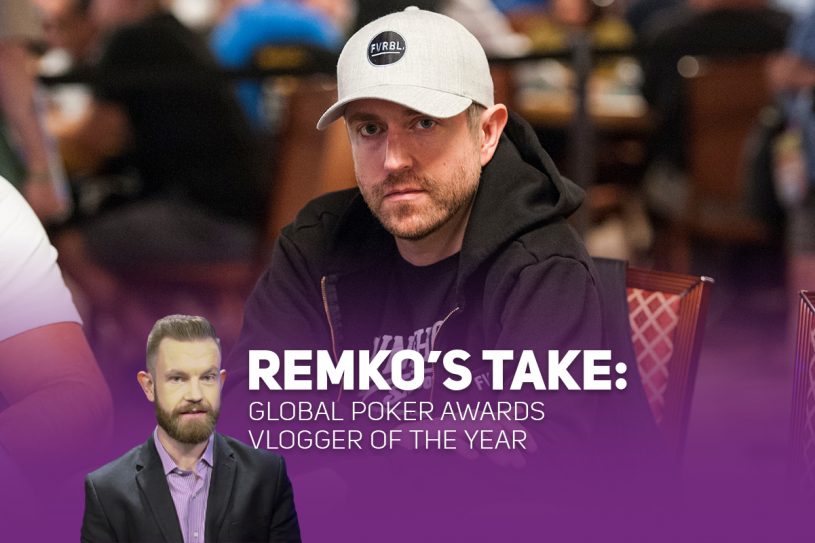 On Friday, the poker community will gather inside the PokerGO Studio for the inaugural Global Poker Awards. Between now and then, I will break down every category with a brief summary of the nominated players, moments, events, media members, and industry personnel. Coming right up now, a controversial category: Vlogger of the Year.
Read more from Remko's Take: 2018 Tournament Performance of the Year, Breakout Player of the Year, and Streamer of the Year.
2018 Vlogger of the Year
Global Poker Awards Nominees
Marle Cordeiro
Joe Ingram
Andrew Neeme
Daniel Negreanu
Doug Polk
For this category, I can almost literally reuse the opening paragraph from the article I wrote about "Streamer of the Year". So here goes:
This category is one that was discussed in depth on Twitter after the nominations were announced. The 130-panel nomination panel clearly went with the biggest names and others that might've found new heights in 2018 were left off the final list of four. Because of this, and because I sadly don't have much time to watch poker streaming vlogger content, I'm going to pick out some Tweets videos from the four nominees to get a better understanding of how they view their nomination.
The five nominees in this category have all made their impact on YouTube in various different ways, but the word "vlogger" is what many take issue with. While some of these people – Doug Polk in particular – didn't release many or any vlogs perse, they did create a lot of YouTube content. So while the category calls for vloggers, I think that the voting panel took this opportunity to select their favorite YouTube content creators. So let's jump in and pick the most popular poker related video from each of the five nominees.
Daniel Negreanu vlogged all throughout the World Series of Poker and gave the fans a unique insight into the life of one of the world's best players. Take a look at Negreanu's most popular vlog from 2018 below.
Next up is Marle Cordeiro, who definitely had a breakout year in 2018 with her vlogs, and her approach was definitely vlogging specific. Marle appeared on numerous poker cash game shows, including Friday Night Poker on Facebook Watch, and stirred up some controversy when she announced that she was looking for a poker-pro boyfriend. Here's her most popular video from 2018.
Doug Polk is definitely not a vlogger. Polk, however, is the most popular poker YouTube creator with 239,000 subscribers and millions of views on his channel. Let me say it again though for those in the back: Polk is not a vlogger. It's too bad that YouTube creators and vloggers weren't separated for these awards and many people that had a chance to nominate for this category probably put all YouTube creators into the same category. Since Polk is nominated in this category, here's his most popular video of 2018.
Another non-vlogger on the list is Joey Ingram, although you could consider his style of podcasting almost vlog-esque. Ingram takes his fans on a continuous ride through his life, sharing plenty of personal stories along the way, making for exciting and engaging content. He's not a vlogger though. As far as his YouTube channel goes, this is Ingram's most popular poker related video of 2018.
And then there's Andrew Neeme. Two years ago, Andrew Neeme put out a video titled "Pilot Episode of my Vlog" and ever since he's ruled the YouTube vlogging poker kingdom. Neeme has been consistent ever since and brought poker fans from all over together for meet-up games in casinos across the US. Neeme is truly a poker vlogger in the best sense of the word and here's his most popular video of 2018.
Remko's Take
All controversy aside, I think Andrew Neeme is deserving of this award no matter who's nominated. Neeme has kept his audience engaged and entertained consistently throughout 2018 and the meet-up games have flooded poker rooms with players in a way that some tournament series aren't even able to do. Other vloggers, as mentioned by Neeme in the Tweet below, would've probably been worthy of a nominee but I still think Neeme rules this category. In 2019, this might change with the rise of those listed below, but for now I think Neeme is definitely deserving of this award.
Great to see @MarleCordeiro in there. Here are some more people who make vlogs throughout the year who deserve some love: @killogram @TheBradOwen @JohnnieVibes @TheTrooper97 @ICuRaRook

— Andrew Neeme (@andrewneeme) March 18, 2019
New to PokerGO? Subscribe right now to enjoy more than 100 days of live poker every single year as well as an endless supply of on-demand content including the Super High Roller Bowl, World Series of Poker, and original programming such as Pokerography, Poker Nights, and Beyond the Rail. Don't miss the Global Poker Awards on Friday, April 5th at 8:00 pm ET on PokerGO for free.