As the World Series of Poker approaches its fiftieth year of existence, well more than 1,000 gold bracelets have been awarded in events varying from the $1,000 Big One for One Drop all the way down to the $565 Casino Employee's Event. There's a story behind each and every one of those wins, and no matter big or small, those stories hold a special place in the hearts and minds of those who won.
Today, in Remko on the Rail, we focus on some of those new stories as the 2018 WSOP has seen a plethora of maiden winners in recent events. Get caught up with all the latest action right now, as I take you through the ever-growing list of names that will forever be referred to as "bracelet winner."
Small Buy-ins, Big Money
Starting with the best return on investment in an open event, Robert Peacock took down the $1,000 Double Stack, leaving no less than 5,700 entries behind him. Supported by a loud rail of friends and family, Peacock kept his head cool in the closing stages of the final table, bagging up a big overnight lead heading into the unscheduled fifth day of play. On that final day, Peacock sent Joshua Turner and Nicholas Salimbene to the rail before getting mobbed by his friends.
Event #34 $1,000 Double Stack Final Table Payouts
Name
Country
Payout
1
Robert Peacock
United States
$644,224
2
Nicholas Salimbene
United States
$397,908
3
Joshua Turner
United States
$294,760
4
Jacky Wong
Hong Kong
$219,952
5
Ralph Wong
United States
$165,342
6
Daniel Eichhorn
United States
$125,215
7
James Ostrowski
United States
$95,538
8
Pfizer Jordan
United States
$73,446
9
Takao Shizumi
Japan
$56,891
Continuing the trend of enormous ROIs, Timur Margolin took down the $2,500 No Limit Hold'em event, defeating a field of 1,248 players. The final table of this event was stacked and the final four players returned for live streaming coverage with hole cards on the Poker Central Twitch channel. Relive the battle between Chris 'Jesus' Ferguson, Ismael Bojang and Michael Marder down below in the embedded player.
Winning this event for $500,724 now accounts for a third of Margolin's total career earnings, outlasting German mixed game specialist Ismael Bojang who took home $313,444. This is now also the biggest score of Bojang's career.
Event #43: $2,500 No Limit Hold'em Payouts
Name
Country
Payouts
1
Timur Margolin
Israel
$507,274
2
Ismael Bojang
Germany
$313,444
3
Michael Marder
United States
$223,564
4
Chris Ferguson
United States
$161,371
5
Dylan Linde
United States
$117,894
6
Ryan Laplante
United States
$87,189
7
Jeff Hakim
Lebanon
$65,284
8
Andre Haneberg
Germany
$49,498
9
Josh Bergman
United States
$38,009
The Bonyadi Family Adds a Bracelet
Three-time bracelet winner Farzad Bonyadi has two deep runs so far this summer, finishing fourth and eight in 2-7 Triple Draw events, but it was his mother Farhintaj who brought another bracelet to the family in the $1,000 Super Seniors event! Bonyadi showed her son how it's done, outlasting 2,191 entries to claim the $311,451 first-place prize.
Bracelet winners Steve Zolotow, Michael Moore, Konstantin Puchkov, Philip Tom and Gary Benson also finished in the money in this event.
 Event #36 $1,000 Super Seniors Final Table Payouts
Name
Country
Payouts
1
Farhintaj Bonyadi
United States
$311,451
2
Robert Beach
United States
$192,397
3
Paul W Lee
United States
$140,273
4
Linda Iwaniak
United Kingdom
$103,215
5
Russell Sutton
Canada
$76,655
6
Alan Denkenson
United States
$57,465
7
Charles Thompson
United States
$43,489
8
Neil Henley
United States
$33,227
9
Bill Fogel
United States
$25,633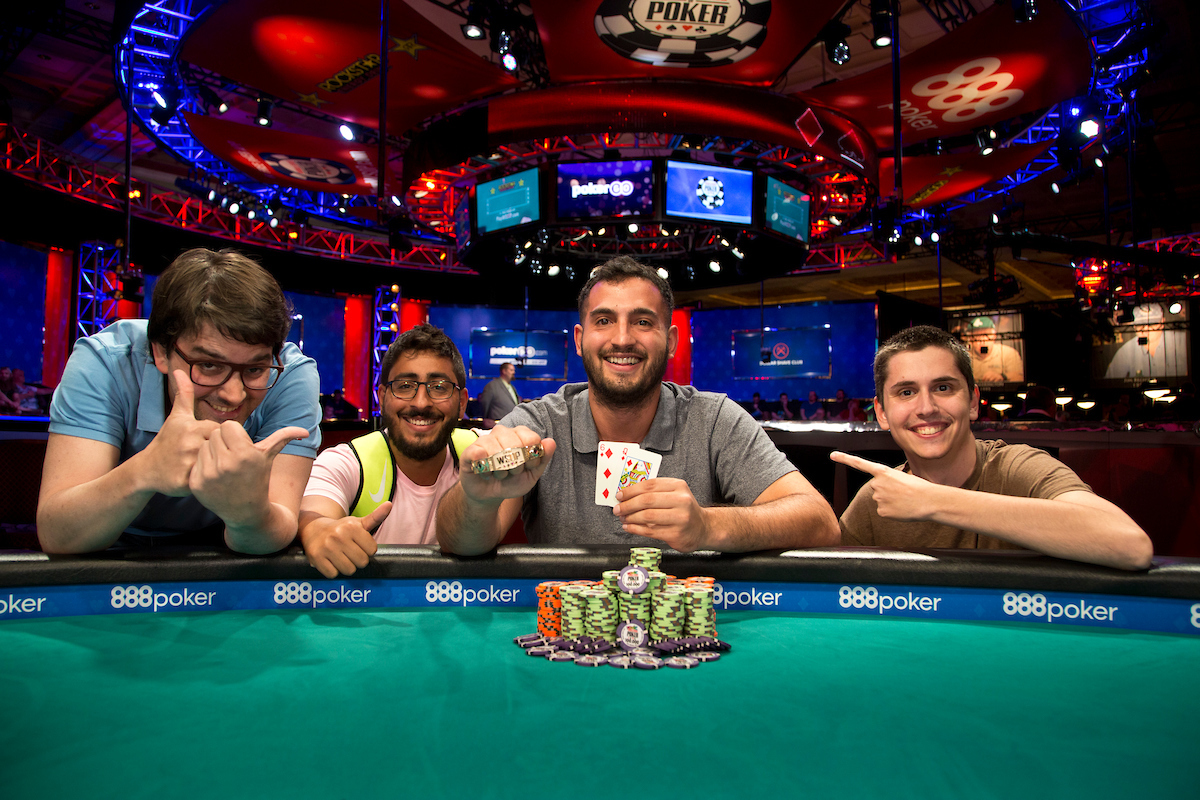 Two More Hold'em Heroes
Spain added a bracelet in the $1,000 Big Blind Antes event with just 30-minute levels, as Mario Prats Garcia outlasted a field of 1,712 players. This fast and furious event took fewer than seven hours on Day 2, as Garcia left players such as Martin Staszko and DJ MacKinnon behind him at the final table. The payouts for this event are as follows.
Event #45 $1,000 NLHE Final Table Payouts
Name
Country
Payout
1
Mario Prats Garcia
Spain
$258,255
2
Matthew Hunt
United Kingdom
$159,532
3
Sebastian Dornbracht
Germany
$114,909
4
Michael Wang
United States
$83,663
5
Mark Schluter
United States
$61,580
6
Gregory Worner
United States
$45,828
7
DJ MacKinnon
United States
$34,486
8
Martin Staszko
Czech Republic
$26,245
9
Lander Lijo
Spain
$20,202
Sidetracking briefly for an update on the online event, Matthew 'mendey' Mendez took down the first ever online Pot Limit Omaha bracelet event. This $565 buy-in tournament had 1,223 total entries and created a prize pool of $635,960. The final table included plenty of big names as the payouts are as follows.
Event #47 $565 Online Pot Limit Omaha 6-Max
Name
Country
Payouts
1
Matthew 'mendey' Mendez
United States
$135,077
2
Marton 'GS.GURU' Czuczor
Hungary
$82,865
3
Anthony 'heheh' Zinno
United States
$57,299
4
Alex '3shotwonder' Smith
United States
$40,256
5
Ankush 'rickrosstheb' Mandavia
United States
$28,745
6
Ao 'Maimai1990' Chen
United States
$20,859
The final No Limit Hold'em event from this recap is the $1,500 Shootout, that drew 908 total players. The final table was live-streamed on Twitch, and you can rewatch the battle between the final six players here.
Ultimately it was Preston Lee who won his first bracelet, beating Corey Dodd heads-up. Dylan Linde continued his strong showing at this year's WSOP with a fourth-place finish.
Event #39 $1,500 NLHE Shootout Final Table
Name
Country
Payouts
1
Preston Lee
United States
$236,498
2
Corey Dodd
United States
$146,146
3
Anthony Reategui
United States
$105,907
4
Dylan Linde
United States
$76,829
5
Jesse Kertland
United States
$56,763
6
Young Phan
United States
$42,476
7
Royce Matheson
United States
$32,198
8
Alexander Lakhov
Russia
$24,728
9
Bas de Laat
Netherlands
$19,245
10
Endrit Geci
United Kingdom
$15,180
Limited Betting, Unlimited Smiles
Moving away from the Cadillac of poker, there are six more bracelets to dive into on this edition of Remko on the Rail, starting with Yuegi Zhu's first win. Zhu's been a long-time grinder of WSOP events, collecting no less than 70 cashes before getting his first win. Zhu took down the $1,500 Mixed Omaha event, defeating a final table that included bracelet winners Carol Fuchs, Ryan Hughes and defending champion Nathan Gamble.
Event #35 $1,500 Mixed Omaha Final Table Payouts
Name
Country
Payouts
1
Yueqi Zhu
China
$211,781
2
Gabriel Ramos
United States
$130,850
3
Carol Fuchs
United States
$89,488
4
Matthew Gregoire
United States
$62,226
5
Jon Turner
United States
$44,007
6
Peter Neff
United States
$31,662
7
Ryan Hughes
United States
$23,182
Staying with Omaha, David Brookshire took down the $2,500 Mixed Omaha/Stud Hi-Lo Eight-or-Better event for $214,291. This split-pot extravaganza drew 402 players and the final table included Colombia's Daniel Ospina, winner of the first bracelet for his home country earlier this summer.
Event #46 $2,500 Omaha/Stud Hi-Lo Eight-or-Better Final Table Payouts
Name
Country
Payouts
1
David Brookshire
United States
$214,291
2
Brendan Taylor
United States
$132,443
3
Daniel Ospina
Colombia
$89,968
4
Ian Shaw
Mexico
$62,331
5
Tyler Groth
United States
$44,059
6
Hani Awad
United States
$31,789
7
William Shelton
United States
$23,421
8
Eric Rodawig
United States
$17,628
The limited version of the $1,500 Hold'em event remained consistent and drew 596 total players with Robert Nehorayan grabbing the win for $173,568. Nehorayan defeated long-time grinder Kevin Song who was going for his second bracelet after winning the $2,000 Limit Hold'em tournament all the way back in 1997. Back then Song took home $397,120 for that win, battling through a final table that included Dan Heimiller, Erik Seidel, Huck Seed and Berry Johnston. Here are the payouts for this year's event.
Event #41 $1,500 Limit Hold'em Final Table Payouts
Name
Country
Payouts
1
Robert Nehorayan
United States
$173,568
2
Kevin Song
United States
$107,242
3
David Gee
United States
$73,860
4
Terricita Gutierrez
United States
$51,733
5
Michael Jex
United States
$36,860
6
Brad Albrinck
United States
$26,725
7
Oleg Chebotarev
Russia
$19,723
8
Matt Russell
United States
$14,820
9
Matt Woodward
United States
$11,343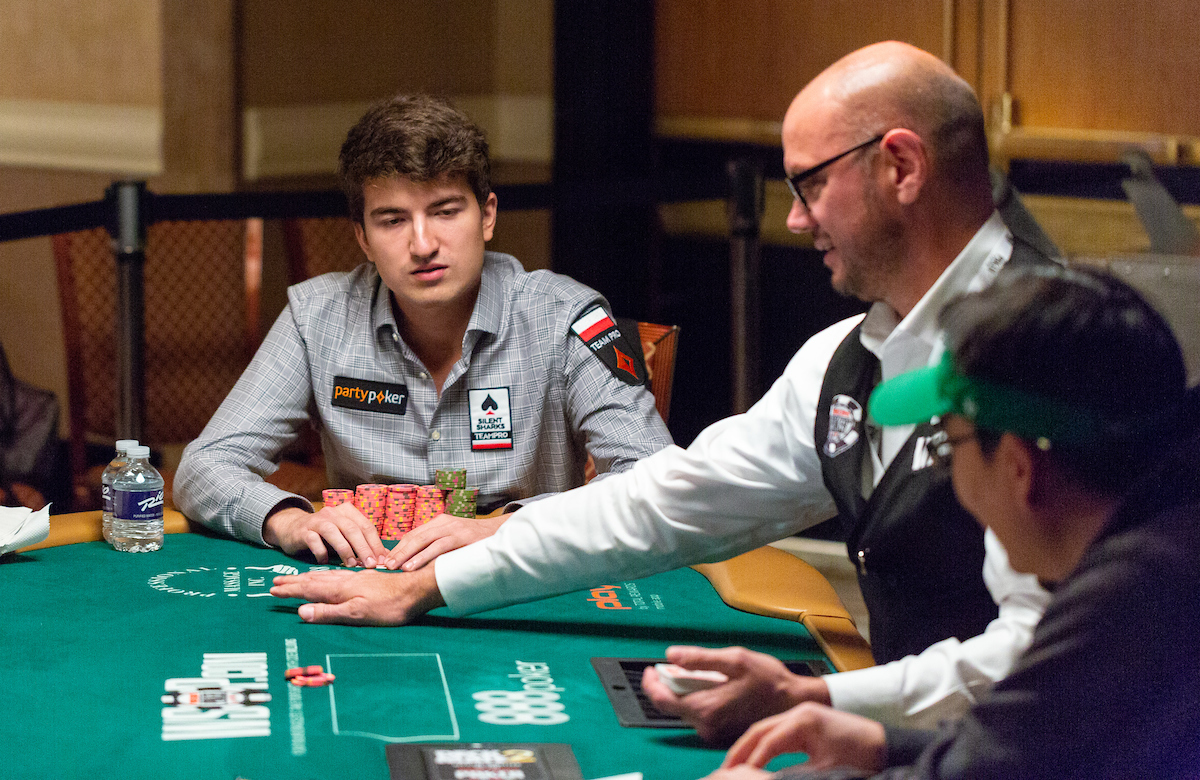 Just last night, Jay Kwon denied Polish poker phenom Dzmitry Urbanovich his first bracelet by taking home his own first. Kwon outlasted a total of 389 players in the $1,500 Razz event that also saw big names such as Adam Owen and Kevin Iacofano make the final table. This was Kwon's third cash in a Razz event, and his fourth total at the WSOP, cementing his reputation as a Razz specialist.
Event #50 $1,500 Razz Final Table Payouts
Name
Country
Payouts
1
Jay Kwon
United States
$125,431
2
Dzmitry Urbanovich
Poland
$77,526
3
Adam Owen
United Kingdom
$52,536
4
Michael McKenna
United States
$36,324
5
Kevin Iacofano
United States
$25,637
6
Thomas Taylor
Canada
$18,477
7
Jeff Mitseff
United States
$13,605
8
Jeanne David
United States
$10,240
9
Kyle Montgomery
United States
$7,881
And last but not least, we conclude this long summary of maiden winners at the World Series of Poker with Scott Bohlman. While it too Zhu 70 cashes to get his first win, Bohlman was getting up there as well with his 51st cash turning into his first gold. Bohlman took down the $2,500 Mixed Big Bet event for $122,138 after more than 15 years on the felt.
Event #40 $2,500 Mixed Big Bet Payouts
Name
Country
Payouts
1
Scott Bohlman
United States
$122,138
2
Ryan Hughes
United States
$75,477
3
Daniel Weinman
United States
$49,541
4
Aaron Rogers
United States
$33,344
5
Marcel Vonk
Netherlands
$23,028
6
Jeremy Harkin
United States
$16,329
Stay tuned for more exciting poker action right here on Poker Central, follow us on Twitch for more final table action, and subscribe to PokerGO to not miss a minute of the wall-to-wall coverage of the WSOP Main Event.