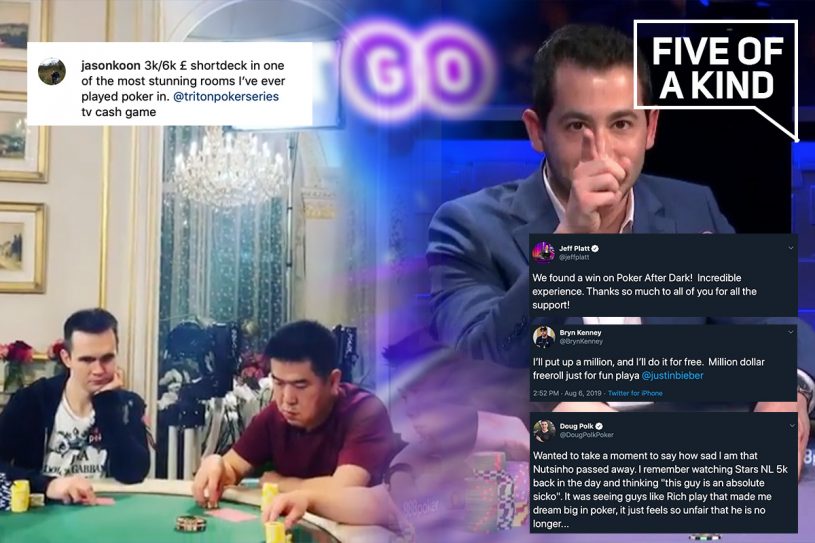 Every week, Five of a Kind reviews the funniest, best, and most compelling social media action and this week we look at the crazy high stakes Triton action, the highly successful Poker After Dark "Open Seat" week, extremely sad news about a high stakes legend, and much more.
Koon Shares Unique Look into the World of Triton High Stakes Action
We all knew the high stakes action at the Triton Super High Roller Series was crazy and hard to fathom, but what about all the stuff happening behind the scenes? Jason Koon shared a short clip of him playing no smaller than £3k/£6k Short Deck in a gorgeous ballroom to make the biggest poker fans even more jealous about never being able to reach this level!
Savage & Platt Love Poker After Dark
You have to relive the Poker After Dark "Open Seat" action on PokerGO if you missed it because it was a classic! Friday Night Poker host and World Series of Poker sideline reporter Jeff Platt made his debut playing stakes he's never even nipped at before while Trevor Savage made it out to Las Vegas as well. Mike Matusow as his usual self, Brandon Cantu came in swinging and so did Justin Young. Lastly, Barry Woods was unafraid to tangle with any of the aforementioned, making for an amazing spectacle. Brandon Schaefer, who also played and possibly won the most money, joined us on the Poker Central Podcast to talk about his life and poker career. Check that out later today.
Had an absolute blast playing on Poker after Dark on @PokerGO. It was an incredible experience. Headed back home to see the kids, grind and make some videos about the trip! Thanks to @Bhanks11 @jeffplatt @Justinyoung07 @BDub100 @themouthmatusow @Ali_Nejad. Let's do it again!

— Trevor Savage (@TreMomey) August 8, 2019
We found a win on Poker After Dark! Incredible experience. Thanks so much to all of you for all the support! pic.twitter.com/ruk8h4gxI5

— Jeff Platt (@jeffplatt) August 8, 2019
Bieber vs. Kenney?
Bryn Kenney has $55.5 million in career tournament earnings, so what else is there to do aside from challenging Justin Bieber to a boxing match? The Triton Million winner might never get this crazy fight going but at least we should give him credit for being willing to light a million dollars on fire.
I'll put up a million, and I'll do it for free. Million dollar freeroll just for fun playa @justinbieber

— Bryn Kenney (@BrynKenney) August 6, 2019
R.I.P. Nutsinho
High stakes poker phenom Richard 'Nutsinho' Lyndaker sadly passed away earlier this week. The news was reported on 2+2 where a close friend of his delivered the news of him passing away from an accidental overdose of prescribed pain medication after he sustained a soccer injury. Below you can find a collection of Tweets from his peers on this tragic event.
Wanted to take a moment to say how sad I am that Nutsinho passed away. I remember watching Stars NL 5k back in the day and thinking "this guy is an absolute sicko". It was seeing guys like Rich play that made me dream big in poker, it just feels so unfair that he is no longer…

— Doug Polk (@DougPolkPoker) August 2, 2019
The world morns the loss of a truly beautiful person, one of the world's greatest poker poker players, and one of the most kind-hearted people I've had the joy to know. I will cherish the times we had. RIP Rich Lyndaker (Nutsinho) you will be missed 💜 pic.twitter.com/HP0USUUo4x

— Lexy Gavin (@ChipTrick11) August 1, 2019
Heartbreaking to hear about losing Richard 'nutsinho' Lyndaker. He had so much raw talent and was always very kind. RIP

— Jason Koon (@JasonKoon) August 2, 2019
Mixed emotions today. Loved watching Triton today but also know the poker world lost a legend in Nutsinho. Definitely an OG and innovator of NLH. Taught me a lot about the game both through words and actions. RIP bro ❤️🙏❤️

— Andrew Lichtenberger (@luckychewy) August 2, 2019
RIP Nutsinho @LyndakerRichard. I remember how I was too afraid to play him ~10y ago even though he was obviously drunk. To me he's one of the most talented poker player I've seen.

— David van der Weele (@Bullitoss) August 1, 2019
Got something to add for next week? Let us know on Twitter. Want to watch exciting poker action 24/7 and more than 100 days of live action every single year? Subscribe to PokerGO right now.