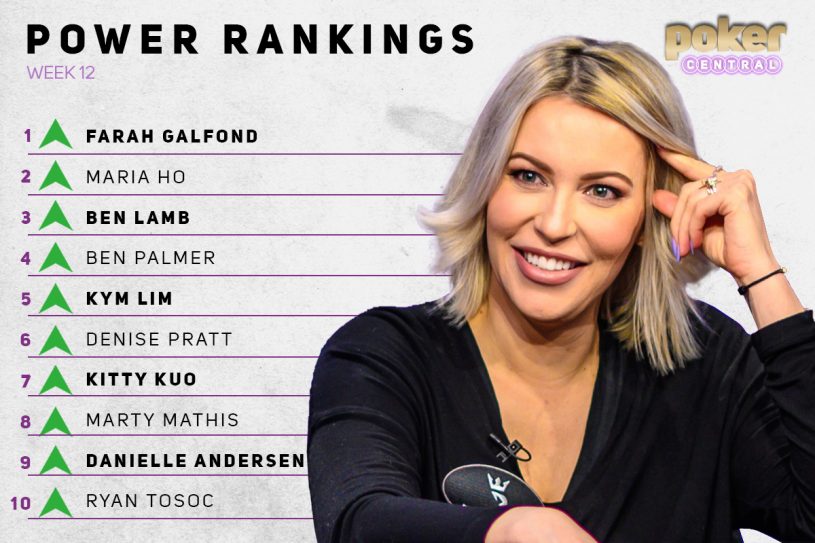 The rankings are in! Are you ready for the biggest shift in the history of these rankings? You better sit down for this as there are nine new names in the Top 10 this week. Maria Ho is the only player to stay on the list as she's now been in the Top 10 for four straight weeks. Farah Galfond surges to the top this week with her impressive showing on Femme Fatale II while new names such as Ben Palmer, Ben Lamb, and Denise Pratt also made the Top 10. Let's dig in!
As the rankings this week are largely shaped by two nights of Poker After Dark Femme Fatale II, relive all the action on PokerGO right now.
The Poker Central Power Rankings are voted on each week by five-panel members who use their own criteria to determine player relevance leading to a list of 25 players that score points from 65 down to 1. The criteria loosely include player results, social media influence, some good ol' drama or other things of note that make ear perk up and our eyes grow bigger. Got beef with our decisions on a week-to-week basis? Hit us up on @PokerCentral on Twitter and jump into the conversation.
Read up on the previous weeks: Week 11 – Week 10 – Week 9 – Week 8 – Week 7– Week 6
| | | |
| --- | --- | --- |
| | Last week | This Week |
| Farah Galfond | 34 | 1 |
Not only did she join the Poker Central Podcast this week and called out the haters on Twitter, but Farah Galfond also put on display during Femme Fatale II on Poker After Dark. The new mom showed that she's back after a short hiatus from the game and it's so exciting to see her both play at a high level and entertain the fans along the way! Farah is the first woman to sit atop the rankings and deservingly so!
Poker community complains when the TV tbl is too serious & quiet. And they complain when it's loud & chatty. It's hard to find that perfect middle ground but we must be kind to the harmless rec players who are having a good time. ESP ON SOCIAL MEDIA WHERE THEY READ WHAT YOU SAY

— Farah Galfond (@Farah_Galfond) March 26, 2019
| | | |
| --- | --- | --- |
| | Last week | This Week |
| Maria Ho | 4 | 2 |
The smart money was on Maria Ho to be the first woman to top the rankings but we're sure she's equally excited to be in second place behind Farah this week. Maria Ho is one of the top point getters of the year so far and she staying put near the top for the fourth straight week.
Missed @MariaHo on Monday? She's back the "Femme Fatale II" finale on @PokerGO! Start watching now! #PokerAfterDark https://t.co/Q0VlMTmr2a pic.twitter.com/U7KMaFWeNs

— Poker Central (@PokerCentral) March 26, 2019
| | | |
| --- | --- | --- |
| | Last week | This Week |
| Ben Lamb | 39 | 3 |
It's hard to explain how amazing Ben Lamb's Twitter feed was this week and without playing any notable poker, he jumped all the way into third place on the Power Rankings. You have to read this for your self as Lamb along with Jonathan Depa and John Cynn took on the casino in Uruguay after having to clear a massive amount of free play chips!
Having one of the cooler experiences of my life. Let me explain…@partypokerlive put on a amazing event in Rio de Janeiro, Brazil. Beautiful city and the venue, Copacabana Palace was amazing. Like out of a movie. In the 25k high roller tournament @EnjoyPde added 500k…

— Ben Lamb (@BenbaLamb) March 25, 2019
| | | |
| --- | --- | --- |
| | Last week | This Week |
| Ben Palmer | Unranked | 4 |
Winner winner, chicken dinner! Ben Palmer took down the WPT Venetian event to capture the biggest win of his career worth $431,655 and a seat into the $15,000 Baccarat Crystal Tournament of Champions in June!
Ben Palmer (@Bennyp03) becomes the all-time winningest player in @VenetianPoker history by winning #WPTVenetian for $431,655! We'll see Ben at the @Baccarat Crystal Tournament of Champions this June. https://t.co/YPtmWGuMO8 pic.twitter.com/s0RW6gsvy5

— World Poker Tour (@WPT) March 27, 2019
| | | |
| --- | --- | --- |
| | Last week | This Week |
| Kym Lim | Unranked | 5 |
I think Kym Lim is one of my new favorite players. Playing tremendous on Poker After Dark along with a witty and creative Twitter account, what else can a big poker fan ask for?
Big stack both days but unfortunately today the chips all came from my purse and not from my opponents https://t.co/ntxZ40v5ub

— Kym Lim (@KymLim86) March 27, 2019
| | | |
| --- | --- | --- |
| | Last week | This Week |
| Denise Pratt | Unranked | 6 |
There's nobody like Denise Pratt in poker! She joined us on the podcast this week, which you can listen to on Friday morning, and she dropped more expletives than Brent Hanks! Read all about her story in the article below or watch her in action on Poker After Dark on-demand.
Loud, Rowdy, Blunt, and Full of Life: Denise Pratt Takes Over the PokerGO Studio
| | | |
| --- | --- | --- |
| | Last week | This Week |
| Kitty Kuo | 14 | 7 |
She's back! Kitty Kuo was absent from the Top 10 for a few weeks but she's back with a vengeance. Not only did she impress on Poker After Dark, she also fired out some gem Tweets this week that clearly put her right where she belongs and that's the Top 10 of the Power Rankings!
Review with Russ, open 44 but fold to @Farah_Galfond 3 bet, Russ asked me why "fold in pos", I said I don't want to hit set and take her money, then he hang out my phone, for men, they only think about play correct, for women , we play how we feel, just don't tell me what to do

— kitty kuo thomas (@kittykuopoker) March 27, 2019
| | | |
| --- | --- | --- |
| | Last week | This Week |
| Marty Mathis | Unranked | 8 |
The kid did it! Finally a big win for Marty Mathis who took down the partypoker Millions South America event for $873k! Poker pros from all over the world were celebrating with and for Marty who's traveled a long road to get to this point. Congrats!
Winner. Sooooooo fucking proud of this kid. @martymath

Marty Mathis, Party Poker Millions South America Main Event Champion. ❤️❤️❤️ pic.twitter.com/dOoI85mH1q

— Bryan Piccioli (@theczar19) March 25, 2019
| | | |
| --- | --- | --- |
| | Last week | This Week |
| Danielle Andersen | 31 | 9 |
Class act. Top player. Funny. Danielle Andersen has it all and on top of that she now also has a Top 10 ranking on the Poker Central Power Rankings! Across two nights of Femme Fatale II week she shared lots of laughs with the other women and won some money along the way!
I'm a bigger @SneakieNesie fan girl today, than I was before I met her yesterday. That woman exudes positive energy & excitement. If you think that's anything but excellent for poker AND life? Well…fill in the blanks. 🙄🙊 Round 2 today. Can't wait. 🤗 https://t.co/SQBkT1Rgdd

— Danielle Andersen (@dmoongirl) March 26, 2019
| | | |
| --- | --- | --- |
| | Last week | This Week |
| Ryan Tosoc | Unranked | 10 |
While no longer a World Poker Tour event, The Bay 101 Shooting Star event took place last week and Sandeep Pulusani took it down for $354,400. Ryan Tosoc finished second after a chop, and by name recognition, he got plenty of votes to sneak into the Top 10. Tosoc has been a PokerGO favorite, winning the WPT Five Diamond in 2017 along with Poker After Dark and other tournament appearances, and we're excited to see him get a nice score in 2019.
On The Bubble
It's a shame! Matas Cimbolas finished third in Rio after getting second to David 'ODB' Baker in the L.A. Poker Classic and he's one of the contenders for the 2019 Player of the Year race. Cimbolas, however, fell shory by a few spots this week. Other notables that fell just short include Matt Berkey, David Peters, Jonathan Depa, John Cynn and Frank 'Chicken Wing' Stepuchin.
Tune in again next week for the latest Poker Central Power Rankings! Until then, listen to Brent Hanks and me discuss this week's rankings on the Poker Central Podcast. Looking to watch the latest live and on-demand poker action? Subscribe to PokerGO right now.