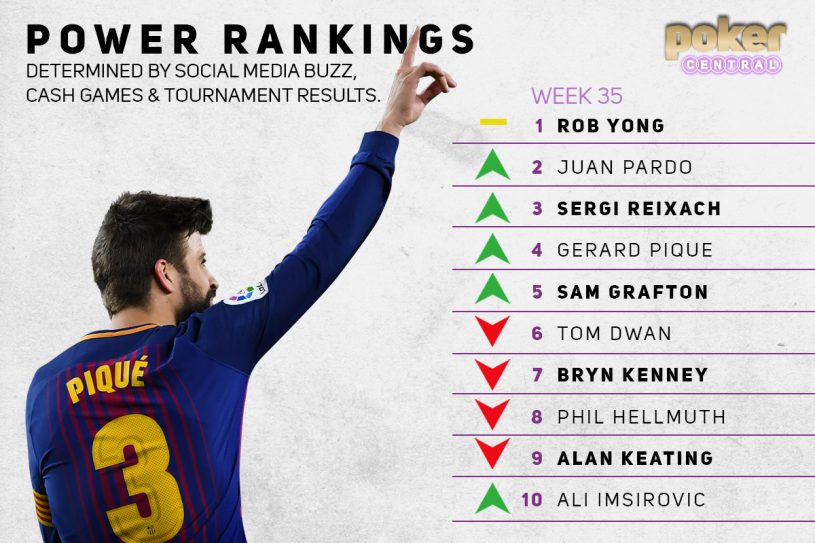 Hold on! What was everybody so upset about last week? I was browsing the Instagram comments regarding the Power Rankings and everyone seemed to be up in arm about Paul Pierce making it onto the list. Well, I've got news for you! Barcelona superstar Gerard Pique has made it this week and I'll give a quick refresher on why these athletes and former athletes are included!
The Poker Central Power Rankings are not the Global Poker Index lists that give the perfect reflection of what goes on in the tournament world, nor are they SharkScope or PocketFives with regards to online results. Our Rankings are a blend of social media buzz, tournament & cash game results as well as a dose of drama mixed in there. So, if you don't like fun, a bit of drama and controversy? Go look the aforementioned websites – which I do on a weekly basis as well – or you can take this for what it is, enjoy the content and let us know who we forgot and what this list should include from your perspective!
The Poker Central Power Rankings are voted on each week by five-panel members who use their own criteria to determine player relevance leading to a list of 25 players that score points from 65 down to 1. The criteria loosely include player results, social media influence, some good ol' drama or other things of note that make ear perk up and our eyes grow bigger. Got beef with our decisions on a week-to-week basis? Hit us up on @PokerCentral on Twitter and jump into the conversation.
| | | |
| --- | --- | --- |
| | Last week | This week |
| Rob Yong | 1 | 1 |
Putting together what could be the largest televised cash game inside the PokerGO Studio after two thrilling nights of GOAT Week on Poker After Dark has Rob Yong clearly in the crosshairs of the voting panel. Yong remains at No. 1 with his excitement for the game and his appetite for Twitter discussion about a variety of high stakes poker topics. Go Rob!
"Rob's Home Game" sponsored @partypoker December in Las Vegas – streamed on @PokerGO $500-$1K + $1K ante NLH, 3/4 day game, $200K min buy-in, BUT winners can't leave & chips cannot be taken off the table – will have feeder games off main game – who do YOU want me to invite? pic.twitter.com/9iPezxikcq

— Rob Yong (@rob_yong_) August 25, 2019
| | | |
| --- | --- | --- |
| | Last week | This week |
| Juan Pardo | Unranked | 2 |
What a week it's been for Juan Pardo Dominguez! First, he won the €25k High Roller for $546k and he followed that up by winning the €50k High Roller for $1.1 million the following day! Pardo doubled his career tournament earnings with these two big scores and continues to add to his impressive year that now totals $2.3 million.
Juan Pardo outlasts Gerard @3gerardpique Piqué heads-up to capture #EPTBarcelona €25K Single Day High Roller trophy, €491,600. https://t.co/iY0ZrLm1a4 pic.twitter.com/kcPKmDacm3

— PokerStarsBlog (@PokerStarsBlog) August 27, 2019
| | | |
| --- | --- | --- |
| | Last week | This week |
| Sergi Reixach | Unranked | 3 |
The Spain-Train keeps rolling as Sergi Reixach notched up the biggest score of his career by winning the massive EPT Barcelona Super High Roller for $2 million! Reixach beat out a field of 49 entries and Sam Grafton heads up.
ICYMI: Local lad Sergei Reixach triumphed in the #EPTBarcelona Super High Roller, taking it down for over €1.8M. 🤑🍾
He spoke to us about winning the first EPT €100K he's ever played👇 pic.twitter.com/4IragWGKMt

— PokerStars LIVE (@PokerStarsLIVE) August 26, 2019
| | | |
| --- | --- | --- |
| | Last week | This week |
| Gerard Pique | Unranked | 4 |
Big sports publications such as BeIN Sports, 90 Min, Sports Bible, The Sun, Marca, and the International Business Times all reported on Gerard Pique's exploits at EPT Barcelona where he finished second in the €25,000 High Roller behind the aforementioned Juan Pardo. Pique's teammate Arturo Vidal also made the final table to put poker in front of a massive soccer audience that caught wind of their big wins.
Gerard Pique 💸 €352,950
Arturo Vidal 💸 €134,460

The Barcelona team-mates won almost €500,000 at a European Poker Tour event on Monday 😎 pic.twitter.com/iLqWsMkQIa

— Goal (@goal) August 27, 2019
| | | |
| --- | --- | --- |
| | Last week | This week |
| Sam Grafton | 22 | 5 |
Sam Grafton is working on an impressive year as he notched up the biggest score of his career by taking second in the EPT Barcelona Super High Roller behind Sergi Reixach. Grafton took home $1.4 million for his efforts and bring his career total to $3.5 million and making this by far the biggest year of his live tournament career. Prior to 2019, Grafton had never cashed for more than $422k in a single year.
| | | |
| --- | --- | --- |
| | Last week | This week |
| Tom Dwan | 2 | 6 |
Tom Dwan made waves on Poker After Dark when he played on GOAT Week and he also joined me and Brent Hanks on the Poker Central Podcast. I also caught up with Dwan to talk about the high stakes poker climate and you can read that feature interview right here.
When @TomDwan talks, we listen. 🗣️👂
The online legend opened up about high stakes, @tritonpoker's success, and what will happen if poker becomes more like chess.https://t.co/YHgyulkxaY pic.twitter.com/RuQx5cYeMt

— Poker Central (@PokerCentral) August 29, 2019
| | | |
| --- | --- | --- |
| | Last week | This week |
| Bryn Kenney | 4 | 7 |
It's hard to find reasons to not rank Bryn Kenney at the top given his insane year and we might as well just keep ranking even though it doesn't look like he's going to add any results to his list just yet. Kenney has lately been seen chilling out in Barcelona during the EPT and we're eyeing his return to a big final table during the British Poker Open that kicks off on Monday!
| | | |
| --- | --- | --- |
| | Last week | This week |
| Phil Hellmuth | 5 | 8 |
He did it again! He calls himself the greatest for a reason and after a great showing on GOAT Week, Hellmuth was at it again in Los Angeles where he made a big final table of the Mega Millions event! Keep doing GOAT things Mr. 15 Bracelet!
Two final tables in-a-row, although 40 days apart…Still, special accomplishment for me…Mega Million today and @WSOP in Vegas.

Also, two FT's in-a-row at @BicycleCasino, although TWO YEARS apart! 2017 @WPT Main Event (2nd) and today's Mega Millions. Watch me LIVE 2 PM Thurs pic.twitter.com/5F2BnvVsDs

— phil_hellmuth (@phil_hellmuth) August 29, 2019
| | | |
| --- | --- | --- |
| | Last week | This week |
| Alan Keating | 2 | 9 |
Alan Keating's debut on Poker After Dark resonated with fans all over the world as he drops from 2 to 9 this week on the Power Rankings. Keating will hopefully return to the PokerGO Studio with his exciting plays and massive stack but until then we will probably not see him in the Top 10. Oh, and you have to watch this video below where Hellmuth and Keating square off.
| | | |
| --- | --- | --- |
| | Last week | This week |
| Ali Imsirovic | Unranked | 10 |
Last but not least, Ali Imsirovic made his way back into the Top 10! Imsirovic was gone for a long time but a big final table in Barcelona in the €50,000 High Roller and the anticipation of his battle with Sam Soverel for the title of High Roller of the Year sparked the interest of our voting panel.
Barca has been a lot of fun 🙂 pic.twitter.com/yNsx83xIxM

— Ali (@aliImsirovic) August 28, 2019
Tune in again next week for the latest Poker Central Power Rankings! Until then, listen to Brent Hanks and me discuss this week's rankings on the Poker Central Podcast. Looking to watch the latest live and on-demand poker action? Subscribe to PokerGO right now.