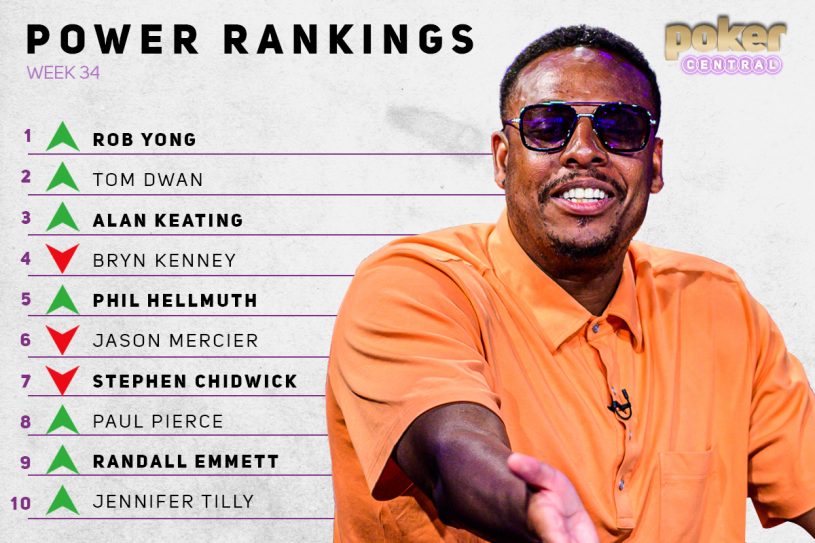 The action on Poker After Dark this week reached heights we hadn't seen in quite some time! It is, therefore, no surprise that the Poker Central Power Rankings are dominated by the players from that lineup and it's safe to say that other players that remain in the Top 10 don't look bad in the slightest with this company surrounding them.
Can't wait to dive into the GOAT Week action? Watch it all right now on PokerGO.
| | | |
| --- | --- | --- |
| | Last week | This week |
| Rob Yong | 23 | 1 |
The star of Rob Yong keeps rising in meteoric fashion as the captivated the PokerGO audience with his riveting plays. Yong won the biggest pot of the night versus Alan Keating on Night 2 of GOAT Week on Poker After Dark and along with his snappy table talk and needling of Phil Hellmuth, it's very deserving to have him sit atop the rankings!
I think these @PokerGO Cash Game streams are very good for promoting poker – would be cool if live content was free but set up is so expensive.Will play more of these if invited as it's more eyeballs on poker even if just hand videos like this. KTF Rob pic.twitter.com/2X3LIvSxpe

— Rob Yong (@rob_yong_) August 22, 2019
| | | |
| --- | --- | --- |
| | Last week | This week |
| Tom Dwan | Unranked | 2 |
You can't convince me, or the panel for that matter, that Tom 'durrrr' Dwan is the biggest fan favorite of any player. Dwan playing on Poker After Dark generates so much buzz and his clashes with Alan Keating in particular really had the poker world salivating. Don't be a stranger, Tom!
Playing a poker after dark cashgame on @PokerGO

— Tom Dwan (@TomDwan) August 21, 2019
| | | |
| --- | --- | --- |
| | Last week | This week |
| Alan Keating | Unranked | 3 |
A star is born! It's safe to say that Alan Keating won over poker fans all over the world with his exciting, loose, and aggressive play inside the PokerGO Studio. Keating also jumped onto the Poker Central Podcast, a segment which you can watch on PokerGO later today. Keating had massive swings, busted his stack against Rob Yong in a pot worth half a million dollars only to return and sit down with a cool million. Keating has arrived and we think that poker fans will enjoy his play for many years to come.
| | | |
| --- | --- | --- |
| | Last week | This week |
| Bryn Kenney | 1 | 4 |
It's been quiet in the Bryn Kenney streets but if he's Instagram is any indication, he's living large in Barcelona where the European Poker Tour got underway a few days ago. Kenney is flying private, eating at all the fanciest restaurants, and simply living it up as the No. 1 on the all-time money list should do.
| | | |
| --- | --- | --- |
| | Last week | This week |
| Phil Hellmuth | 18 | 5 |
The game that he titled "Phil & Friends" ultimately became GOAT Week and the 15-time WSOP bracelet winner fit right in among the aforementioned greats. Hellmuth lost big on the first night only to recoup the money lost plus some on the second night. Not veering away from his usual style, Hellmuth folded and shoved his way to a nice profit and a spot on the Power Rankings.
Hello special guest Durr! Tom Dwan is playing in today's game LIVE only on @PokerGo App. What a lineup! @NBA Legend @PaulPierce34 Hollywood Star @JenniferTilly @rob_yong_ Alan Keating and Randall Emmit $20,000 buy in, $100-$200 blinds #POSITIVITY

— phil_hellmuth (@phil_hellmuth) August 21, 2019
| | | |
| --- | --- | --- |
| | Last week | This week |
| Jason Mercier | 4 | 6 |
As discussed on the podcast this week, it might be another year before we see Jason Mercier back in the Top 10 of the rankings. Mercier has another little one on the way and if his firstborn was any indication, daddy Jason will not play much poker in the coming months or even years. Mercier's big win in the $50k High Roller in his home casino for $750k shot him up the ranks but if nothing changes we'll likely see him drop out of the Top 10 soon.
| | | |
| --- | --- | --- |
| | Last week | This week |
| Stephen Chidwick | 5 | 7 |
Named the No. 1 British Poker Player of All Time by our writer Paul Seaton, Stephen Chidwick lets his results do the talking. Chidwick has probably made his way down to Barcelona by now to keep adding to his long list of big scores to further expand his lead on the Global Poker Index as well as challenging Rainer Kempe and Sean Winter for the 2019 GPI Player of the Year race.
| | | |
| --- | --- | --- |
| | Last week | This week |
| Paul Pierce | Unranked | 8 |
THE TRUTH! Paul Pierce's arrival in the PokerGO Studio was received loud and clear by poker fans all over the world as he battled with the biggest personalities in this $100/$200 game. Poker wise, things didn't go Pierce's way but he sure left a big impression! Check out more from Pierce on the latest Poker Central Podcast episode.
One hand….one double up for @paulpierce34… GOAT Week is live on @PokerGO now! #thetruth @PokerCentral pic.twitter.com/QdTOSGD09H

— Drew Amato (@drew_amato) August 20, 2019
| | | |
| --- | --- | --- |
| | Last week | This week |
| Randall Emmett | Unranked | 9 |
Should this ranking be split between Randall and Lala? Emmett's better half went on an Instagram tirade of sorts to let everyone know that her fiancee deserved a post on Poker After Dark, and so it went! Randall, however, also deserves a ton of credit by turning his level of excitement down to 5 from the 11 we spoke of prior. Randall Emmett at a level 5 is very fun to watch, good for the game, and ultimately a great way for non-poker fans to get sucked into the game.
| | | |
| --- | --- | --- |
| | Last week | This week |
| Jennifer Tilly | Unranked | 10 |
Last but certainly not least on this week's ranking is Jennifer Tilly. Tilly had a great showing on GOAT Week as she raked in a big profit after doubling through Rob Yong with the nut flush versus the second nut flush.
New blood! @TomDwan @paulpierce34 Randall Emmett Alan Keating on @PokerGO Livestream starts 3pm pst pic.twitter.com/NyoabtaaHm

— Jennifer Tilly (@JenniferTilly) August 21, 2019