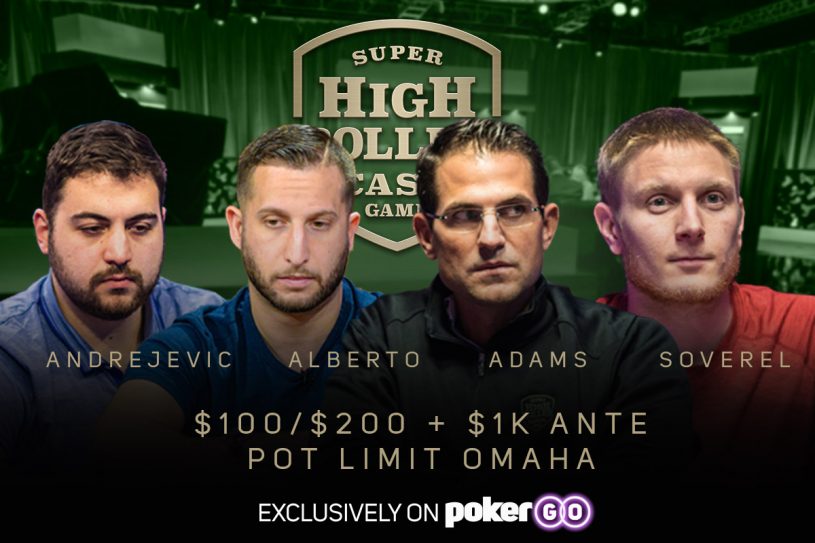 The Super High Roller Cash Game has featured some of the world's highest stakes action over the last few years. Massive pots, poker's biggest names, and a variety of games have headlined past editions. Pot Limit Omaha has never graced the green felt though. That changes this week, when the Super High Roller Cash Game returns with back-to-back $100/$200/$1,000 ante Pot Limit Omaha sessions.
Both games will stream live on PokerGO on May 14 and 15, starting at 6 PM ET each night. Brandon Adams and Sam Soverel headline the $40,000 buy-in action.
Adams' High Roller Triple Crown runs and INSIDERS feature have made him a PokerGO regular over the last year. This week though, he'll make his Super High Roller Cash Game debut. Soverel is the reigning High Roller of the Year, although his skills are not limited to tournaments. He is a regular in Las Vegas' biggest four-carded games.
The great game of PLO will makes it's #SHRCashGame debut! Catch @badams78 + @benbalamb on Tuesday, exclusively on PokerGO. pic.twitter.com/4B8nsGqzhM

— PokerGO (@PokerGO) May 11, 2019
Philadelphia native Anthony Alberto has battled in back-to-back Super High Roller Cash Games and returns for Pot Limit Omaha action this week. He'll be flanked by Florida pros Andy Andrejevic, Dominque Mosley, and Eric Berger, along with Las Vegas pro Jonathan Depa. All are well-versed in the world of high stakes PLO. 
Subscribe now to watch the best live and on-demand poker from the Super High Roller Cash Game, Poker After Dark, World Series of Poker, and more.