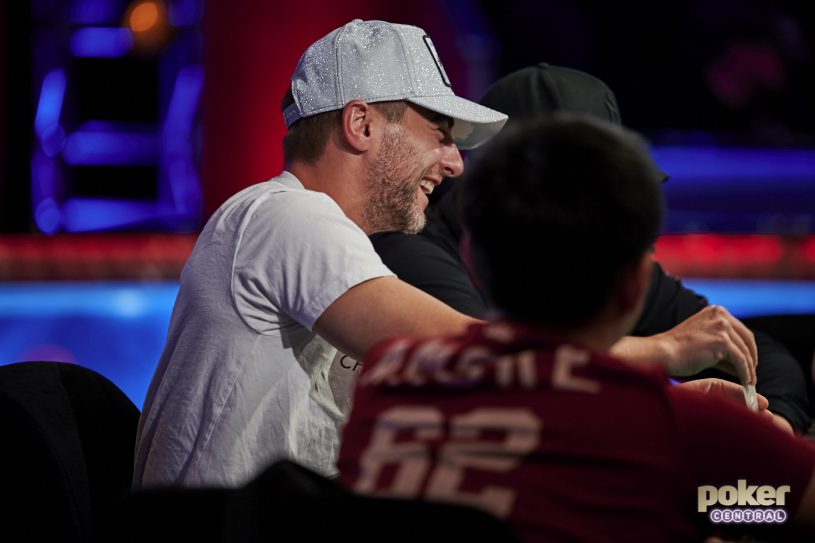 A week into the World Series, a couple of very big names have finally announced their arrival…albeit in very different ways. From the man with the heaviest hat at the Rio to controversy over the smallest yet most important items of the WSOP, the poker chips, it's been all action on Day #7. Grab a seat while you can!
UNCLE RON IS IN THE BUILDING
Everyone has a favorite uncle, and it's not our fault that ours is a lunatic in a hat. Yes, Uncle Ron has arrived in Las Vegas, and he's setting out the house rules for his World Series. We're not sure he's going to be able to stick to #4 on that list.
Which rule do you think im having the most trouble following at our #WSOP house for the summer? pic.twitter.com/lZaJO2bEfS

— Uncle Ron (@UncleRonAA) May 28, 2019
POLK READY FOR POKER
Although he doesn't play a heap of events at the World Series, Doug Polk couldn't resist announcing what his first tournament of the summer will be. It was worth a toast with Pops Polk.
That though my passion to play isnt there, I will still play at least a couple events a year. If not for me then for the people who enjoy me playing

So I'm gonna play at least the 10k HU tomorrow, and the main event. Its the least I can do 👍

(Sharing the beer with my dad) pic.twitter.com/pXSfYzhWHJ

— Doug Polk (@DougPolkPoker) June 5, 2019
RUSSIA ADVANCES IN $25K FANTASY LEAGUE
In what many have seen as an attempt to let others join in, Team Poker Central have seen their big lead decrease to just two points as Team Russia's phenomenal first-week efforts by Chance Kornuth puts them in second place. He's even in the top ten of the WSOP Player of the Year standings.
Check out the current top five and click through to each team to see a full breakdown of their player statistics.
GOOD LUCK FOR CHANCE
Not all best wishes are good best wishes at the World Series, as between superstitions and a heavy dedication to GTO, many professionals don't want luck to have anything to do with poker. But rungood railing from Phil 'The Poker Brat' Hellmuth? Chance would be a fine thing.
Sweet! @ChancesCards makes two @WSOP Final Tables in two days!!! Great job Chance! #POSITIVITY #CKNiceLife pic.twitter.com/kcSkGsiZpU

— phil_hellmuth (@phil_hellmuth) June 5, 2019
HALLAERT HATING THE CHIPS
Having already been bubble boy during this year's World Series, you might assume Kenny Hallaert's hate on the chips being present in three events comes from a place of personal frustration. But the poker professional is also a tournament director and speaks from a place of forethought for those who play game at every level, and many big names waded in to agree with the Belgian on a potential oversight by the powers that be.
The thing that worries me today at the @wsop is that the same chipset is used in the $600 (30k start) as in the $5k & $10k (30 & 60k start respectively). Haven't seen Men the Master around though, so maybe we're all good.

— Kenny Hallaert (@SpaceyFCB) June 4, 2019
THE… PERSON IN THE HAT HAS IT
There are a number of ways to dress accordingly for the poker playing paradise that is Las Vegas, Nevada. One thing is for sure with this player, buried underneath the most decorated of headwear. You can leave your hat on…until it weighs you down.
New player to my left appears to have literally been hit in the head with all the decks from all the casinos around the world. #WSOP pic.twitter.com/CCYgzUtHg4

— MD (@MikeDurand) June 4, 2019
Stay tuned to PokerGO and CBS All Access for more coverage of the 2019 WSOP bracelet events. Selected bracelet events will be streamed exclusively on CBS All Access in the United States.