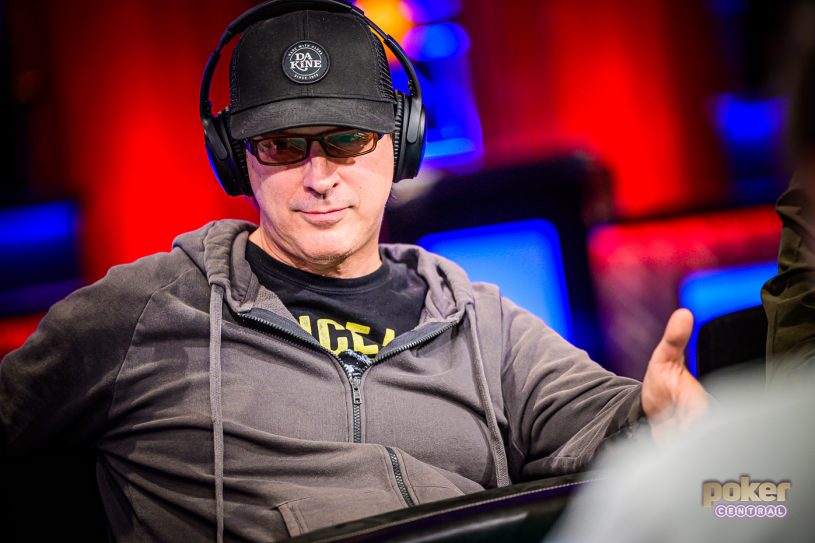 It's been a few days of controversy, upset and intrigue in the 2019 WSOP Main Event, indeed you can read all about Day 2c right here, but it hasn't been without humor, too. Some of the funniest things poker players ever say are when they have all the chips…or no chips at all. but can you spot the difference?
TILLY AND LAAK WAKE TO DISASTER
Anxiety dreams are commonplace around the time of the World Series. For instance, just the other day, we woke to the petrifying vision of a grey tee-shirted individual throwing his shoes around, then getting au naturel at the poker table. I mean…imagine! Jennifer Tilly and Phil Laak shudder to think of their waking nightmares as the Hollywood and Las Vegas legends reveal their darkest visions of hell.
.@PhilLaak and I both had terrifying nightmares last night. I dreamt I was being pursued by demons; Phil dreamt he flopped the nuts, and then they declared a misdeal.

— Jennifer Tilly (@JenniferTilly) July 7, 2019
AN APOLOGY FROM BELIANIN
We've all been there. It's the WSOP Main Event and you win a small pot. You get excited. You've had a few drinks, and you steal the player to your direct left's chips, too. Hang on — we've never done that. But we know an apologetic man who did. Georgii Belianin. You remember – this guy: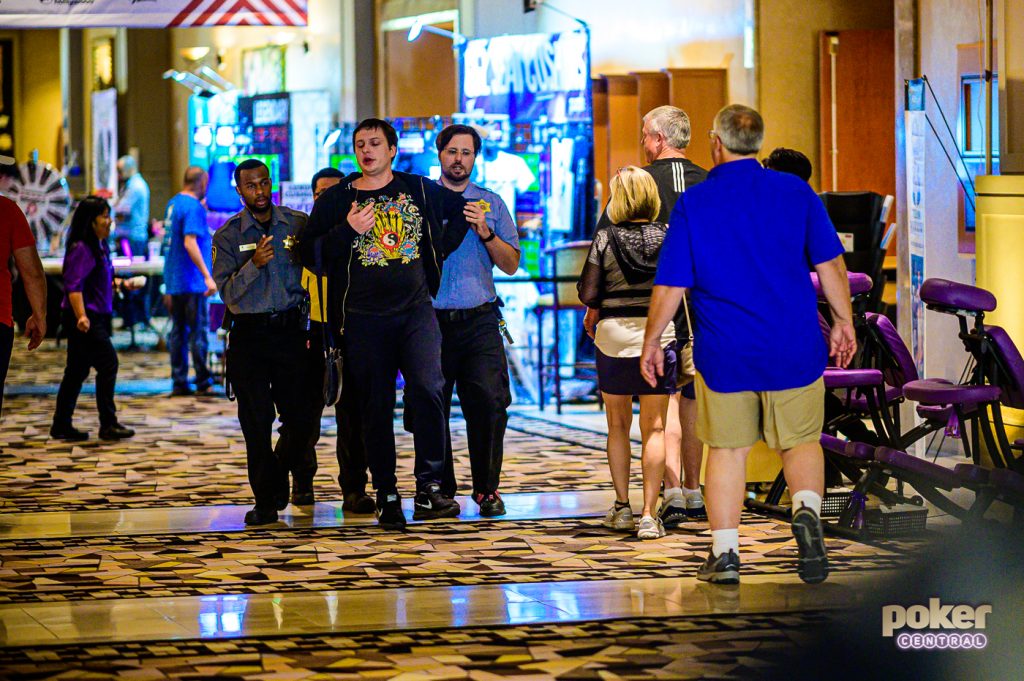 Well, Mr. Belianin has now offered a full and frank apology – and explanation – for his actions. Make of it what you will.
Hello
I really want to apologize to all players, staff, mr. Effel and the whole poker community for my unprofessionalism and misbehavior in WSOP main event. I take full responsibility for my behavior that I really got drunk and could not control myself.

— BelianinG (@GBelianin) July 7, 2019
NICE GUYS ALWAYS WIN IN THE END
From one of the worst examples of polite poker to one of the best; Dan O'Brien is feeling the love.
Day 2AB of the Main Event was a blast w 8 strangers (2 pros, 6 recs). When players take u aside at the end of the night to tell u how special u made the day, how they love ur style, or how it's nice to see a pro treat the dealers & staff so well – it's a real special feeling.

— Dan O'Brien (@DanOBrienPoker) July 7, 2019
KID POKER DEFENDS THE POKER BRAT!
Daniel Negreanu took to Twitter to defend his friend Phil Hellmuth, after the latter experienced a very late registration and a day at the felt to forget.
Kudos to @phil_hellmuth for owning this one.

He wasn't at his best for sure. It's difficult to play your best tired and that's part of the reason Phil typically favors sleep over showing up on time. @PokerGO

— Daniel Negreanu (@RealKidPoker) July 7, 2019
CODY QUICK TO CHANGE TACK
Jake Cody has enjoyed the 'Slaymericainc' account on Twitter, which regularly 'showers' bustees in their moment of despair. So much so, in fact, that he thought a little light trolling was in order. The only this doesn't bite the Brit on the behind is if the triple crown winner can go on and win the Main…
Oh not really I got the double
SSSSSUUUUUCKKKAAAAAAA https://t.co/FaWEKt5Jnp pic.twitter.com/WGg5Wgmq4H

— Jake Cody (@JakeCody) July 8, 2019
GRUNE ACCUSTOMED TO HIS FATE
There's a bad run-out, then there's a WSOP Main Event run-out. All together now, 'Aussie! Aussie Auss…' oh, well, maybe not.
Just shoved 21k in 800/1600 with KK from EP. The nice Aussie man who has been winning every hand calls the BB with J4cc. This is the result. Time to run to the hills back to PA pic.twitter.com/zB7WokFCQa

— Zachary Gruneberg (@HustlerGrune) July 8, 2019
LAMB JOINS IN WITH BEER ROUND
It's the age-old debate… does beer go well with Lamb? Why not ask Ben – he's drenched in the stuff.
Ordered my first corona for beer level. Guy 3 bets button and bets flop and turn. River comes out it checks to him. Big pot. As he's tanking I accidentally spill my 90% full beer all over him his cards and chips. Done drinking for night.

— Ben Lamb (@BenbaLamb) July 8, 2019
FIRALDO CALLS OUT RECS
The man on a mission to make poker more friendly is… calling out bad recs who don't know how to open the betting at 100/100. Table service to the cage.
Rec players: We need more chips to start man!!! Need more play in these tourneys!!! I wanna see some flops!!!

Also rec players: it's 100/100 dealer? Ok, 1700 to go.

— Niall Farrell (@Firaldo87poker) July 7, 2019
FINALLY, BUCKY GETS THE WIN
You'd be hard pushed to find a poker professional who isn't happy for Shawn 'Bucky' Buchanan, who finally broke his WSOP bracelet duck after all these years. Actually, maybe you wouldn't – he beat David 'Bakes' Baker heads-up. Still, congratulations, Bucky!
Won the 800 6 max @wsop Bracelet event! Played hu against the beast @DMBakes ! Feels great after a rough summer, better late to the party than not at all !#wsop#pumped

— Shawn Buchanan (@shawnbuchanan1) July 8, 2019
You can watch the WSOP Main Event action unfold on ESPN and check out additional coverage on PokerGO throughout the biggest poker tournament in the world and bracelet event coverage on CBS All Access.