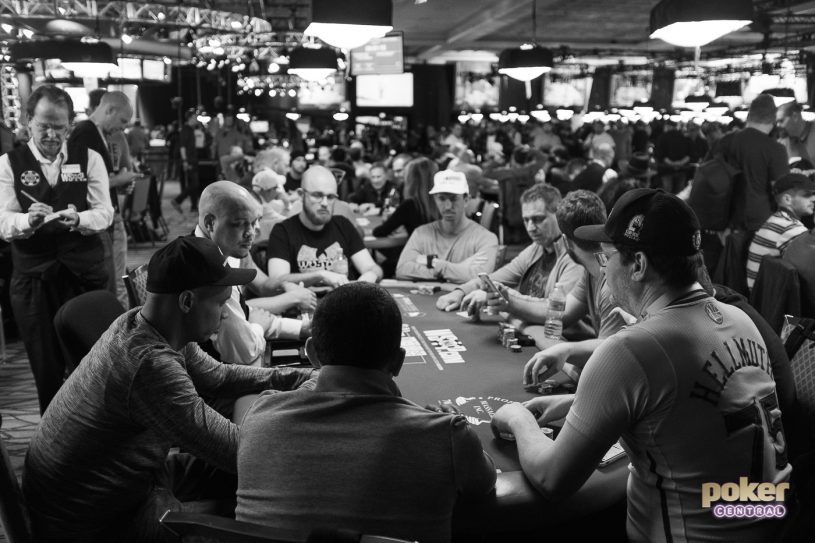 DAY #10 of the 50th annual World Series of Poker was a big one, and one of the biggest reasons for that was the arrival of 10-time WSOP bracelet winner, Phil Ivey.
PHIL MEET PHIL
The living legend pitched up to play Event #18, the O8, and he was seated just two chairs away from the only man with more bracelets than him, Phil 'The Poker Brat' Hellmuth.
PHIL IVEY IS AT THA @WSOP!!! pic.twitter.com/qCaXYntqsG

— Uncle Ron (@UncleRonAA) June 7, 2019
STUCK IN THE MIDDLE
Ivey's arrival was all anyone could talk about, including the man stuck in the middle of both the legendary Phil, Jeremy Heartberg.
Holy shit Hellmuth on my right Ivey on my left. Is this real?

— Jeremy Heartberg (@OnTheRail15) June 7, 2019
 MUELLER'S RETURN TO POSITIVITY
We've not heard much from the quiet Hellmuth in a few days, but one player who is exuding #Positivity is Greg Mueller. A bad beat? Not a problem. Mueller is pumped in more ways than one for the World Series of Poker.
Just busted the shootout…just jumped into the Milly Maker… first hand post in BB get AA flop set and lose.. but I hit the gym this morning and feel good, so imma battle and try to win a SHMILLBALL! #24/7hunting

— Greg Mueller (@GregFBT) June 7, 2019
PLENO STUCK FOR AN ANSWER
Patrick Leonard was keen to register for the Millionaire Maker, but was stumped for exactly how to answer the cashier, who had a burning question they'd obviously been waiting a while to ask.
Me: I'd like to reg the millionaire maker
Cashier: what's first place in that one?
Me: 🤨
Cashier: …
Me: $1m
Cashier: NO FUCKING WAY
Me: Way

— Patrick Leonard (@plenopads) June 7, 2019
PLAYER OF THE YEAR UPDATE
With ten days passed, here are the current standings on the 2019 World Series of Poker Player of the Year leaderboard.  As you can see, Dan Zack is racing into a convincing lead, but it's a very strong top 10, with Ali Imsirovic just missing out in 11th place having got off to a flyer too.
Check out the full standings here.
Current WSOP POY Top 10: 
| | | |
| --- | --- | --- |
| Rank | Name | Points |
| 1 | Daniel Zack | 1,754.40 |
| 2 | Benjamin Heath | 1,339.27 |
| 3 | Jeremy Pekarek | 1,227.02 |
| 4 | Daniel Park | 1,107.33 |
| 5 | Brian Green | 1,084.79 |
| 6 | Daniel Strelitz | 1,080.66 |
| 7 | Shannon Shorr | 1,020.65 |
| 8 | Derek McMaster | 1,017.80 |
| 9 | Alexander Epstein | 1,008.68 |
| 10 | Yong Keun Kwon | 1,002.11 |
FANTASY LEAGUE RACE ACCELERATING
The $25k Fantasy League race is really hotting up, with Team Russia still out in front with 191 points, a lead of 21 points from Team Baker with 170. Team Poker Central is hanging in there in third place, with 148 points.
The best-performing player for Team Russia has without a doubt been Chance Kornuth, who has racked up an incredible 123 points in 10 days, and to think that Kornuth cost just $2 in the Fantasy Draft! He has earned 64% of Team Russia's points already.
You can look into the full table of results so far by clicking here.
BRASILIAN COLLAPSE
Finally, some sad news emerged from Brasilia during Day #10, where one valiant soldier would make it no further. Michael Gagliano brought the tragic news to the attention of the poker world… with hilarious consequences.
On an unscheduled break cause a table just collapsed in Brasilia…. pic.twitter.com/FhnYe5NZh4

— Gags30 (@Gags30poker) June 8, 2019
Watch all the action unfold live today on PokerGO and CBS All Access as more coverage of the 2019 WSOP bracelet events takes place. Selected bracelet events will be streamed exclusively on CBS All Access in the United States.